Impression issue de Maquetland.com Le monde de la maquette | http://www.maquetland.com/article-phototheque/3010-panzerschreck-raketenpanzerbuchse-54-bayeux

Panzerschreck Raketenpanzerbüchse 54 Bayeux

Panzerschreck Raketenpanzerbüchse 54 Bayeux
English Translation


Historique Voir ICI
History Click HERE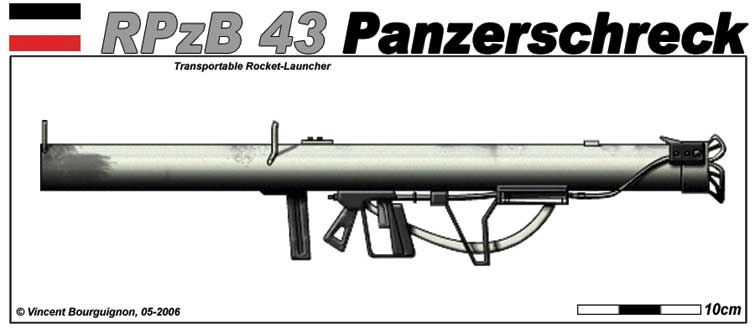 L'Ancêtre Raketenpanzerbüchse 43 Merci à Vincent
Autres Photoscopes (Others Walk Around ) 1 2 3 4




la Sonderabzeichen für das Niederkämpfen von Panzerkampfwagen durch Einzelkämpfer.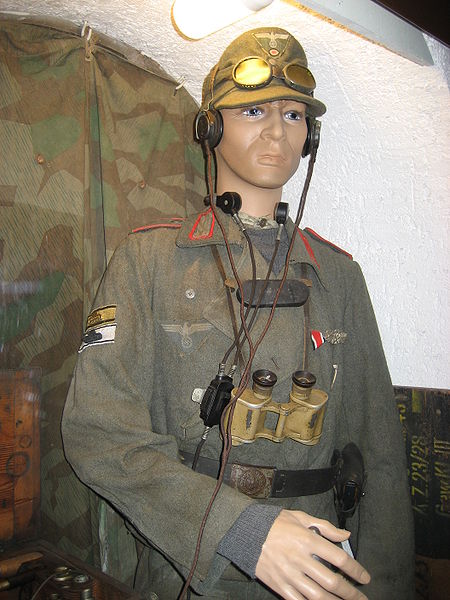 Diekirch


Les chasseurs de char dans l'armée allemande remontent à la Première Guerre mondiale lorsque, dans une tentative de sortir de l'impasse sur le front ouest, les Britanniques et les français développèrent le Char qui fut utilisé pour la première fois le 15 Septembre 1916 sur la Somme.
Les chars pouvaient surmonter des barbelés et des nids de mitrailleuses retranchés et effrayer les soldats allemands pour leur faire quitter leurs tranchées. Mais on a vite découvert que les chars étaient aussi vulnérables.
Le 20 Novembre 1917, 476 chars Mark IV attaquent à Cambrai, mais le soir 180 chars sont hors de combat, dont 65 victimes de tirs ennemis et les autres par une défaillance mécanique ou embourbés.
Plus de 100 chars britanniques ont été capturés et 30 ont été mis en service avec des équipages allemands et composent ainsi une partie de la Panzerwaffe allemande en 1918.
Les chars britanniques qui avaient été détruits dans l'action ont été victimes de tirs d'artillerie allemande, qui à l'époque n'avait pas d'armes anti-char de disponible.
Cela a changé en 1918 quand il fut découvert qu'une balle de fusil en tungstène lourd pouvait pénétrer le blindage des chars britanniques.
Bientôt le Werke Mauser à Oberndorf produit un fusil surdimensionné qui pouvait tirer une balle de 13 mm et de pénétrer 2.5cm de blindage à 250 mètres.
Au cours des années 20 la Reichswehr, ne pouvant pas posséder des chars utilisa des maquettes de chars ceci à cause des restrictions du Traité de Versailles. Les leçons apprises dans la 1ère guerre mondiale ont été retenues et développées et cela a porté ses fruits durant la 2e guerre mondiale.
Le concept de formation des soldats pour lutter contre blindés ayant été soigneusement mis au point et les succès obtenus durant ce conflit ont été impressionnants.
Le fusil antichar Mauser 13.2mm arme de base jusqu'à l'invasion de l'Union soviétique en Juin 1941, montra son obsolescence et il était clair qu'il n'y avait pas suffisamment d'armes anti-char puissantes aptes à détruire le nombre croissant des chars russes sur le champ de bataille.
Aussi souvent des chars furent détruits grâce à des actes individuel de soldat armé avec des mines ou des charges explosives plus que par des armes anti-char. Il a été admis que ces soldats auteur d'acte de bravoure individuel devraient être récompensés pour leurs actes avec une décoration qui fut d'abord l' Insigne d'assaut distribué à l'origine pour le génie d'assault seulement)
Cette décoration a été attribuée à des soldats qui avaient détruit un char russe ou en véhicule blindé. Le 9 Mars 1942, Oberkommando des Heeres signé le décret créant la Sonderabzeichen für das Niederkämpfen von Panzerkampfwagen durch Einzelkämpfer.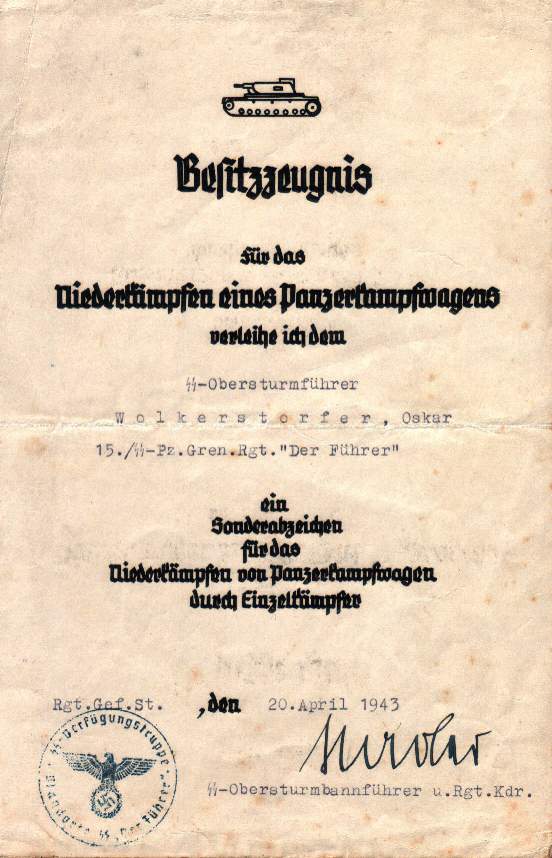 Pour chaque tank ennemi ou d'un véhicule blindé détruit, une badge de casseur de char sera attribué.
De nombreuses récompenses ont également été distribuées aux Hitler Jugend et unités Volkssturm lors de combats despérées menés en Allemagne en 1945.
L'annonce officielle de l'introduction de l'insigne de tueur de char suivit aussi rapidenent car le Führer a autorisé l'introduction d'un badge spécial pour la destruction d'un char ennemi, ar un individu.
Avec effet à partir du 22 Juin 1941, le badge spécial sera attribué à des soldats ayant détruit ou mis hors de combat, un char ennemi ou d'un véhicule blindé de la même façon par l'utilisation d'armes de combat rapproché ou instruments (fusil anti-tank, grenades à fusil, mines magnetiques.)
Le badge sera décerné au soldat qui s'est le plus impliqué dans la destruction de véhicule blindé ennemi.
L'insigne se compose d'une bande de tissu d'aluminium à cordon 90mm de longueur et 32mm de largeur, bordée de deux bandes noires de 3mm au centre de laquelle est attachée la silhouette en métal estampé d'un char.
Le badge ou ruban sera portés sur le haut de la manche droite de la tunique; des insignes supplémentaires pourront être portés de la même manière.
Le Badge sera délivré par le chef de bataillon suite à la réception d'un ordre écrit du commandant d'unité
La date de la remise de cette récompense doit être inscrite dans les papiers personnels du soldat. Le bénéficiaire reçoit aussi un diplôme.
Par contre les critères d'attribution de l'insigne d'assaut pour la destruction des chars ennemis reste en vigueur.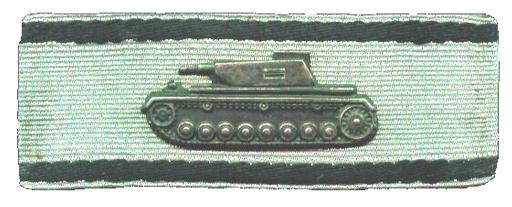 The Sonderabzeichen für das Niederkämpfen von Panzerkampfwagen durch Einzelkämpfer.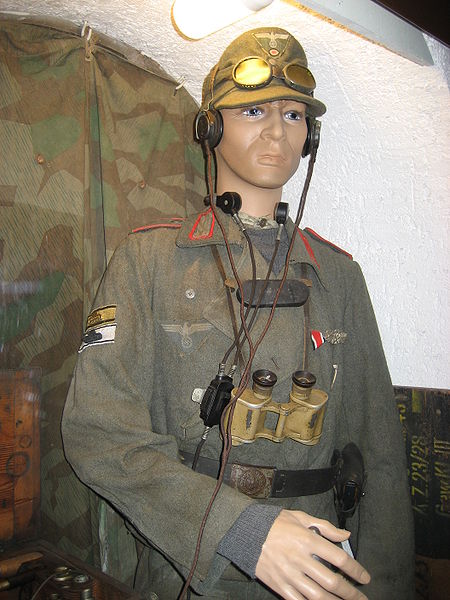 Diekirch
Tank-hunting in the German Army traces its routes back to the First World War when, in an attempt to break the deadlock on the Western Front, the British developed the tank which was first used in action on September 15th 1916 on the Somme.
The tanks could overcome barbed wire and entrenched machine guns and frightened the German soldiers into leaving their trenches. It was soon discovered that the tanks were vulnerable.
On November 20th 1917, 476 Mark IV tanks attacked at Cambrai but by nightfall, 180 tanks were out of action, 65 were victims of enemy fire and the others through mechanical failure or had become stranded in the mud.
Over 100 British tanks were captured and 30 were put into service with German crews and made up a portion of the German Panzerwaffe in 1918.
The British tanks that had been destroyed in action had been victims of German artillery fire, at that time there being no anti-tank weapons available. This changed in 1918 when it was discovered that by simply reversing the direction of the infantry rifle bullet with a heavy tungsten-carbide core in the cartridge case, it could penetrate the British tank armour. Soon the Mauser Werke at Obendorf produced an oversized rifle that could fire a 13mm bullet and penetrate one inch of armour at 250 yards.
During the Reichswehr period, mock-up anti-tank guns had to be used in training due to the restrictions of the Treaty of Versailles. The lessons learned in WW1 were expanded upon and bore fruit in the new world war. The concept of training individual soldiers to tackle armour had been carefully developed and the successes achieved in WW2 were more than impressive.
The Mauser 13.2mm Anti-Tank Rifle. It was soon after the invasion of the Soviet Union in June 1941, that it was clear that there were insufficient anti-tank guns to take on the increasing number of Russian tanks appearing on the battlefield.
Tank destroying had become more reliant upon acts of the individual soldier armed with mines or satchel charges than by the anti-tank guns. It was recognised that individual soldiers should be rewarded for their acts of bravery and at first the General Assault Badge (originally designed for combat engineers only) was awarded to soldiers who had single-handedly destroyed a Russian tank or armoured vehicle. Generous home leave was often also awarded.
On March 9th 1942, Oberkommando des Heeres signed the order instituting the Sonderabzeichen für das Niederkämpfen von Panzerkampfwagen durch Einzelkämpfer or Tank Destruction Badge in Silver. For each enemy tank or armoured vehicle destroyed, one TDB was awarded.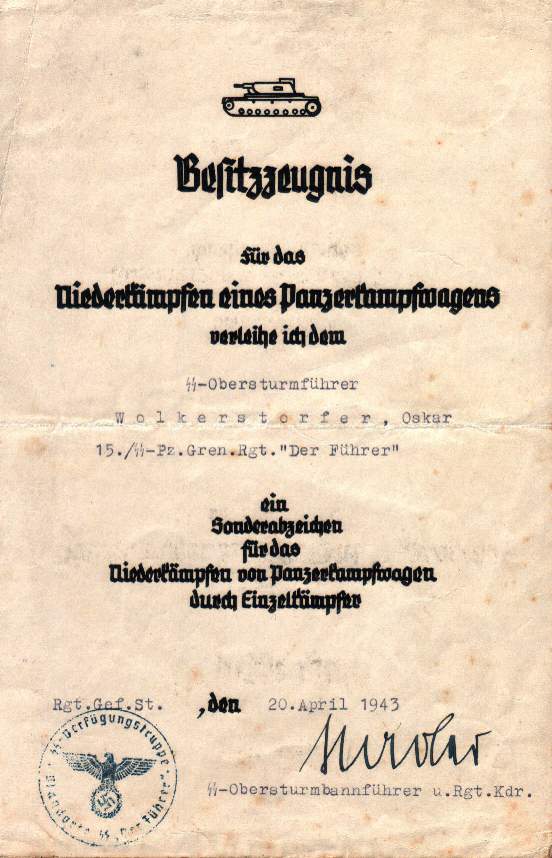 Numerous awards were also made to Hitler Jugend and Volkssturm units fighting against impossible odds defending Germany.
The official announcement of the introduction of the Tank Destruction Badge read as follows
The Führer has permitted the introduction of a special badge for the destruction of an enemy tank etc. by an individual.
With effect from 22nd June 1941 the special badge will be awarded to qualified soldiers who single-handedly destroyed or otherwise put out of action an enemy tank or similarly armoured vehicle by the use of close-combat weapons or implements (antitank rifle, rifle grenades, bundle charge.)
tank-destruction badge will be awarded to the individual most decisively involved in the destruction of each enemy armoured vehicle.
The badge consists of an aluminium corded cloth band 90mm in length and 32mm in width, edged with two 3mm high black woven thread stripes, to the centre of which is attached the stamped metal silhouette of a tank.
The sleeve-band (ribbon) will be worn on the upper right sleeve of the tunic; additional awards of the badge will be recognised by badges worn in the same manner.
The Tank Destruction Badge will be awarded by the battalion commander in battalion orders upon receipt of written recommendation of the individual's unit commander.
The date of the award is to be entered in the soldier's personal papers. The recipient is to be provided with a copy of relevant battalion general orders.
Badges can be requested through divisional channels to army headquarters.
The criteria for awarding of the General Assault Badge for the destruction of enemy tanks remains in force.

Voir Aussi Autre Photoscope See Also Other Walk Around
Bazooka US