Impression issue de Maquetland.com Le monde de la maquette | http://www.maquetland.com/article-phototheque/2950-excelsior-welbike-98cc-paris

Excelsior Welbike 98cc Paris

Excelsior Welbike 98cc Paris
English Transaltion


L'origine du Régiment de parachutistes trouve sa source lorsque le Premier ministre Winston Churchill decide de créer une force d'élite de l'armée britannique en réponse au succès des Paras allemands (Fallschirmjäger) lors des opérations en Norvège, Belgique, Pays-Bas et Crète.
Une moto apporte la mobilité à un para lorsqu'il atterrit.

Excelsior a été contacté pour construire un petit scooter pliable qui pourrait se placer dans un conteneur largué par parachute et ou même être parachuter directement par parachute. Il doit être dépliée et prêt à être utilisé par les parachutistes une fois sur le terrain
| | |
| --- | --- |
| | |
| Internet | Internet |

Le nom officiel de ce Para scooter ou Welbike au Ministère de la Guerre est de Motor Cycle, Solo, 98cc constructeur Excelsior; type: Welbike, pliant

Description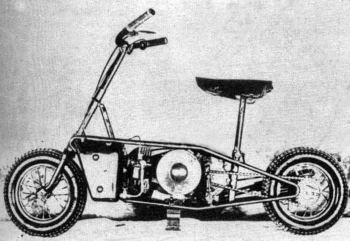 Internet

Avec un dessin assez novateur pour l'époque, le Welbike possède deux réservoir de carburant en deux éléments placé de chaque coté du cadre, juste derrière la fourche avant. Le rayon d'action de 45 à 50 kms est assez élevé pour un tel véhicule. Le moteur deux temps peut avoir une lubrification en fonction de la nature du carburant et du moteur. Le moteur démarre grâce à une pompe manuelle montée à l'arrière de la droite du réservoir. Pour replier le scooter, il faut enlever deux goupilles : l'une à la hauteur de selle et l'autre sur le support vertical du guidon.

Le tube de selle doit être escamotable dans le cadre et le guidon se replie sur celui ci. Les deux moitiés du guidon peut être facilement dévissées par un boulon central. Une fois plié, le scooter peut être transporté en parachute. Pour préparer et démarrer le Welbike douzaine secondes suffisent
Le Welbike est couleur est brun foncé.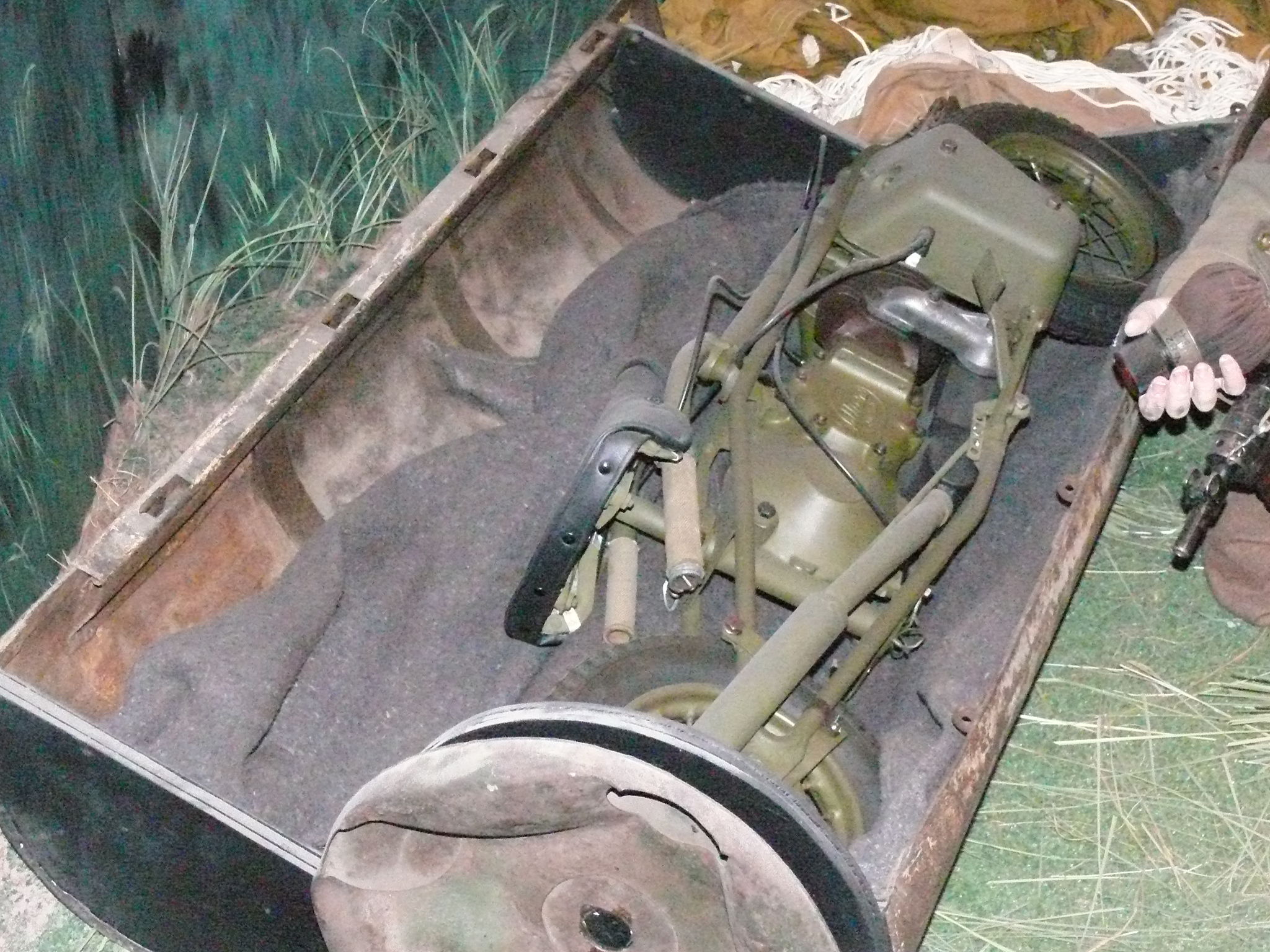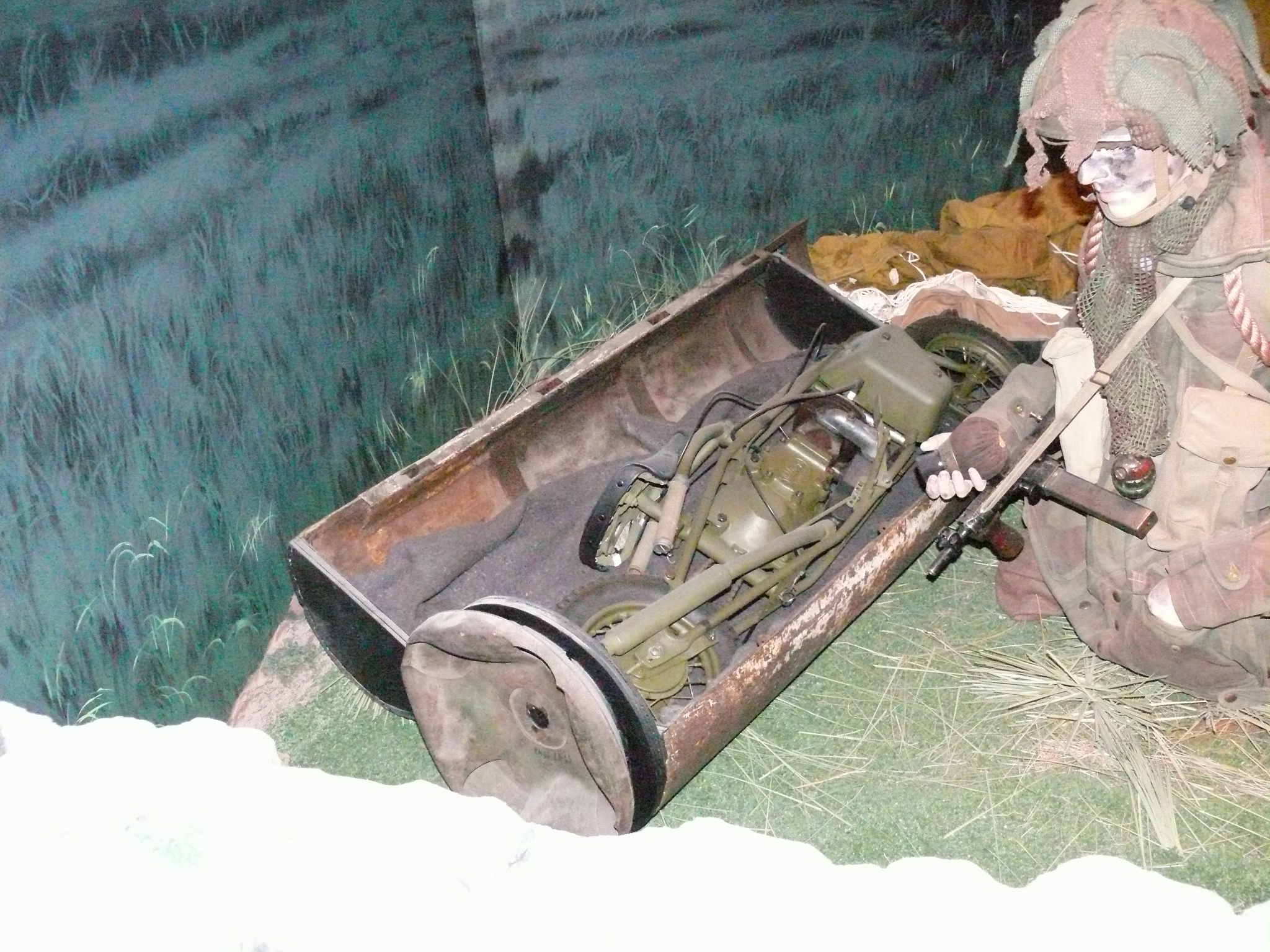 Bruxelles

Histoire
Développé à l'Frythe, Station 9 à Welwyn, Hertfordshire,c'est un programme top secret destiné au Special Operations Executive (SOE), mais il n'a pas été retenu aussi le Welbike a été adapté par les Paras
Le Welbike ont été utilisé sur tous les domaines d'action, tant en Normandie (ETO), en Extrême-Orient (PTO) et même par l'Armée rouge. Le Welbike a été utilisé par le régiment de parachutistes dans un certain nombre d'engagements en ETO notamment par la Royal Marine Commandos en Normandie et à Arnhem lors de l'opération Market Garden

Spécifications
Modèle: Welbike
Poids 32 kgs
Moteur
Villiers Junior
1 cylindre, 2 temps, refroidi par air
Puissance 80cm3 1,5 CV
Pas d'engin et l'embrayage
Rayon d action 48 kms
La moto présentée dans ce photoscope est la moto parachutée à André Jarrot Membre Du réseaux action France Combattante lors de la Mission Armada


Excelsior Welbike 98cc Paris

The origin of the Parachute Regiment took place when Prime Minister Winston Churchill would create and elite force on the British Army in response to the success of the Luftwaffe's Fallschirmjager role in the invasions of Norway, the Low Countries and Crete.
A Motor bike provided mobility to the airborne soldier once he was on the ground.

Excelsior was contacted to build a small collapsible motorized scooter that could fit in a parachute airdrop container and be able to be dropped by parachute. It can be unfolded and ready to driven by the paratroopers once on the ground The official schedule of the Parascooter or Welbike at the British War Department " Motor Cycle , Solo , 98cc constructor Excelsior ; type : Welbike , folding
| | |
| --- | --- |
| | |
| Internet | Internet |
Description

With a innovative design enough for the time, the Welbike has fuel tank into two elements riding on the frame, just behind the front fork. The radius of action 45 /50 kms is fairly high for such a vehicle. The two-stroke engine can have a separate lubrication depending with the nature of the fuel and engine. The engine is being start with a gas pump manually mounted at the rear of the tank right. To fold the scooter, simply remove two pins: one to hold the saddle height and the other holding the vertical support of the handlebars.

The seat tube is sinking into the frame and handlebars folds on the frame. The two halves of the handlebars can be easily attached by unscrewing a bolt central. Once folded, the scooter can be transported and parachuted. To gear up and start the engine, just a dozen seconds. Parascooter color is dark brown.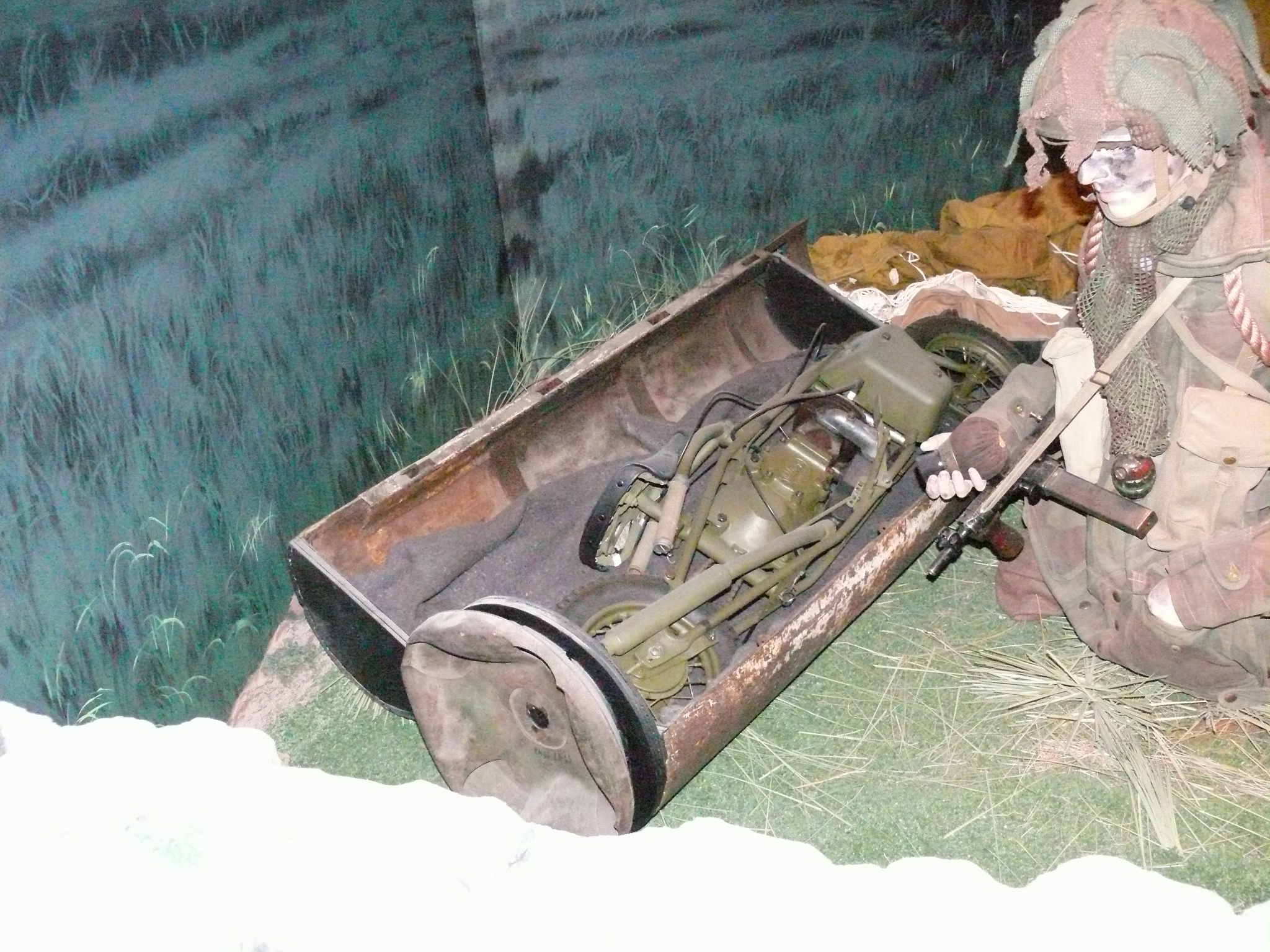 Brussels

History

Developed at the Frythe, Station 9 in Welwyn, Hertfordshire, a top secret design and research centre for use by the Special Operations Executive (SOE),but it did not receive acceptance by the SOE for its original intended role
The Welbike were used on all areas of action, both in Normandy ( ETO)in the Far East and also by the Red Army. The Welbike was used by the Parachute Regiment in a number of engagements notably by the Royal Marine Commandos at Normandy and at Arnhem during Operation Market Garden
Technical Data
Model : Welbike
Weigth32 kgs
Engine
Villiers Junior
1 cylinder , 2 temps , cooled by air
Power 80cm3 for 1.5 HP
No gear and clutch
Range 48 kms
This Welbike in the present walkaround was the welbke of Andre Jarrot Member of the réseaux action France Combattante during the Mission Armada
Autre Photoscope (Other Walk Around ) 1

Voir Aussi Autre Photoscope See Also Other Walk Around
Moto Cushman
Corgi Brockhouse Overloon
Corgi Brockhouse RAF Overloon
Excelsior Welbike 98cc
Excelsior Welbike 98cc Paris