Impression issue de Maquetland.com Le monde de la maquette | http://www.maquetland.com/article-phototheque/2738-mercedes-g-lvap-eurosatory-2008

Mercedes G LVAP (Eurosatory 2008)

Mercedes G LAVP (Eurosatory 2008)
English Translation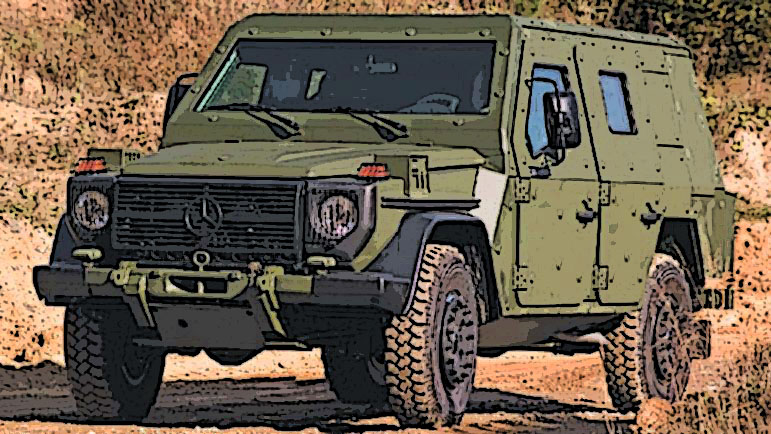 Le G-Wagon 280 CDI LIGHT ARMOURED PATROL VEHICLE (LAPV)
L'augmentation de l'instabilité politique dans le monde entier a obligé les armées des grandes puissances a intervenir avec ou sans l'approbation des Nations Unies sur des "points chauds" avec les forces de maintien de la paix pour rétablir la stabilité politique dans un pays et d'assurer la sécurité de la population civile. La nature de ces missions de maintien de la paix nécessite un besoin en équipements spécifiques En particulier, l'utilisation croissante de dispositifs explosifs improvisés (IED) et de technologie avancée utilisées par la guérilla entraine une nécessité de protection accrue pour améliorer la survie des troupes
Nous trouvons un exemple avec les opérations utilisant des véhicules blindés sur ou hors route . Ces véhicules doivent résister à des engins explosifs improvisés, des mines et des classiques tir d'armes à feu
Pour répondre à ce besoin d'une protection blindée, nous avons trouvé maintenant des véhicules spécialisés comme le Français PVP mais aussi nous trouvons le Mercedes-Benz 280 CDI light armoured patrol vehicle
Mercedes a choisi une variante du G-Wagon. Le light armoured patrol vehicle (LAPV) est fi est motorisé avec un turbo V-6 diesel, il a un empattement de 2.85m
La caisse est monocoque en acier blindé Le G-Wagon 280 CDI light armoured patrol vehicle peut être mis en œuvre par des forces militaires dans le monde entier et il est déjà opérationnel, et a été utilisé dans les opérations de maintien de a paix. L'expérience opérationnelle (RETEX) a été intégré dans la conception de ce 'LAPV avec le renforcement de la capacité de survie, la conduite en tout terrain les performances de conduite, tout en conservant un excellent confort pour les passagers.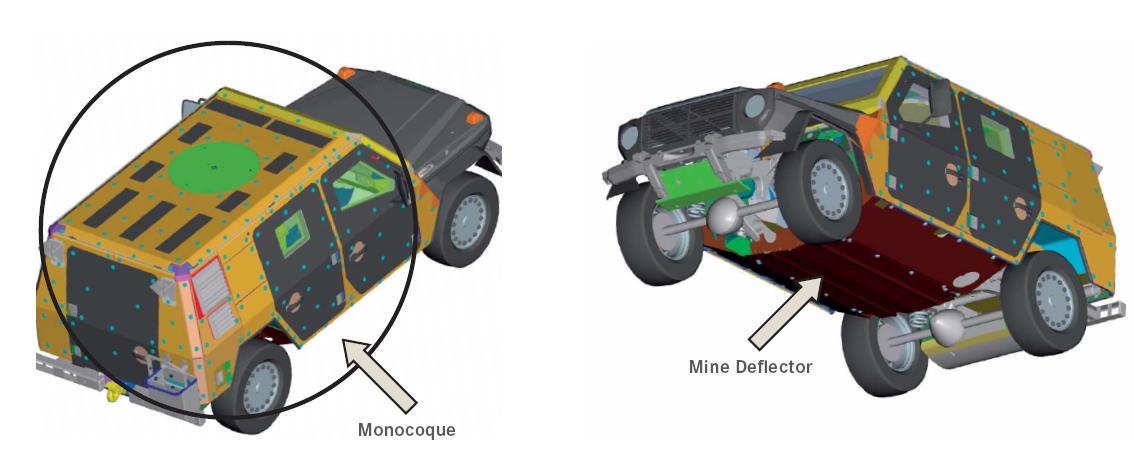 Caractéristiques
Poids 2,9 t
Payload5.400 kg
Longueur 4,8 m
Largeur 1.85 m
Hauteur 1.90m
Passage à gué 60 cm
Moteur de Mercedes-Benz 6 cylindres en V turbocompressé diesel common rail injection system (CDI).
, transmission automatique Mercedes-Benz W5 A 580, 5-vitesse, avec touchshift
Réservoir de carburant 96 litres
Vitesse de 135 kms/h
Protection accord. STANAG 4569
Balistique niveau "2"
Mines "DM 31", de niveau "2" comme option
Fragments FSP 20 mm
IED (Side blast) 15 kg de TNT, 2 m de distance
The G-Wagon 280 CDI LIGHT ARMOURED PATROL VEHICLE (LAPV)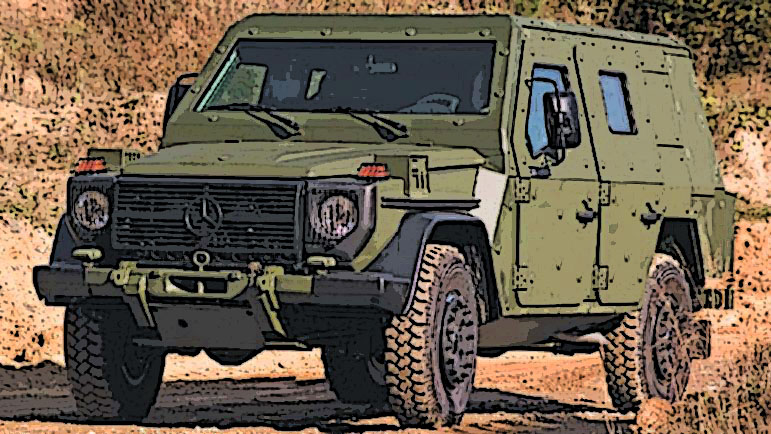 Increasing political instability throughout the world has required Moderns armies
to intervene with or not UN approbations to respond to individual "hot spots" with peace-keeping forces to restore political stability in a country and to provide security for the civilian population. The nature of these peace-keeping missions needs different equipment to function. In particular, the increasing use of Improvised Explosive Devices (IED) and advanced technology weaponry bythe guerrillas require soldiers to have increased protection to enhance survivability. One aspect of this protection is the conduct of operations using armoured off-road vehicles that can withstand IEDs, conventional mines and direct gun-fire.
To address this need for armoured protection, we found now some specalised vehicles as the French PVP In this walk around we found the Mercedes-Benz choose
Mercedes has selected a variant of G-Wagon. The LIGHT ARMOURED PATROL VEHICLE (LAPV) is fi tted with the 280 CDI turbo-charged V-6 diesel engine, has a wheelbase of 2.85m and an armoured monocoque fi ve-door steel body.The G-Wagon is the light vehicle of choice by military forces around the world and hasbeen used operationally in peace-keeping operations. This operational experience has been incorporated in the design of the LAPV to create a military off-the-shelf vehicle with enhanced survivability, unmatched cross-country driving performance, while preserving excellent passenger comfort.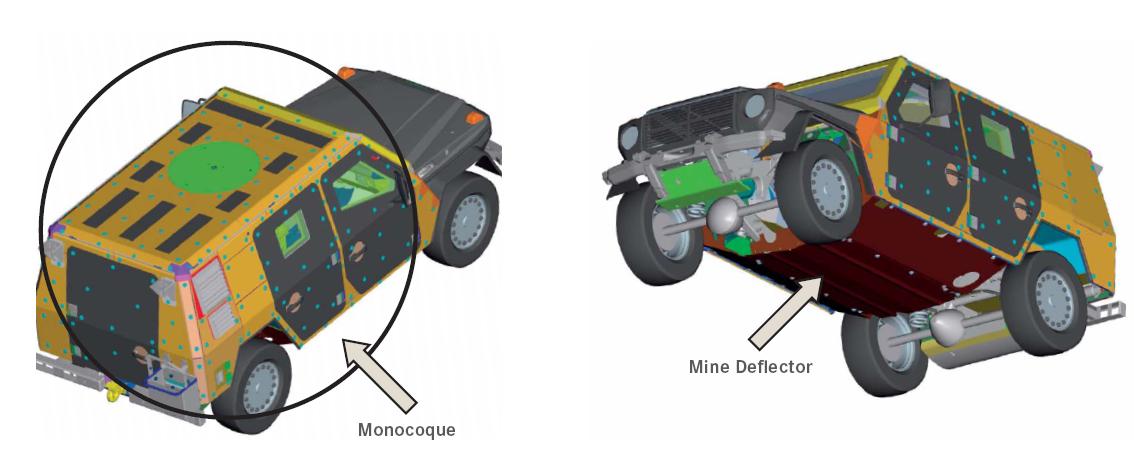 Tecnical data
Weigth 2.9 t
Payload5.400 kg
Length 4.8m
Width 1.85 m
Heigth 1.90m
Fordin 60 cm
Engine Mercedes-Benz 6 cylinder V turbocharged intercooled diesel engine with high pressure common rail injection system (CDI).
Mercedes-Benz automatic transmission W5 A 580, fi ve-speed, with touchshift
Fuel tank capacity96 liters
Speed 135 kW (184 hp) at 3800 rpm
Protection accord. STANAG 4569
Ballistic Level "2"
Mines "DM 31", Level "2a" as option
Fragments FSP 20 mm
IED (Side blast) 15 kg TNT, 2 m distance