Impression issue de Maquetland.com Le monde de la maquette | http://www.maquetland.com/article-phototheque/1942-vab-ratac

VAB RATAC

VAB RATAC
English Translation

| | |
| --- | --- |
| | |
| Internet | |

Le VAB RATAC( Radar de Tir de l'Artillerie de Campagne )
Il sert à la détection, reconnaissance, localisation précise et poursuite automatique des objectifs mobiles ainsi qu'à l'observation des tirs d'artillerie par la localisation des impacts en vue de la correction du tir
Il est dérivé du RASIT
Au début il furent équipés du système ATILA remplacé depuis par l'ATLAS car le système ATILA ne peut donner des éléments que pour les canons et non les tubes de mortiers Et ce sytème est Franco français donc incompatible avec les différents systèmes OTAN ou autres
Voila une des causes du changement via le système ATLAS
Le RATAC est destiné à
Le radar de tir pour l'artillerie de campagne, installé à bord d'un VAB, est exploité par un opérateur radar et un opérateur table traçante associée permet le report sur carte au 1/50 000 des objectifs poursuivis par le radar. Mais il n'est pas tout temps L'alimentation électrique se fait via un groupe électrogène indépendant (500 W - 24 V) fonctionnant à terre et transporté dans le véhicule
La digitalisation permettait via le Coffret Message Source (CMS) de faire transiter les messages vers le PC qui renvoie vers les unités de tir ..
Il est mis en ouvre en 15 min. et peut deecter diverses cibles mobiles ayant des vitesses allant de 3,5 à 200 Km/h
Il peut detecter des
Véhicules jusqu'à 18 km
Piétons 8 km.
Obus percutants de 105 mm 8 km. Eclatement d'obus fusants de 105 mm 4 km.
Obus percutants de 155 mm 10 km. Eclatement d'obus fusants de 155 mm : 5 km.
Hélicoptères en vol stationnaire 7 km.
Hélicoptères en déplacement 10 à 13 km
Il est précis en portée de10 à 20 m et en direction de 2 à 10 m
Il fonctionne en 4 modes
surveillance du sol par balayage automatique en gisement
acquisition manuelle des objectifs détectés en mode 1
écartométrie (mesure des écarts entre les éclatements d'obus et l'objectif)
poursuite automatique des objectifs mobiles de vitesse supérieure à 3,5 km

Autres Photoscopes (Others Walk Around ) 1 2
.
The VAB RATAC ( Radar de Tir de l'Artillerie de Campagne )or Fire finder Radar: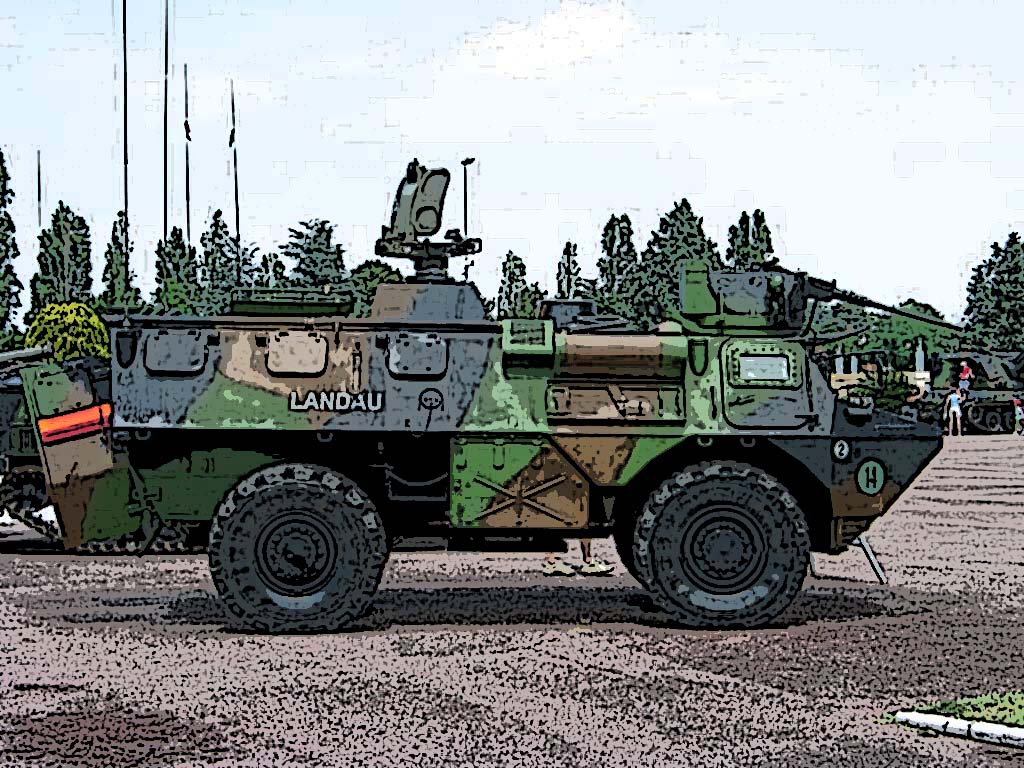 Internet

It is used for detection, recognition, localization and precise automatic mobile targets and the observation of artillery fire by the location of impacts for the correction of shooting
It is derived from RASIT
Originally it was equipped with ATILA since replaced by the Atlas system because e ATILA give information only for the guns and not the mortar tubes And he is a French to french system incompatible with the other NATO systems
This is one of the causes of the change via the ATLAS
The RATAC is intended
The radar directed gun for field artillery, installed on an VAB , is operated by an operatora radar and an operator associated to a Plotter at 1/50000th scale that can position the acquired targets on a map the objectives pursued by the radar. But it is notall weather
the power supply is independent via a generator (500 W - 24 V) operating on land and transported in the vehicle
Digitization enabled via igital transmission system or Coffret Message Source (CMS) to pass messages to the PC, which refers to the firing units.
It is implemented in 15 min. and can detect various moving targets with speeds of 3.5 to 200 km / h
It can detect
Vehicles up to 18 km
Pedestrians 8 km.
Shells hitting 105 mm 8 km. Fuse Shrapnel 105 mm 4 km.
Shells hitting 155 mm 10 km. Fuse Shrapnel of 155 mm: 5 km.
Helicopters (stationary) 7 km.
Helicopters(moving) 10 to 13 km
His precision in azimuth was 10 to 20 m and in scope 2 to 10 m
It operates in 4 modes
ground surveillance sweep automatic deposit
manual acquisition of targets detected in mode 1
écartométrie (measuring differences between the shrapnel and the target)
automatic tracking of targets moving speed exceeds 3.5 km.