Impression issue de Maquetland.com Le monde de la maquette | http://www.maquetland.com/article-phototheque/1899-boxer-tourelle-kmw-flw-200

Boxer Tourelle KMW FLW 200

Boxer Tourelle KMW FLW 200
English Translation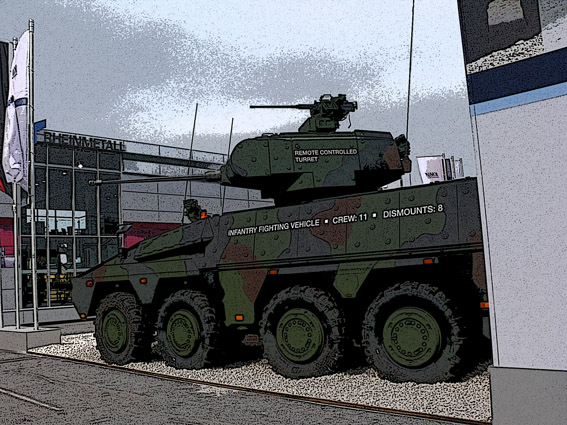 Historique Voir ICI
History Click HERE

La tourelle Radio commandée KMW a été développée pour la Bundeswher pour le VCI Puma armée dun canon Mauser Rheinmetall MK 30-2 ABM Ce canon de 30mm est remplacé ici par le canon Alliant Techsystems Mk44 II 30mm Bushmaster chain gun La tourelle est aussi équippé par une station de controle CTAS(Cased Telescoped Armament System ) International 40mm
Monté sur lechassis la tourelle KMW peut aussi recevoir une mitrailleuse lourde de calibre .50 ou 40 mm, et un lance-grenades automatique.
Ce système fournit au Boxer une bonne capacite de tueur.
La tourelle est montée au sommet de l'APC, mais on ne peut y penetrer et son niveau de protection est le même que celui de la coque.
Le Boxer possède un équipage de trois commandant, tireur et conducteur et peut empotrer une section de 8 hommes entierement équipés

the KMWs Remote Control Turret was developed for the German Army for the Puma tracked IFV. with a Rheinmetall Mauser MK 30-2 ABM (Air Bursting Munition) 30mm cannon replaced by the Alliant Techsystems Mk44 Bushmaster II 30mm chain gun. The turret received also a CTA International 40mm Cased Telescoped Armament System (CTAS) .
Mounted on top of the turret is KMW's FLW 200 remote controlled weapon station which can be armed with either a .50 calibre heavy machine gun or 40mm automatic grenade launcher.
The fire control system provides a hunter/killer capability for the commander and gunner.
The turret is mounted on top of the APC with no penetration of the hull required and she has the same level of protection as the hull.
Boxer was operated by a crew of three commander, gunner and driver and carries an eight infantry squad.