Impression issue de Maquetland.com Le monde de la maquette | http://www.maquetland.com/article-phototheque/1218-madez

Madez

MADEZ Aardvark J.S.F.U. Mk 4 Mechanical Landmine Clearance Vehicle
English Translation

Merci à christian Adam pour les Photos

L'Aardvark est un autre nom pour le aardvark Cape (Orycteropus afer), aussi appelé cochon de terre, un fourmillier de l'Afrique sous l'Equateur, qui se nourrit principalement sur les termites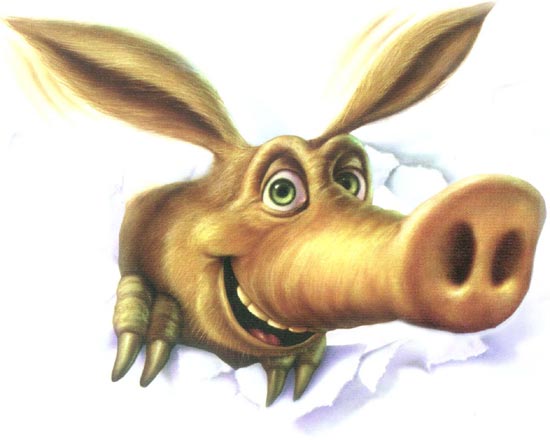 Le J.S.F.U. Aardvark Mc 4,
Depuis 1982 Aardvark Clair Mine Ltd concoit et produit une gamme de véhicules de déminage Le MK 4, est le dernier modèle de la série, avec un puissant moteur turbo diesel qui donne plus de performance et amélioration le travail de l'AARDVARK
La zone est traité par un Mine Clearing Vehicle (MCV), qui utilise des chaînes 60/90cm servant à frapper les mines et les munitions non explosées sur le sol pour les faire exploser lorsque les chaînes frapper les objets
Aardvark
Le fléau s'est avéré extrêmement utile dans la dépollution d'un site de combat
il a été acheté par la Corée pour le déminage de la zone démilitarisée par la France, la Hollande, de l'Arabie saoudite, la Jordanie, le Pakistan, de l'Irlande.
Il a été utilisé dans les opérations de l'ONU en Afghanistan et au Liban, en Afghanistan et en Irak par les forces britanniques et américaines
Il a été utilisé par les forces britanniques, canadiennes et françaises en Bosnie, par les agences de déminage humanitaires en Angola et au Mozambique, et pour des projets de déminage dans la vallée du Jourdain.
En 1992, la France a testé deux types de matériaux JSFU (Joint Service Flail Unit) de la société AARDVARK pour les essais. Ensuite, il a été décidé d'équiper les régiments du génie FAR de deux engins chacun.
A la suite de la restructuration de l'Armée le matériel de déminage a été regroupé dans un module appelé MADEZ qui sera mis en œuvre pour des opérations ponctuelles
Le Module MADEZ est composé d'un VAB Génie, deux Madez, de deux VTL ACTM et deux remorques spécifiques.
1e Régiment de Génie

Les 8 MADEZ en 2009,sont regroupés au sein de deux sections de déminage de zone de la compagnie de contre-minage du 1er RG. La réalisation d'un système de transport, permettant à l'engin de s'équiper et de se déséquiper du fléau sans moyen de levage extérieur, est en cours
| | | |
| --- | --- | --- |
| | | |
| Internet | Internet | Internet |

Description
Le MK 4, dispose d'un moteur turbo diesel avec double système de contrôle, un nouveau système de filtration d'air pour le moteur et la cabine, et intègre les enseignements tirés des opérations militaires dans le monde entier durant lesquelles des milliers de mines ont été détruites.
D'une masse en ordre de marche de 13 à 14 tonnes suivant la configuration, le MADEZ est transporté en deux fardeaux sur VTL et remorque spécifique. Sa mise en œuvre nécessite, à l'heure actuelle, un moyen de manutention pour le montage et le démontage du fléau.
Il est aérotransportable sur avion C-130 en deux fardeaux.
La chaîne de 3m avec sa rotation permet au fléau de visée et détruire des mines en surface ou enterrés, des pièges, de fils-pièges et de la végétation, dans divers domaines et, sous réserve des conditions climatiques et géophysique sur un devers de 34% Le taux de dépollution est proportionnel au travail plus il y a de dépollution a faire plus le véhicule ira lentement, Dans une rue ou un terrain vallonné le fléau suit automatiquement les contours du terrain, indépendamment de la hauteur de l engin .
En moyenne sa vitesse de progression, en déminage, est de l'ordre de 800m/h, pour une largeur de couloir déminé de 3 m.
La cabine
elle est blindée de force biseautée afin de dévier l'onde de choc des explosions
Les vitres sont elles aussi blindées sur 56 mm vitres et protégés par un revêtement interne en polycarbonate et celle en face du fléau ont un grillage de protection
L'intérieur de la cabine est insonorisé, filtrée et possède une climatisation réversible
L'équipage possède des casques d'écoute avec microphone permettant une communication entre l'équipage et aussi vers l extérieur. Le plancher de la cabine est blindée avec une double plaque et la partie inferieure a un profil biseauté spécifiquement conçu pour offrir le maximum de déviation du souffle de l explosion
Il peut aussi être conduit comme pour les EBR dans l'autre sens par rotation de la colonne de direction
Motorisation
C'est un moteur de 160CV 6-cylindres en ligne turbo diesel qui gère la conduite et la prise de force (power take off (PTO). pour conduire le véhicule avec une boîte de vitesses (4 vitesses synchronisées avec 4 paliers cela donne 16 marches avant et 16 arriere ) le différentiel et la prise de force hydraulique, sont tous logés sous blindage
Fléau
'Le fléau est monté de telle sorte que l'explosion se produit à 6,7 mètres le plus loin possible du compartiment de l'équipage afin d'assurer le maximum de sécurité
Il se compose d'un rotor de de 3m de large avec 72 chaînes, dont 66 sont équipés de masses.
Le rotor est branché sur la prise de force On trouve également une importante plaque déflectrice de souffle suspendu sur le fléau afin de protéger le moteur et la cabine des divers éclats
Le rotor tourne à environ 300 tr / min, et les 72 chaînes, traite la même surface au minimum 6 conseils attaquant sera de percuter le sol à un moment donné, et chaque morceau de terrain fois. La vitesse est de 64à 900m/r heure en fonction du terrain et de la mission demandée
Le fléau traite le sol jusqu'à une profondeur de 50cm.
Tout cela est gére par un système de contrôle automatisé qui augmente ou diminue la cadence selon le terrain Le système de contrôle automatique peut être mis en manuel
La chaine peut être perdue suite l'explosion de mines anti char mais la perte d 'une chaine n'influe pas sur la mission (les chaines se chevauchent). Elles sont aussi d'un entretien aisé.
Données techniques
Max poids 15.5t
Hauteur 3.64m
Longueur 8.77m
Largeur 3,6 m
Equipage: 1 Plus 1.
Moteur
Newholland (Ford) 6 cylindres en ligne diesel avec turbo . 7472cm3
Transmission: boîte de vitesse mécanique 16 avant et 16 vitesses arriere
Cabine de protection
10 mm entièrement blindé structure.
56mm vitres blindées avec revêtement intérieur de protection en polycarbonate.
air filtré et conditionné.
Climatiseur avec contrôle de température.
Fléau
Mécanique entrain par la boîte de vitesse.
90 m /heure
3,04 mètres de large de chaînes
Rotor 72 chaines dont 66 avec masses métalliques.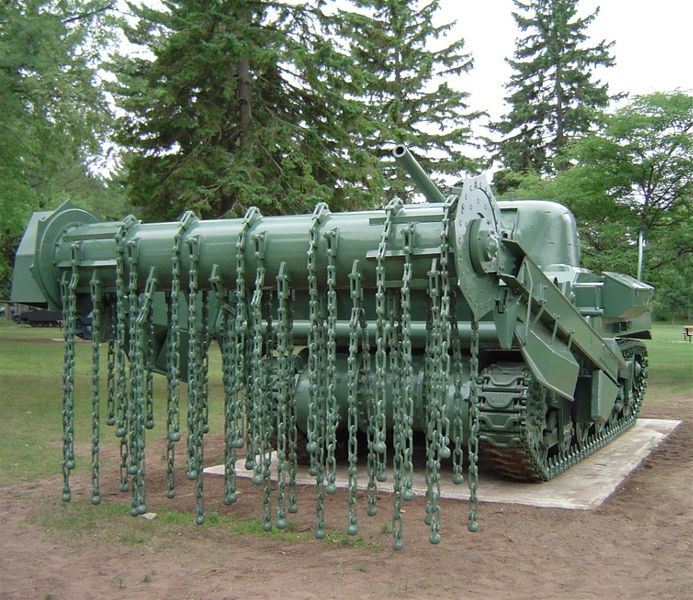 M4 (1944)

.
MADEZ Aardvark J.S.F.U. Mk 4 Mechanical Landmine Clearance Vehicle


The Aardvark is another name for the aardvark Cape (Orycteropus afer), also called earth pig, an ant of Africa sub Ecuador, which feeds mainly on termites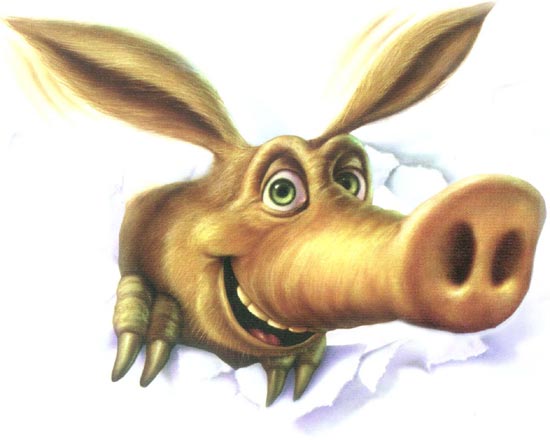 The J.S.F.U. Aardvark Mk 4
Since 1982 Aardvark Clear Mine Ltd has been designing and producing a variety of landmine clearance vehicles.The Mk 4, the latest model in the series, incorporates a more powerful turbo charged diesel engine which gives greater performance and improved AARDVARK The area coverage is a Mine Clearing Vehicle (MCV) which uses 60/90cm chains to "beat" mines and UXO out of the ground or to explode them when the chains hit them
The Aardvark flail has proven extremely useful in post conflict clearance.
he was purchased by Korea for landmine clearance of the Demilitarized Zone by France, Holland, Saudi Arabia, Jordan, Pakistan, Ireland.
It has been involved in operations for the UN in Afghanistan and Lebanon Afghanistan and Iraq by British and American forces
He was use British, Canadian and French forces in Bosnia, by humanitarian mine clearance agencies in Angola and Mozambique, and for a millennium mine clearance project in the Jordan Valley.
In 1992, France tested two types of materials JSFU (Joint Service Flail Unit) AARDVARK of the company for testing. Then it was decided to equip the regiments Engineer FAR two devices each.
Following the restructuratoin of the Army demining equipment area, air, a module called MADEZ will be established for the deployment and installation of units under the operations
The MADEZ is composed of a VAB Génie, two Madez, two trailers with VTL ACTM specific.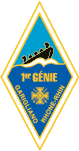 1e Régiment de Génie


The 8 MADEZ in 2009 are grouped in two sections of the mine area of the company against mining of the 1st RG. The realization of a transport system, allowing the gear to wear and to the scourge déséquipement without using external lifting equipment is being
| | | |
| --- | --- | --- |
| | | |
| Internet | Internet | Internet |

Description
The Mk 4, has a turbo charged diesel engine It has a dual control system, a new air filtration system for the engine and cab, and incorporates the lessons learned in worldwide operations in which many thousands of mines have been cleared.
In a mass in running order of 13 to 14 tons depending on the configuration, the MADEZ is transported in two burdens on specific LTV and trailer. Its implementation requires, at present, an average handling for assembly and disassembly of the scourge.
It is air transportable on C-130 aircraft in two bundles.
The 3m wide rotating chain flail clears buried or surface laid anti-tank and anti-personnel mines, booby traps, trip wires and vegetation, in various fields and, subject to ground conditions and climate, on inclines of up to 1 in 3. The rate of clearance is proportional to the clearance depth, thus the greater the depth the slower the forward speed. In rough or undulating ground the flail automatically follows the contours of the ground irrespective of the attitude of the prime mover.
His average speed of progress in mine clearance, is of the order of 800m / h, for a wide corridor cleared by 3 m.
The cab
is a fully armored structure with an angled underside profile to deflect blast forces. The 56 mm armored glass windows are additionally protected by an internal polycarbonate liner and those facing the flail have an external mesh grid. The inside of the cab is sound proofed, filtered and the air temperature is controlled with heater / air conditioning units. Headphones with an attached microphone allows hands free communication between the crew of two, and with external stations. The cab floor is double armor plated skin with the lower underside having an angle profile, specifically designed to provide maximum deflection of blast forces.
Rotating steering column allows the vehicle to be operated from either side
Power Train
Comprises a 160hp 6-cylinder in line turbo charged diesel engine to drive the vehicle and power take off (PTO). The integrally mounted gear box, differential, final drive, and PTO hydraulics, all housed in a fully protected armored compartment incorporating belly plates.
The main belly plate has a similar profile as the angled cab thereby minimizing the effect of blast forces. Forward and reverse drive for cross country is normally through half tracks.
Large air fill or solid tires can be fitted in lieu of the tracks for airfield, runway, or levelsurface clearance, and for medium-distance road transport. A 4 speed synchromesh transmission
with 4 gear ranges gives 16 forward and 16 reverse speeds, creep more options. Tracked in the version the machine can operate on inclines of 34% (1 in 3). Hydrostatic steering is achieved through the front axle, with independent steering track on the rear axle. Braking is provided through hydraulically operated front and rear brakes, with an air / spring operated failsafe parking brake.
Flail Assembly
The rear mounted flail assembly is mounted so that the location of explosion is 6.7 meters away from the nearest point of the crew compartment to ensure maximum safety and consists of a 3m wide double sleeved rotor carrying 72 chains, 66 of which are fitted with striker tips. The rotor is belt driven from the PTO power train via the support boom arms. The boom arms are raised and lowered hydraulically. There is also a large blast deflector plate suspended flail between the side arms to shield the prime mover and cab from shrapnel, blast, and shaped charge detonation from a mine explosion. The rotor rotates at approx 300 rpm, and with the 72 chains, 6 striker tips will be striking the ground at any one time, and every piece of ground will be struck at least twice. Flailing achievable speeds are between 64 - 900m per hour depending on terrain clearance or depth required. The slower the speed the greater the depth to which the flail can dig, up to a maximum 500mm. No matter what the terrain is flailing across vehicle, a control system is programmed to automatically raise / lower the boom to follow the contours of the ground. The automatic control system can be manually overridden by the entire operator.The sidearm and rotor assembly is designed to ride up following detonation of a large mine, and then automatically return to its previous settings digging. Chain loss following explosion of anti tank mines may occur. Gaps in the beat pattern are minimal following chain loss owing to the high degree of chain overlap and built in redundancy. An engine driven air compressor, complete with air tanks and air tools, chain replacement facilitates and improves the ease of maintenance and cleaning of radiators, coolers and filters.
Technical Data
Max weigth 15.5t
Height 3.64m
Length 8.77m
Width 3.6m
Operator Crew 1 Crew Plus 1.
Power Train
Newholland (Ford) 6 cylinder in-line diesel engine with turbo charger. 7472cm3
Transmission: Mechanical gearbox giving 16 forward and 16 reverse speeds creep more options.
Cab Protection
10mm fully armored structure.
56mm armored glass windows with internal polycarbonate liner protection.
Filtered fresh air intake.
Air conditioner with temperature controls.
Flail UNIT
Mechanical drive through heavy duty gearbox.
90o directional change through to main line shafts boom.
3.04 meters wide rotor mounting chains 72, 66 with striker tips.
.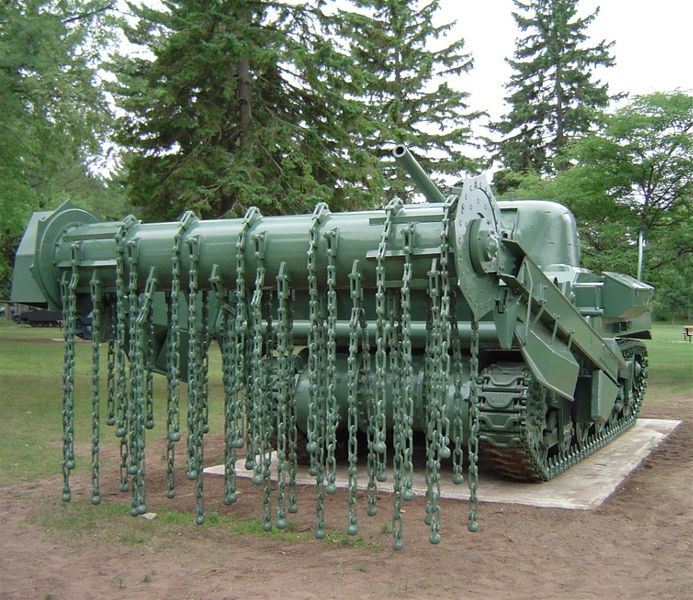 M4 (1944)