Impression issue de Maquetland.com Le monde de la maquette | http://www.maquetland.com/article-994-france-vbci-english-translation

France VBCI (English Translation)
Article fait par :Claude Balmefrezol

Mis en ligne le 23/05/2009 à 14:13:56

Le VBCI (véhicule blindé de combat d'infanterie.)
English Translation

La chute du mur de Berlin a entraîné beaucoup de modifications dans les armées occidentales. Tous les équipements prévus pour la confrontation Est-Ouest sur le sol allemand comme les chars d'assaut les canons automoteurs semblent être obsolètes.
Fini les confrontations majeures il faudra des engins beaucoup plus compacts plus légers et plus petits
Le Leclerc le M.1 le Challenger sont alors figures de dinosaure.
Pour les véhicules d'infanterie l'armée française est équipée en cette fin de XXe siècle de deux genres de VCI.
Héritiers directs de la guerre froide les véhicules à roues étaient utilisés dans le s Divisions d'Infanterie (DI) au sein des Rimeca (régiments d'infanterie mécanisée) alors que le VCI chenillé était utilisé dans les DB avec les Rimoto (Regiment d infanterie motorisée notamment les Bataillons de chasseurs).
Si le VAB est encore largement à la hauteur de la situation et pour quelques années encore il n'en va de même pour l'AMX. 10 P.
C'est engin formidable ne peut plus suivre le Leclerc dans les manœuvres et de plus son châssis commence à présenter des signes inquiétants de faiblesse. Il fallait donc songer à lui trouver un successeur. Après plusieurs années d'études et un choix cornélien sur la propulsion de ce type d'engin il fut décidé en 2000 de porter son choix sur véhicule à roues à huit essieux pouvant embarquer un groupe de combats de neuf hommes.
Description du VBCI.
| | |
| --- | --- |
| | |
| Premieres ebauches Internet | Premieres ebauches Internet |
| | |
| Premieres ebauches Internet | Premieres ebauches Internet |

Le VBCI développé par Giat industries correspond aux besoins de combat moderne il assure une plus grande mobilité une plus grande protection à l'équipage .Il peut évoluer tout au long de sa carrière
Il peut aussi bien suivre le char Leclerc en rase campagne que combattre en zone urbaine l'armée française a choisi jusqu'à présent deux types de VBCI.
Le V. C. I. qui doit manœuvrer avec le char Leclerc en emportant le groupe de combat.
Le VPC qui sert de poste de commandement.
| | |
| --- | --- |
| | |
| Demonstrateur Vextra 105 | Demonstrateur Vextra VCI |

Le VBCI sera à même d'embarquer le groupe de combat Félin (fantassin à équipement et liaisons intégrées )dès le début car il intègre un système de numérisation du champ de bataille. Le système Félin doit équiper 32000 hommes à partir de 2007 ;Ce système est destiné à remplacer l'équipement actuel du fantassin pour offrir au combattant un équipement de combat adapté à la mission à accomplir à la page et p2
Le groupe de combat peut sortir de l engin par une rampe arrière Il possède une capacité de rangements internes et externes pour l'équipage
Dés l origine la conception du VBCI a été faite pour que il puisse évoluer en plusieurs versions ambulance génie dépanneur Mortier milan,
Il est disponible en version 8X8 il est peu gourmand en carburant et de plus il est aérotransportable sur le futur Airbus A400 M.
Son blindage modulaire protège l'équipage et peut évoluer tout au long de sa vie opérationnelle
Il peut de plus recevoir différent armement Milan Mortier .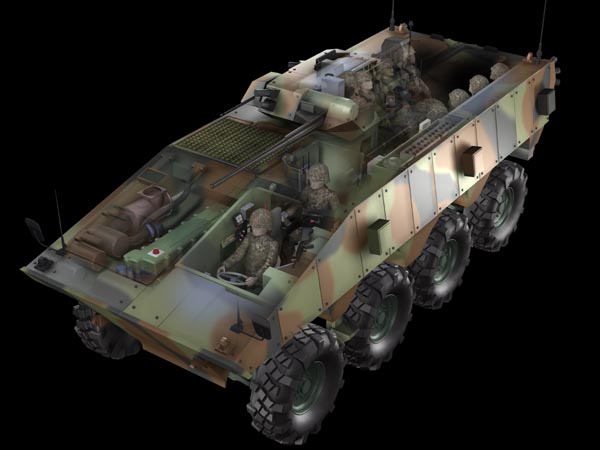 VBCI Internet

L'armée française a choisi la tourelle équipée d'un canon de 25 mm mais monoplace. Erreur ou justesse de concept
Il ne faut pas oublier que les chars français en 1940 étaient handicapés avec une tourelle monoplace (mais nous sommes plus à la même époque)
La version Pc sera armée d'un tourelleau télé opéré de 12.7 mm de plus il sera équipé du système SIR
Le marché a été notifié à Giat Industries et Renault V.I. le 6 novembre 2000 les industriels devront livrer dans un premier temps 65 VBCI de série. Le marché comprend, en outre, plusieurs tranches conditionnelles qui porteront à 700 le nombre total des véhicules livrés à l'armée de terre française dans les deux versions de base suivantes :
550 véhicules de combat d'infanterie (VBCI/VCI)
150 véhicules postes de commandement (VBCI/VPC)
Les futurs régiments d infanterie VBCI seront ainsi organisé
1 compagnie de chars Leclerc à 16 chars + 2 VBCI
3 compagnies de VBCI fortes de 4 sections à 4 VBCI soit 48 VBCI
1 compagnie de commandement a 4 VPC
il faut ajouter 2 VPC par compagnies soit 14 VPC
1 compagnie de soutien avec 2 VPC
La livraison aux unités est prévue pour 2008
Caractéristiques



Constructeur Nexter
Poids 28 T
Equipage VCI 2+ 9 hommes
Longueur 7.8 m
Largeur 2.98m
Hauteur 2.26m
Garde au sol 0.50m
Gué 1.2m sans préparation
1.5 M après préparation
Volume intérieur 13 m3
Braquage 17 m
Motorisation Moteur diesel de550 ch.
BAV automatique
Vitesse 100 kms
Autonomie 750Kms
Suspension Oléopneumatique et mécanique
Centrale de gonflage des pneus
Air conditionné
Armement
VCI 1 tourelle de 25 mm avec canon type 25 M811
1 mitrailleuse coaxiale de 7.62 OTAN
Equipe de IFF
Photoscopes Walk Around 1 2 3 4
The VBCI ( véhicule blindé de combat d'infanterie.
)
The fall of the Berlin Wall led many changes in Western armies. All equipment provided for the East-West confrontation over German soil as tanks self-propelled guns seem to be obsolete
Finished major confrontations will require much more compact equipment lighter and smaller The Leclerc, M.1, Leopard and Challenger figures are dinosaur.
The French army is equipped in the late twentieth century two types of APC.
Direct heirs of the Cold War wheeled vehicles were used in the Infantry Divisions (DI) within Rimeca (mechanized infantry regiments), while the tracked vehicles was used in the DB with Rimoto (Infantry Regiment including motorized battalions de chasseurs).
If the VAB is still largely up to the situation and for a few years it is not the same case for the AMX. 10 P.
this formidable APC can no now longer follow the Leclerc in the maneuvers and over its chassis begins to make some worrying signs of weakness. It was therefore necessary to consider to find a successor. After several years of study and a cornelian choice for the motorization for this type of device it was decided in 2000 to choice a 8X8 wheeled vehicle who he can carry a group of nine men fighting.
Description VBCI.
| | |
| --- | --- |
| | |
| First Drafts (Internet) | First Drafts (Internet) |
| | |
| First Drafts (Internet) | First Drafts (Internet) |

The VBCI developed by Giat Industries corresponds to the needs of modern combat it ensures greater mobility greater protection to the crew. It may evolve throughout his career
It can also follow the Leclerc tank anywhere in open country as well in urban areas
French army has also chose two types of VBCI.
The V. C. I. which must operate with the Leclerc tank, with combat team.
The VPC which serves as a command post.
| | |
| --- | --- |
| | |
| Vextra 105 demonstrator | Vextra VCI demonstrator |

The VBCI will be able to board the team Félin (fantassin à équipement et liaisons intégrées) from the outset because it includes a scanning system battlefield. The system must equip 3200 Félin men from 2007; This system is intended to replace existing equipment to provide to the soldiers fighting equipment adapted for her missionq to accomplish the page and p2
The comabt team can get out of gear by a stern ramp It has a capacity of internal and external storage space for the crew
Since the original design VBCI can evolve into several versions ambulance engineering mortar or milan vehicleg,
It is available in 8X8 ,and it is sober for the fuel consumption and he can be carried by the future Airbus A400 M.
His modular shielding provide protection to the the crew and can evolve throughout its operational life
It may also receive different weapons Milan Mortier.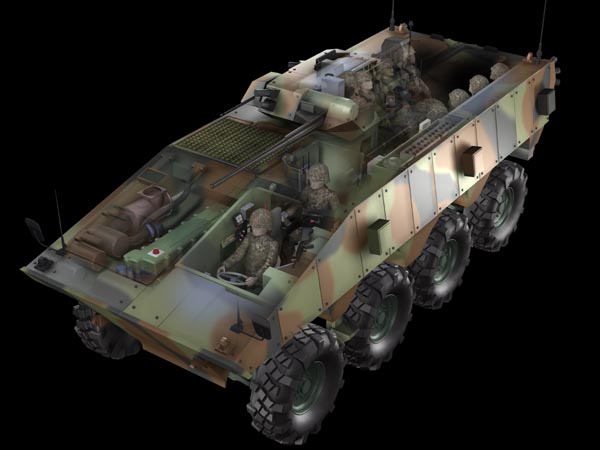 Internet

The French army has chosen the turret equipped with a 25 mm cannon, but single seater. Error or accuracy of concept ?
We must not forget that the french tanks were disabled in 1940 with a turret single-seater . but now whe are in 2010 not in 1940
The PC version will be armed with a remote tourelleau of 12.7 mm more it will be equipped with the system SIR
The market has been notified by Giat Industries to Renault VI on November 6th 2000
The industrial will deliver in the first time VBCI Series. The contract also includes several tranches conditional which bring to 700 the total number of vehicles delivered to the French army in two basic versions:
550 combat vehicles infantry (AIFV / VCI)
150 vehicles command posts (AIFV / VPC)
The future of infantry regiments will be organized
1 company of Leclerc tanks to 16 tanks + 2 VBCI
3 companies VBCI of 4 sections 4 VBCI or 48 VBCI
1 company command with 4 VPC
we must add 2 VPC by companies or 14 VPC
1 support company with 2 VPC
The delivery units is scheduled for 2008
Specifications



Manufacturer Nexter
Weight 28 T
Crew VCI 2 + 9 men
Length 7.8 m
Width 2.98m
Height 2.26m
Guard ground 0.50m
Gué 1.2m unprepared
1.5 M after preparation
Interior volume 13 m3
Turning circle 17 m
Diesel Engines de550 ch.
Gear Box automatic
Speed 100 kms
Range 750Kms
Suspension and mechanical Oléopneumatique
Central Tire Inflation
Air conditioning
Weaponry
VCI 1 turret with 25 mm cannon type 25 M811
1 coaxial machine gun of 7.62 NATO
Team IFF