Impression issue de Maquetland.com Le monde de la maquette | http://www.maquetland.com/article-894-france-colonne-vendome-english-translation

France Colonne Vendome (English Translation)
Article fait par :Claude Balmefrezol

Mis en ligne le 18/11/2008 à 18:24:47

LA COLONNE VENDOME
,
le Pilier d airain fait par Napoléon
English Translation
Au centre la de la place Vendôme se dresse une colonne que tout le monde connaît sous nom de Colonne Vendôme mais son histoire est plus compliquée et agitée qu'il y en l air et les vitrines des magasins de luxes ou les fenêtres des balcons si elles pouvaient raconter l'Histoire voila ce qu'elles diraient
Au début il y eu une volonté du Louis XIV de créer une place qui fut appelée en 1685 Place des conquêtes et deviendra finalement place Vendôme, Elle est dessinée par Jules Hardouin-Mansart qui conçut en 1699 un plan d'urbanisme strict auquel devaient se conformer les propriétaires des immeubles. Elle a été deja surnommé place Vendôme dès le XVIIe siècle, du nom de l'Hôtel de Vendôme qui se trouvait là. En son centre on trouvait une statue équestre du Roi-Soleil. Elle fut baptisée place Louis le Grand. Depuis 1718, la Chancellerie occupe les une parties des locaux de cette place Mais les temps changent et Le 13 août 1789, Au début de la Révolution la statue, symbole du pouvoir royal est détruite Le 20 janvier 1793 Louis Michel Lepeletier de Saint-Fargeau qui avait voté la veille la mort de Louis XVI est assassiné au Palais-Royal Après son assassinat on chargea le peintre Jacques Louis David d'organiser une cérémonie funèbre. On plaça au milieu de la place, la dépouille de Saint-Fargeau nu et sanglant, simplement recouvert d'un drap laissant apparaître sa plaie, sur le socle de la statue dans un décor néo-antique De 1793 à 1799, elle prit le nom de place des Piques.
En 1800 un décret envisage d'ériger une colonne comme dans tous les chefs-lieux de département, et qui sera dédiée aux braves du département.
Pour Paris, on décide de construire 2 colonnes( décret 20 mars 1800 ou 29 Ventôse an VIII),
Une nationale sur la place de la Concorde, dédiée à la Nation et une départementale sur la place des Piques
Si la colonne nationale ne fut jamais construite on commence à poser la première pierre du monument le 14 juillet 1800 ( 25 Messidor An VIII).
mais les choses évoluent et en 1803 Bonaparte decide de faire construite une colonne « à l'instar de celle élevée à Rome, en l'honneur de Trajan », ornée de 108 figures des départements montées en spirale et surmontée de la statue de Charlemagne ». elle sera dédiée à la Gloire du Peuple Français, mais deviendra rapidement un monument à la gloire de l' Empereur
la construction sera lente et il faut attendre 1805 et la victoire sur la III° coalition pour pouvoir obtenir le bronze nécessaire ( 180 t.) pour terminer le projet,
La place garde son calme jusqu'au 16 mai 1871 date à laquelle la colonne est abattue sur ordre du gouvernement de la Commune la Place devenant place Internationale
La Commune Mai 1871 ( Internet)

La Commune Mai 1871 ( Internet)

La Commune Mai 1871 ( Internet)

L ensemble sera restauré en 1875 c'est l aspect de la place que nous connaissont de nos jours
La colonne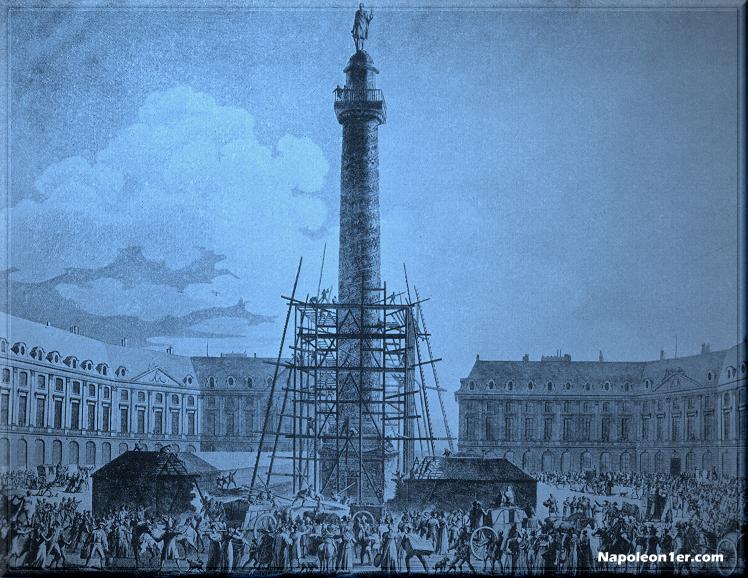 Construction Source Internet

La Colonne de la Grande Armée est faite à l'imitation de la colonne Trajane. Elle a 44.3m de hauteur, y compris son piédestal et la statue de l'Empereur à son sommet. Elle fut « élevée à la gloire des Armées Françaises, l'an 1810, par les ordres de Sa Majesté Impériale et Royale NAPOLEON LE GRAND »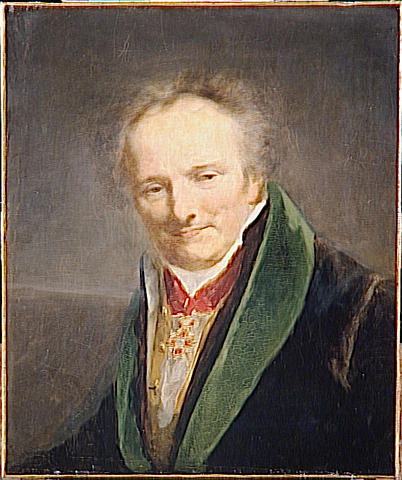 Vivant Denon 1747 1825

L'idée de la construction de cette colonne, élevée à la gloire des armées françaises, appartient entièrement à Napoléon,qui en a confier la direction à M. Denon, d'après les plans de M. Lepère, architecte. Ce monument a été commencé dans le courant du mois d'août 1807, et a été terminé dans le courant du mois d'août 1810.
Il se décompose en un Stylobate et une colonne La base de la colonne est en porphyre d'Algajola.
La colonne a 44.3m de haut pour un diamètre de 3.6m avec 76 anneaux de granit recouverts de 354 fines plaques de bronze ( sic le journal de la commune du 16 mai 1871 ).
Pierre Bergeret et une équipe de sculpteurs composée entre autres de Jean Joseph Foucou (six des bas-reliefs), Louis Boizot, Bosio, Bartolini, Claude Ramey, François Rude, Corbet, Clodion et Ruxthiel ont exécutés ce travail .
Ce monument élevé en pierre, est revêtu de bronze dans toute sa hauteur. Le stylobate est entièrement garni de bas-reliefs représentant des trophées en armes.
A chaque angle de ce piédestal et au-dessus de sa corniche, est un aigle qui soutient une guirlande de lauriers
Au-dessus de la porte se trouve un cartouche supporté par deux Renommées, renfermant, gravée en creux, l'inscription suivante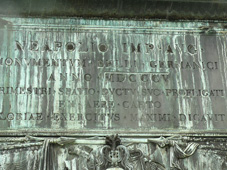 Napolio.Imp. Aug, Monumentum. belli. Germanici anno. m. d.cccv. (1805.) trimestri. spatio.ducto. suo. profligati. ex aere. capto. gloriae. exercitus. maximi dicavit.ce qui veut dire: "Napoléon empereur auguste, a consacré à la gloire de la Grande Armée, cette colonne, monument formé du bronze conquis sur l'ennemi pendant la guerre d'Allemagne en 1805,
Sur un de ces bas reliefs, on voit l'Empereur et le prince Dolgorouski et sur la plaque suivante Napoléon visite les bivouacs . Un grenadier se présente à lui et jure de célébrer dignement l'anniversaire de son couronnement. l'Empereur est suivi des maréchaux et il désigne à chacun la position qu'il doit prendre lors de la bataille d'Austerlitz.
A partir de la naissance du fût de la colonne commence la suite des bas-reliefs qui retracent dans un ordre chronologique les principales actions de la campagne de 1805.
On commence par le départ des troupes du camp de Boulogne, leur passage sur le Rhin, leur arrivée en Bavière .Ces bas-reliefs disposés en spirale de 280m composés 425 plaques tenant les unes aux autres en biseau et de manière irrégulière mais en suivant la disposition des figures Elles s'adaptent au noyau constitué par la colonne aux moyens d'épaulements forés, ménagés dans la fonte
Elles sont fixées par des boulons qui entrent dans des travers également forés et scellés dans la maçonnerie. Un cordon ou jarretière spirale sépare chaque rang de bas-reliefs, légendés
Tout en haut dans le chapiteau on a pratiqué, comme à la colonne Antonine une galerie à laquelle on parvient par l'escalier ménagé dans le noyau de la colonne. Nous trouvons disposé sur un petit dôme la statue de l'Empereur en Caesar sculptée par Antoine Denis Chaudet Cette Statue a connu bien des vicissitudes
La Statue
2° Statue (Invalides)
1833 1853
3° statue (Actuelle)
1855 de nos jours
1° Statue ( fondue)
1805 1815

La statue d'origine représentait l'Empereur tenant dans sa main gauche le globe de la victoire et son épée dans sa main . Elle était en Bronze
Déboulonnée en 1814 par les Alliés et remplacée par un drapeau blanc fleurdelisé pendant la Restauration elle fut fondue en 1818 pour réapparaître en Henri IV au Pont Neuf sauf le globe surmonté d'une « Victoire Ailée » que l'empereur tenait dans sa main gauche car ouvrier le déroba . Ce vol permit la conservation de cette œuvre La Monarchie de Juillet sous le gouvernement de Casimir Perier décide de remettre une statue de Napoléon en petit caporal de 3.5m de haut sculptée par Charles Émile Seurre en juillet 1833 Celle-ci se trouve désormais aux Invalides, car Napoléon III de replacer cette statue par un copie de la première sculptée par Auguste Dumont. . Une différence par rapport à la première statue Dumont a inverse la présentation de l épée qui passe à gauche et le globe de la victoire à droite.
Cette statue fut restaurée en 1875 lors de la remise en place de la colonne abattue durant la Commune (Affaire Courbet ) et est toujours présente en haut de la colonne
Difficultés rencontrées
Tout d abord le problème de dilatation suite aux écarts de température, ensuite la juxtaposition des bas-reliefs
Pour réussir il a été créé une machine composée de pièces de charpente fermant des portions de tambours ayant le diamètre de la colonne. Ces calibres se divisaient en deux parties mobiles sur des arbres ; les uns dans une situation verticale ; les autres dans l'horizontale. Chacun d'eux recevait sa plaque ; puis, par l'effet d'un contrepoids, ces parties se rapprochaient ou s'éloignaient à volonté, elle permettait un montage parfait des fûts sans entrevoir les joints.Panneaux
La première plaque représente la mer à l'horizon, prend figure d'un triangle allongé, représentant d'abord de petites vagues, puis de plus fortes ; enfin la flotille de Dunkerque. Ensuite le passage du Rhin, sur tous les points, par l'armée entière, les 25. 26 et 27 septembre 1805. l'Empereur, revêtu de son costume impérial, adresse à la troupe une proclamation ; en tournant un peu on voit l'entrevue de Napoléon avec le roi de Wurtemberg ; à gauche, on voit le mérite et la valeur récompensés, un dragon reçoit la croix de la légion d'honneur des mains de l'Empereur.
Prise du pont de Douaverth, 6 octobre.
Prise du pont de Lech, 7 octobre.
Combat de Wirtinghen ; prise d'une division ennemie, 8 octobre en présence de l Empereur avec sa fameuse redingote .
Entrée des Français à Augsbourg 9 octobre.
Passage du Danube à Neubourg, 9 octobre.
Combat de Guntzbourg ; 10 octobre le pont emporté de vive force,.
Affaire de Landsberg, 11 octobre.
Entrée des Français à Munich 12 octobre; prise du pont et de la position d'Elchingen par Ney .
Combat de Langueneau, 13 octobre.
Combat de Haag et de Wasserbourg 15 octobre; prise d'un parc d'artillerie,.
Prise de Memmingen, 15 octobre.
Combat de Veresheim, 17 octobre.
Capitulation de la ville d'Ulm, 17 octobre. le général en chef et son état-major déposant les armes devant Napoléon
Combat de Nordhingen ; 18 octobre.
Combat de Nuremberg, 21 octobre.
Passage de l'Iser, 26 octobre.
Passage de l'Inn, 27 octobre.
Affaire de Muhledorff, 28 octobre.
Entrée des Français à Salzbourg, 30 octobre.
Entrée dans la ville et citadelle de Braunau, 30 octobre.
Combat de Mérobach, 31 octobre.
Combat de Lambach, 1er novembre 1805.
Prise de Wels et de Lintz, 2 novembre.
Prise du fort de Passling, 2 novembre.
Passage de la Trann ; 3 novembre prise de la ville d'Erzberg,.
Passage de l'Enns 3 novembre prise de la ville,.
Prise de la ville de 4 novembre Steyr,.
Combat de Lioven, 5 novembre.
Combat d'Amstetten, 6 novembre.
Affaires de Freydstadt et de Mattahausen, 7 novembre.
Combat de Giulay 8 novembre,
Combat de Marisnzell, 8 novembre.
Prise des forts Scharnitz et de Neustark, 9 novembre.
Entrée à Innsbruck, 9 novembre.
Combat de Diernestein, 11 novembre.
Entrée des Français dans Vienne, 13 novembre. Les clefs de la ville sont données à Napoléon en présence de son état major Murat l porte l'uniforme polonais.
Capitulation de la ville et de la forteresse de Kuflstein, 14 novembre.
Prise de Sotokereau, 14 novembre.
Entrée des Français à Presbourg, 16 nov.
Combat de Waldermuncher, 16 novembre.
Combat de Luntersdorff, 16 novembre.
Prise de Clausen et de Brixen, 16 novembre.
Prise de Znaim, 17 novembre.
Combat de Brunn, 18 novembre.
Combat d'Olmutz, 20 novembre.
Prise de la ville de Brisen, 23 novembre.
Prise de la ville d'Iglau, 28 novembre.
Bataille d'Austerlitz, 2 décembre 1805.
Photoscope ICI
THE COLONNE VENDOME
Napoleon Pillar of bronze
At the center of the Place Vendome stands a column that everyone knows by name Colonne Vendôme but his story is more complicated and turbulent and if the luxurious shops and windows or balconies will tell the History thet tell that
Once upon a time :
At the beginning there was a Louis XIV's will to create a place that was called in 1685 Place of conquests and eventually become Place Vendome, She is designed by Jules Hardouin-Mansart in 1699 All the owners of buildings will should strictly conform to this plan It has already been nicknamed Place Vendome from the seventeenth century, the name of the Hotel de Vendome who was there. In its center there were an equestrian statue of the Sun King. She was named Place Louis the Great. Since 1718, the Chancellery was locate here
But times changed and August 13th 1789, at the beginning of the Revolution the statue, symbol of royal power is destroyed On January 20th 1793 Louis Michel Lepeletier Saint-Fargeau who had voted the day's death Louis XVI was assassinated in the Palais-Royal and after his assassination Jacques Louis David has on charges to hold a funeral ceremony. It placed in the middle of the square, the mortal remains of Saint-Fargeau naked and bloody, just covered with a sheet revealing his wound on the base of the statue in a neo-antique décor From 1793 to 1799, she took the name Place des Piques ( spades ).
In 1800 a decree plans to erect a column as in all departmental county towns, and will be dedicated to brave the department.
For Paris, it was decided to build 2 columns (decree on March 20th 1800 or 29 Ventôse An VIII)
A National Place dedicated to the nation in the Place de la Concorde and a departemantal colum in Place tes Piques
If the national column was never built in Paris we start to built the first stone of the departemental monument on July 14th 1800 (25 Messidor An VIII).
But things are changing and in 1803 Bonaparte decided to built a column like the Trajan Colum in Rome in honor of Trajan, "adorned with figures of 108 departments mounted spiral and topped with a statue of Charlemagne . She will be dedicated to the Glory of the French people, but soon became a monument to the glory of the Emperor
Construction will be slow and it was not until 1805 and the victory over the 3rd Coalition to get the necessary bronze (180 tonnes) to complete the project,
The place is quiet custody until May 16th 1871 when the Column is hit by the government of the Commune The Square is not Place Internationale
Paris Commune Mais 1871( Internet)

Paris Commune Mais 1871( Internet)

Paris Commune Mais 1871( Internet)

Complex will be restored in 1875 and he has now the aspect of the place we know today
The Column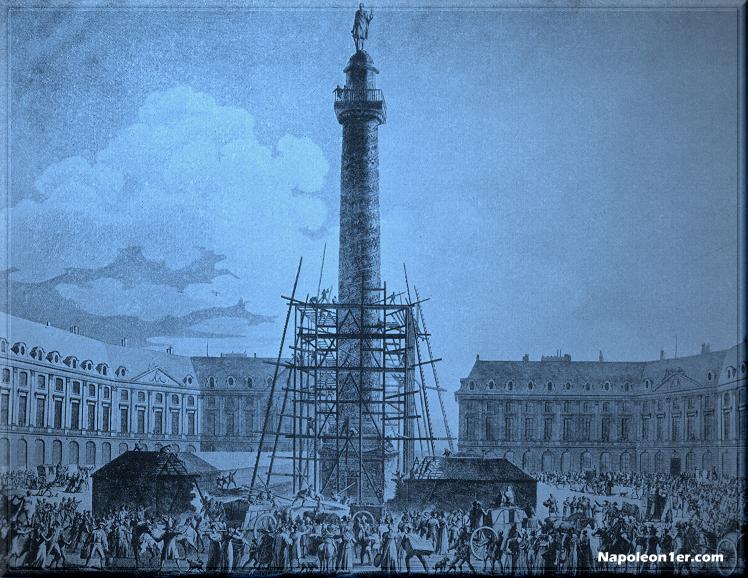 internet

The Column of the Great Army is made in imitation of Trajan column. She has 44.3m height including its pedestal and the statue of the Emperor at the top. It was "elevated to the glory of the French army, the year 1810, by orders of His Imperial and Royal Majesty NAPOLEON THE GREAT"
The idea of building this column, elevated to the glory of the French armies was a Npaoleon idea who has given the direction to Mr. Denon, according to the plans of Mr. Lepère, architect. The construction of this monument start in August 1807 and was completed in August 1810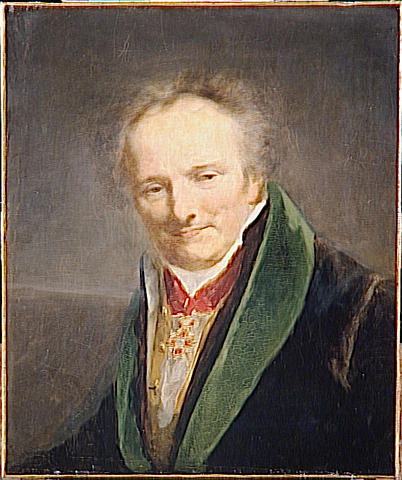 Vivant Denon (1747 1825 )
.
It consists of a Stylobate and a column The base of the column was in Algajola. porphyry
The column is 44.3m high and he has a diameter of 3.6m. with 76 rings of granite covered 354 fine bronze plaques (sic newspaper of the municipality of 16 May 1871).
Pierre Bergeret and a team of sculptors composed by Jean Joseph Foucou (six bas-reliefs), Louis Boizot, Bosio, Bartolini, Claude Ramey, François Rude, Corbet, and Clodion Ruxthiel were the authors .
This high stone monument, is coated bronze in all its height. The stylobate is completely filled with bas-reliefs representing trophies in arms.
At each corner of the pedestal and above the cornice, is a Eagle who supports a wreath of laurel
Above the door is a cartouche supported by two renowned containing engraved intaglio, the following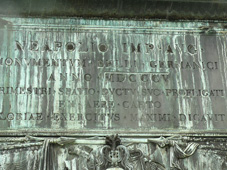 Napolio.Imp. Aug, Monumentum. belli. Germanici anno. m. d.cccv. (1805.) trimestri. spatio.ducto. suo. profligati. ex aere. capto. gloriae. exercitus. maximi dicavit which means "emperor Napoleon August, devoted to the glory of the Great Army, this column monument made of bronze won on the enemy during the war in Germany in 1805,
On one of these low reliefs, we see the Emperor and Prince Dolgorouski and on the plate following Napoleon visit the camps. AGuard grenadier tell to him and swear to celebrate the anniversary of his coronation. Emperor is followed by marshals and designates each position it must take at the Battle of Austerlitz.
From the birth of the drum of the column began following the bas-reliefs recount in chronological order the main actions of the campaign of 1805.
It begins with the departure of troops from Boulogne camp, passing on the Rhine, their arrival in Bavaria. These bas-reliefs arranged in a spiral of 280m compounds by 425 plates holding one each other in irregularly manner but following the disposition o the figures
The plates adapt to the nucleus by side work bored in the melting
They are set by bolts that come in through also drilled and sealed in the masonry. A spiral cord or garter divide row of bas-reliefs,with a legend
In the top as on the Antonine column in Rom a gallery with stairs spared in the nucleus of the column. We find on a small dome the statue of the Emperor in Caesar sculpted by Antoine Denis Chaudet This Statue suffered many vicissitudes
The Statue.
The original statue of the Emperor was holding in his left hand the victory globe and his sword in his hand. It was in Bronze
Unbolt in 1814 by the Allies and replaced by a white flag adomed with fleurs de lis during the Restoration it was melted in 1818 to reappear in Henri IV statue in the Pont Neuf except the globe with the Victory wing that the emperor held in his left hand because a worker rob him e. The robbery has allowed the conservation of this statue
During the the July Monarchy under the government of Casimir Perier it was decide to remit a statue of Napoleon in Petit caporal of 3.5m high sculpted by Charles Emile Seurre in July 1833; Now this statue is the Invalides because Napoleon III decide to change this statue by a copy of the first sculpture by Auguste Dumont. . A difference from the first statue Dumont reverse the presentation of the sword passes left and the globe on right.
This statue was restored in 1875 during the re-establishment of the column hit during the Commune and is always at the top of this column
2nd Statue Invalides
(1833 1853)
3rd Statue
(1855 today)
1st statue (melted)
1805 1815

Difficulties
First of all, the problem of dilatation following the temperature, and after the juxtaposition of the bas-reliefs
To succeed it was created a machine composed of pieces of timber closing portions of drums with the diameter of the column. These templates are divided into two parts on trees; one in a vertical, the other in the horizontal. Each received his plate, then by the effect of a counterweight, these parties closer or away at will, it allowed a montage perfect glimpse drums without joints.
Description
The first plate represents the sea on the horizon, takes a figure elongated triangle, representing the first small waves, then stronger and finally the flotilla of Dunkirk. Then the crossing of the Rhine, on all points, the whole army, 25. 26 and 27 September 1805. Emperor, wearing his costume imperial address to the troops a proclamation; turning a bit we see the interview with Napoleon King of Württemberg; left, we see the merit and value rewarded, a dragon receives Cross of the Legion of Honor from the hands of the Emperor.
Capture of the bridge Douaverth, Oct. 6th .
Capture of the bridge of Lech, Oct. 7th .
Battle of Wirtinghen; taking a hostile division, on October 8 in the presence of the emperor.
French entry in Augsburg on October 9th .
Crossing of the Danube in Neuburg, October 9th .
Battle of Guntzbourg; October 10th the bridge washed away by strong force.
Case Landsberg, October 11th .
French entry in Munich on October 12th ; Capture of the bridge and the position of Elchingen by Ney.
Battle of Langueneau, October 13th .
Battle of Haag and Wasserbourg October 15th Capture of a park artillery.
Capture of Memmingen, October 15th .
Battle of Veresheim, October 17th .
Capitulation of the city of Ulm, October 17th . General in chief and his staff lay down their arms before Napoleon
Battle of Nordhingen; October 18th .
Battle of Nuremberg, October 21st .
Crossing of Iser, October 26th .
Crossing of the Inn, October 27th .
Case Muhledorff, October 28th .
French entry in Salzburg, October30th .
Entered the town and fortress of Braunau, October 30th
Battle of Mérobach, October 31st .
Battle of Lambach, November 1st 1805.
Capture of Wels and Lintz, Nov. 2nd .
Capture of Fort Passling, Nov. 2nd
Crossing of the Tranne November 3rd Capture of Erzberg city
Crossing of Enns on November 3rd seizure of the town.
Capture of the town of Steyr on November 4th .
Battle of Lioven, Nov. 5th
Battle of Amstetten, Nov. 6th .
Freydstadt affairs and Mattahausen, Nov. 7th .
Battle of Giulay November 8th ,
Battle of Marisnzell, Nov. 8th .
Capture of strong point Scharnitz and Neustark, Nov. 9th .
Entry in Innsbruck, Nov. 9th .
Battle of Diernestein, November 11th .
The French enter Vienna, November 13th . The keys to the city are given to Napoleon in the presence of his staff Murat the Polish wears the uniform.
Capitulation of the city and the fortress Kuflstein, November 14th .
Battle of of Sotokereau, November 14th .
Entry of French in Pressburg, Nov. 16th
Battle of t Waldermuncher, November 16th .
Battle of Luntersdorff, November 16th .
Capture of Clausen and Brixen, November 16th .
Capture of Znaim, November 17th .
Battle of Brunn, November 18th .
Battle of Olmutz, November 20th .
Capture of the city of Brisen, November 23th .
Capture of the city of Iglau, November 28th .
Battle of Austerlitz, December 2nd 1805.