Impression issue de Maquetland.com Le monde de la maquette | http://www.maquetland.com/article-736-usa-logisitique-tracteurs-d-artillerie-americains-american-artillery-tractors--english-translation

USA Logisitique Tracteurs d'artillerie Americains (American Artillery Tractors ) English Translation
Article fait par :Patrice Gris

Mis en ligne le 22/04/2008 à 22:31:53

Les tracteurs d'artillerie de l'Us Army durant la seconde guerre mondiale.
The tractors of artillery of Us Army during WW2

(Patrice Gris )

On peut distinguer plusieurs types de tracteurs de pièces d'artillerie,
1°ceux conçus spécialement dans ce but
2° ceux dont c'est l'un des usages ou obtenus par la modification d'un véhicule prévus pour un autre fonction La distinction peut également être faite via le système de propulsion dont il sont équipés, semi-chenillé, chenillé ou à roues.

Avant d'entrer dans le vif du sujet voici pour illustration trois tracteurs d'artillerie présents dans US Army avant le déclenchement de la seconde guerre mondiale.Ils en existent bien d'autres comme les Holt 20/30 ou 75 mais cette gamme d'engins sort du cadre de ce petit article.
Ces photos proviennent du livre « Caterpillar, mitär-kettenfahrzuge », Dörfler.
We can differentiate several types of tractors for guns
1° those conceived especially in this purpose
2° those acquired by the modification of a vehicle envisaged for one other function.
The differentiation also can be made via the system of propulsion by with which it are equipped, semi-tracked, tracked or in wheels. Before the article we found three tractors of artillery in use in the US Army before WW2 .They exist many others as Holt 20/30 or 75 but this range of vehicles goes out of the frame of this small article. These photographs come from the book " Caterpillar, mitär-kettenfahrzuge ", Dörfler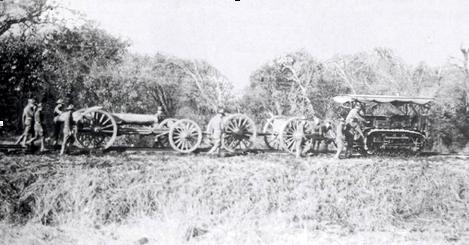 Holt 18 et un obusier de 152mm, novembre 1917. Holt 18 and 152mm hotwizer november 1917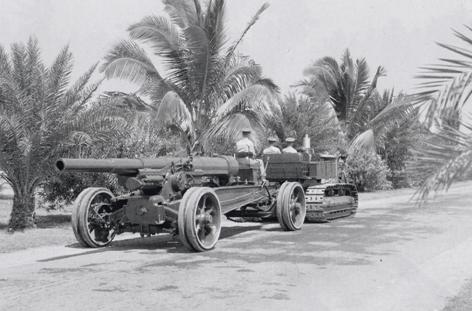 Caterpillar D7 Hawaii 1940. Caterpillar D7 Hawaii 1940

Chenillés Prime Mover et HST High Speed Tractor.

Les Prime Mover.
Il s'agit ici d'une série de char de combat modifié pour servir de Tracteur de pièce d'artilleries 'lourde' tel que les Howitzer de 155mm ou de 8 pouces.
La première de ces modifications consiste à retirer la tourelle devenue inutile pour l'usage auquel est destiné le véhicule.
Les études ont débuté en 1941 le premier modèle a été désigné T2 et était constitué d'un maximum d'élément provenant de char, dont des suspensions du type Horizontal Volute Spring prévue pour le char M2A1, un moteur de 6 cylindre diesel, une transmission Hydramatic.
Les premiers essais ne donnant pas satisfaction le développement de ce modèle a été abandonné assez tôt (1942) un programme mené en parallèle le T12 et jugé lui aussi peu performant fut abandonné à la même période.
Reprise des études avec le T16 qui utilisait comme base un char M3A5 (medium tank), ce modèle avait comme 'défaut ' de présenter une faible capacité d'emport de munitions et lui aussi abandonné comme tracteur d'artillerie et servira comme base de développement pour un char de dépannage T2.
T18, il s'agit ici de la transformation réalisée en 1943 du char léger aéro portable T 9 Airborne tank pour la traction d'un Howitzer de 105mm la capacité d'emport de munition était de 25 obus .Mais après essais a Aberdeen Proving Ground le développement de cet engin est abandonné.
The Prime Mover
It is a tank modificated to as Heavy gun Tractor as Howitzer of 155mm or of 8 inch. The first one of these modifications consists in withdrawing of the turret become useless for the usage for which is intended the vehicle. Studies started in 1941 the first model was named T2 and was has a maximum of elements coming from tank, among which suspensions of Horizontal type Volute Spring envisaged for the tank M2A1, a diesel motor of 6 cylinders, a transmission Hydramatic.
The first tries not giving satisfaction and the development of this model was abandonned quickly in 1942
A program led in parallel T12 and judged also not very competitive was also abandoned during the same period.
Resumption of studies with T16 which used as bases a tank M3A5 (medium tank), But the principal default of this model was his weak transport capacity fo munitions he was also abandoned as tractor of artillery but he will serve as base for the development of the recovery tank T2.
T18, it is here the transformation of the T9 aeroportable light tank T 9 for the traction o 105 mm Howitzer he can carry 25 bombs But after tries in Aberdeen Proving Ground the development of this vehicle was abandodonned.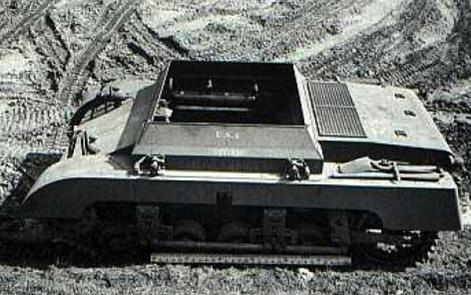 T18, Source ; Hunnicutt.

Une autre étude restée sans suite la réalisation d'un tracteur d'artillerie sur base d'un châssis de Tank Destroyer M18, le T41 appellation qui sera ensuite attribuée à une réalisation sur base de M18, le T41 véhicule de reconnaissance et par la suite M39 Armored Utility Vehicle.
Another study remained disconnectedly the realization of a tractor of artillery on foundation of a chassis of Tank Destroyer M18, T41 appellation which will then be allocated in a realization on foundation of M18, T41 transports of recognition and later M39 Armored Utility Vehicle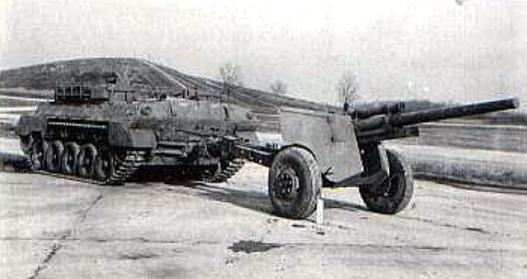 T41 tractant un 3 inch.
Source ; Hunnicutt.

En attendant le développement de modèles (HST) mieux adaptés à cet usage les T22 et T23, un véhicule intérimaire sera produit en mars 1944 par le Chester Tank Depot sur base de chars de dépannage M31 et M32B1 aux quels seront enlevé la tourelle, les treuils, l'armement bref tout ce qui servait a leurs mission initiale et seront dénommés M33 et M34.
Dans le même ordre d'idée le Lima Tank Depot effectuera le même type de transformation en janvier 1944 mais cette fois sur la base M10A1 Tank Destroyer et appelé M35.
Les transformations sur ces trois types de Prime Mover seront terminées en juin 1944, tous les trois seront dotés d'un compresseur d'air comprimé pour le système de freinage des pièces d'artillerie lors des déplacements .
By waiting for the development of models (HST)( T22 and T23 )better adapted to this usage, an interim vehicle will be produced in March, 1944 by the Chester Tank Depot on M31 and M32B1 recovery tank base . But first which turret, windlasses, and weaponry were removed . They will be called M33 and M34. In the same order of idea Lima Tank Depot will perform the same type of transformation in January, 1944 but this time on the M10A1 Tank Destroyer base . It will be nammed M35. Transformations on these three types of Prime Mover will be ended in June, 1944, every three will be endowed with a compressor used for the braking of the guns during displacements.
M33 & Howitzer de 240.
Source: US Signal Corps.
M35 Howitzer de 8 in.
Source : Internet.

A titre anecdotique une petite série de 24 exemplaires de char de M32B1 Tank Recovery a été réalisée au Ordonance Department's Chester Tank Depot en 1944 dénommé lui aussi M34.
For anecdotal title a small series of 24 vehicles of M32B1 Recovery tanks was transformed in Ordonance Department' s Chester Tank Depot in 1944 called M34.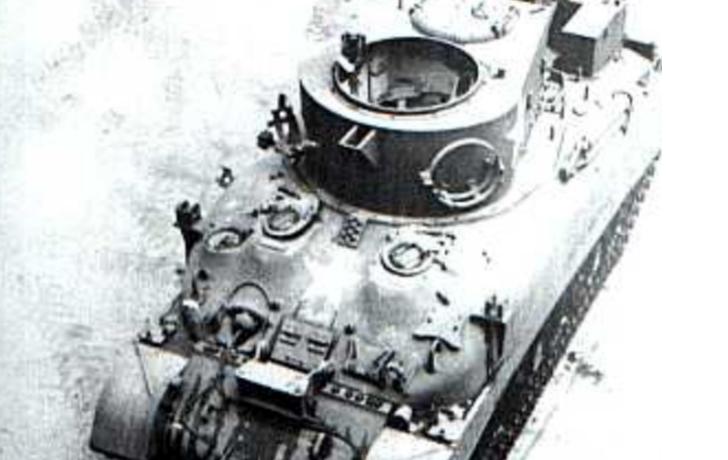 M34, source: Motorbooks International US Military Tracked vehicles

T18, il s'agit ici de la transformation réalisée en 1943 du char léger aéro portable T 9 Airborne tank pour la traction d'un Howitzer de 105mm la capacité d'emport de munitions était de 25 obus après essais au Aberdeen Proving Ground le développement de cet engin est abandonné.
T18, it is here the transformation realised in 1943 from the Airbrone light tank T 9 for the traction of the 105 mm Howitzer
He could be carry 25 bombs but after tries in Aberdeen Proving Ground the development of this vehicle is abandonned.
Les HST.

M4 HST.
Ce HST est issu du T9E1 produits par Allis Chalmers CO il a été concu des le départ pour la traction de toutes une série de pièce d'artillerie, le 3 inch, le 90mm (DCA), le canon de 155mmm et l'obusier de 8 inch il a été mis en production durant l'année 1943 sous deux configurations qui se différenciaient par l'aménagement des soutes à munitions.
Le Class A pour la traction de la pièce de DCA de 90mm avec des logements pour 54 coups.
Le Class B pour le 155 et le 8 inch avec comme emport de munition respectivement 30 et 20 munitions.
Les 259 derniers exemplaires de cet engin de la classe 18 tonnes repris comme modèle M4A1 avaient un train de roulement écarté du châssis afin de pouvoir être équipé de chenille avec extensions.
HST. M4 HST.
This HST issued from the T9E1 was produced by Allis Chalmers CO It was built since the beginning for the traction of all a series of artillery guns 3 inch, the 90mm flak, the 155mmm and the8 inch howitzer
It was in put in production in 1943 under two versions which were different by rear part of the vehicle( ammunitions )
Class A for the traction of the 90mm flak with a freight of 54 ammunitions.
Class B for 155 and 8 inch with a freight oft of munition respectively 30 and 20 ammunitions.
The last 259 exemplaries of this HST class 18 tons taken back as model M4A1 had a running gear remote from the chassis and to be able to be equipped with caterpillar with extensions.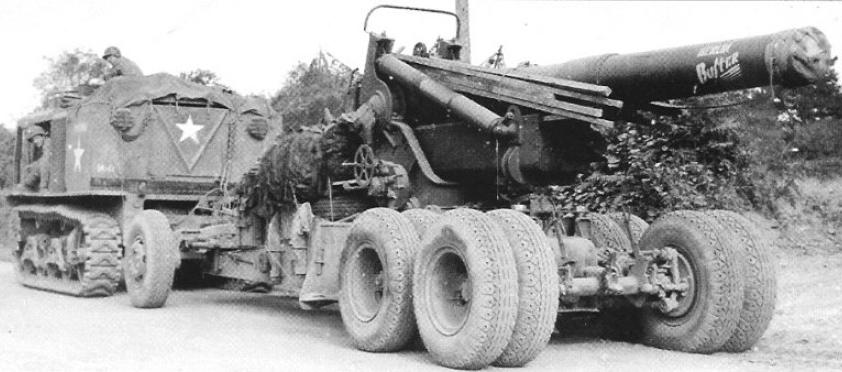 M4 et 8 inch, France juillet 1944.

M5 HST.
Plus léger que le M4 cet engin class 13 ton a été développé par International Harvester en 1942 sur la base du T13 Medium Tractor.
Lighter than M4 this 13 tons vehicle was developed by International Harvester in 1942 on the basis of T13 Medium Tractor.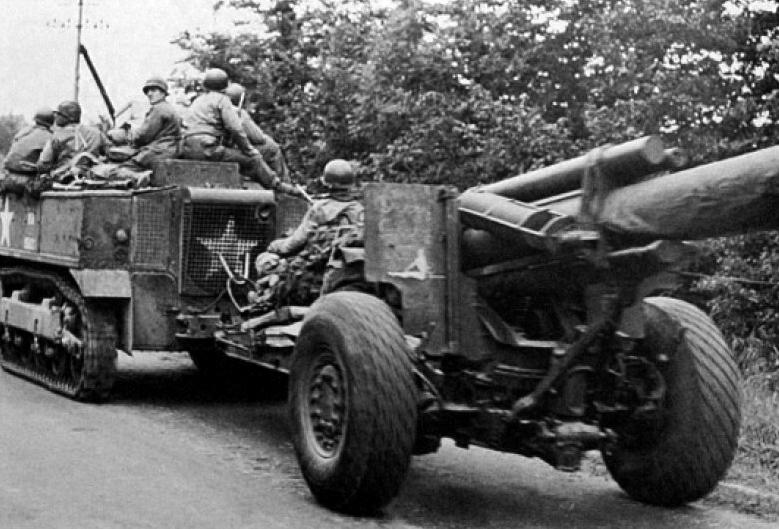 M5 et Howitzer M1 de 155mm en Normandie, source Concord.

M6 HST. 1944:
Tracteur pour pièces très lourdes comme le Howitzer de 240mm qui est déplacé en plusieurs fardeaux, les premiers exemplaire de ce HST 38 ton développé à partir de févier 1942 par Allis Chalmers ont été déployés en Europe au début de 1945.
Tractor for very heavy guns as240mm Howitzer of 240mm which is displaced in several burdens , first exemplaries of this 38 tons HST was developed since february 1942 by Allis Chalmers and he was deployed in Europe at the beginning of 1945.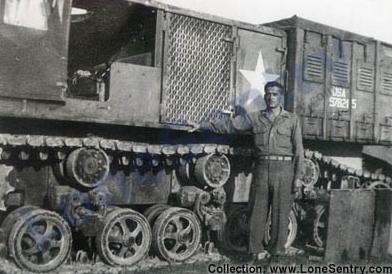 M6 HST. 1944
Source : LoneSentry.

Véhicules à roues Whelled vehicles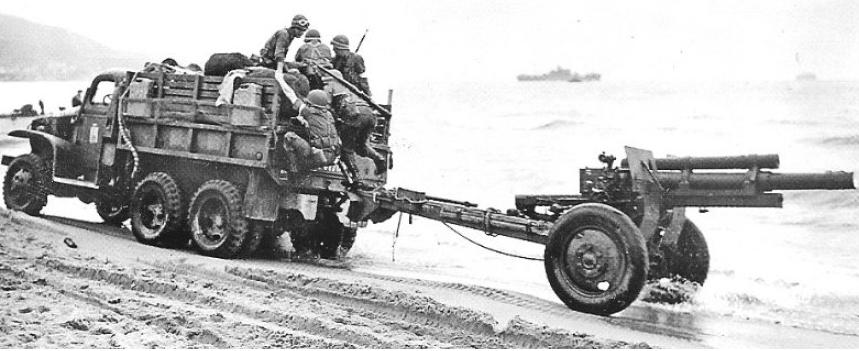 GMC CCKW-352 (châssis court) 2,5-ton, tracteur 'standard' pour l'
obusier de 105mm M2A1
.
Source NARA via Osprey.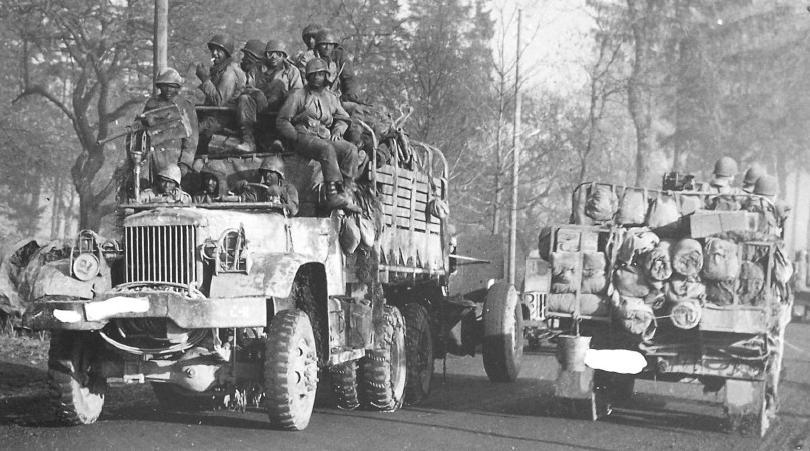 Diamond T Model 968 A Cargo.
Source: NARA

Mack NO 7-ton, tracteur 'standard' pour le 155 mm et le Howitzer de 8 in (pouces).
Ce type de camion a été développé après des manœuvres en 1940, manœuvres qui montrés les limites des tracteurs chenillés utilisé jusqu'à lors, trois types véhicules seront construits sur fonds propres par Mack deux de types cargo et un type tracteur de semi-remorque et testés en fin d'année 1940 de ces trois modèles sortira la gamme de camion NO 6x6 7 ½ ton.
This type of truck was developed after 1940 exercices , which have show the limits of the tracked tractors Three types of trucks will be constructed on capital cover by Mack
Two trucks freighter types and a tractor tested at the end of 1940 From this models was born the the range of truck N. 6x6 7 ½ tone Jeeps Jeeps
Jeep Willys/Ford, en attelant deux Jeep via le Tow Bar Field Kit il était possible d'obtenir un tracteur 8x8 apte à la traction d'un 105mm
With 2 Willys twined by the Tow Bar Field kit i twas possible to tract the 105 mm HM2 .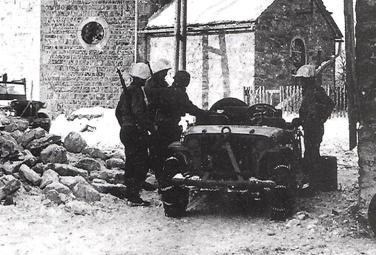 Source : US. Army.

Bien sur la liste peut s'allonger si l'on tient compte des pièces anti-char ou des emplois occasionnels, Bulldozer, Dodge, Jeep, GMC 353…………
The list could be include, Bulldozer, Dodge, Jeep, GMC 353 …
.
Canon anti-char de 57 mm et Dodge.
Source : National Archive.

Dodge et Howitzer.
Véhicules non identifié et Howitzer.




Source : US.Army.

M3A1 et

AT de 37mm.




Source : le Net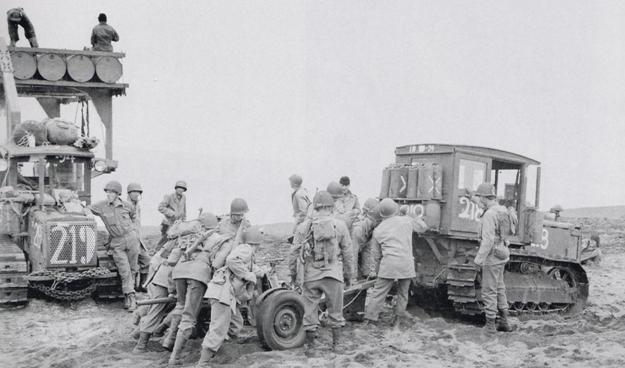 Caterpillar D4 et 37mm Attu îles Aléoutienne 1943.
Source : Caterpillar, mitär-kettenfahrzuge
Principales pièces d'artilleries en usage au sein de l'armée américaine durant la seconde guerre mondiale.Principals Guns used by Us Army during WW2
75mm Pack Howitzer.
75mm Field Howitzer M1A1.
105mm Howitzer M2A1.
105mm Howitzer M3.
155mm Howitzer M1.
155mm GPF' Long Tom'.
8 inch Howitzer M1
8 inch Gun.
240mm Howitzer.
Les quatre dernières pièces ne sont normalement utilisées qu'au sein des Heavy Artillery Corps et ne sont que temporairement rattachées à une division.
This 4 next guns were normaly used only by the Heavy artillery Corps temporary join at a division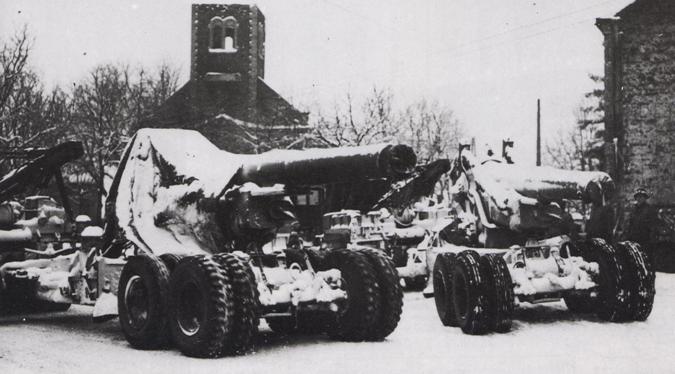 Ardennes 1944

Sources: Hunnicutt Stuart, Sherman, Osprey.