Impression issue de Maquetland.com Le monde de la maquette | http://www.maquetland.com/article-481-france-ebr-et-la-mission-dorot-english-translation

France EBR et la mission Dorot English translation
Article fait par :Claude Balmefrezol

Mis en ligne le 10/05/2007 à 11:58:18

L 'EBR un engin mythique et la Mission Dorot

The EBR a mythical vehicle and the Dorot Mission
Dans cet article je vais vous raconter l'histoire de la mission Dorot qui a testé l'engin dans des conditions réelles dans le désert Algérien
Les photos qui illustrent cet article sont tirées de la revue de la Légion Etrangère Képi Blanc n° 132 d'Avril 1958
I will tell the story of the Dorot mission , which tested the vehicle in real-world conditions in the Algerian desert
The pictures that illustrate this article are taken from the journal of the French Foreign Legion Képi Blanc No. 132 of April 1958

La mission Dorot.The Dorot Mission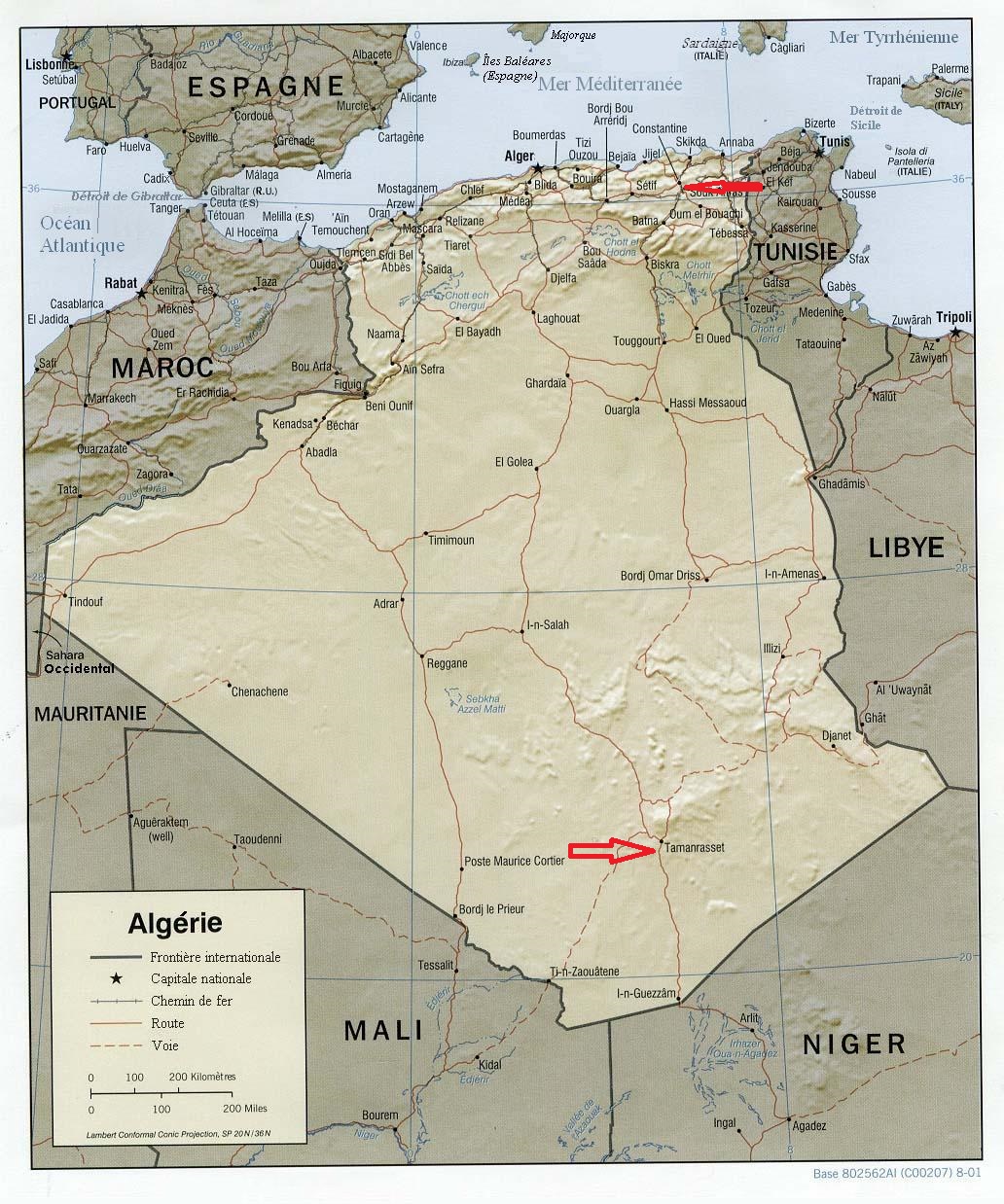 La mission Dorot
The Dorot Mission
Constantine Tamanrasset
En 1956 l'
EBR
est choisi comme nouvelle monture des unîtes de CLB (cavalerie légère blindée) pour remplacer dans les unîtes blindées les AM 8 qui commencent à dater.
l'EBR qui doit remplacer ces engins américains datant de la 2 ° Guerre Mondiale est un engin bien armé rapide doté de deux postes de conduite avant et arrière qui permettent d'inverser la marche sans manoeuvre supplémentaire.
Mais c'est une mécanique assez complexe donc fragile dans le sable .Les roues intermédiaires métalliques arrivent péniblement à sortir les treize tonnes du piège sablonneux. Pour tester vraiment l'engin les autorités militaires ont décidé de monter une expédition de deux mois dans le désert algérien
I
n 1956
EBR
was chose as the new "mount" of the CLB units (light armored cavalry) to replace in the armored carss AM 8 who are beginning to date.
The EBR who replace these devices dating from WW2 is a well-armed fast craft fitted with two driving front and rear that can reverse the march without further manoeuvre.
But it is a fairly complex mechanical therefore fragile in the sand. Agrical metal wheels came painfully to escape the thirteen tons of sand trap. To truly test the equipment the military authorities have decided to mount a two-months expedition in the Algerian desert
C'est le commandant du 1°REC qui a en charge de monter et de designer un officier pour conduire cette mission.
Le choix se porte sur le Chef d'escadrons Dorot qui doit former une équipe. Son choix est très difficile car le nombre de volontaires est important
La mission doit parcourir durant deux mois le désert sud Algérien. Elle doit partir de Constantine aller à Tamanrasset et revenir au lieu de départ (Un mini paris Dakar avant la lettre).
Cette mission de 6.000 km doit tester les EBR dans des conditions d'emploi réelles. Le convoi comporte aussi des jeeps des Berliet 10T et des Dodge 6x6 de la 2° compagnie saharienne de transport
Le lundi 6 janvier la colonne prend le départ à 7 H 45 mm vers Batna. le soir c'est le 4° REI caserné à Biskra qui accueille le convoi ; Les éléments du 1° REP sont présents dans la colonne
2 jours après le départ le désert fait sont apparition et il est parcouru les premiers jours sous la pluie !!!
Les tests se poursuivent dans le désert autour de Ouargla durant une semaine complète. Le 19 janvier la colonne présente les armes au Colonel Commandant les territoires des Oasis
Le 20 janvier le convoi s'ébranle vers le Sud direction Fort Flatters qui est atteint le 22 janvier
It is the commander of 1st REC in charge of this raid He coud choose an officer to lead the mission.
The decision was for the Major Dorot who must form a team. His choice was very difficult because the number of volunteers is important
The mission must travel for two months the southern Algerian desert. It must go from Constantine to Tamanrasset and return to the point of departure (A mini "Dakar avant la letter").
This mission has 6,000 km for testing EBR under conditions of actual use. The convoy also includes jeeps , Berliet 10T ,Dodge 6x6 and the 2 ° Saharan transport company
On Monday, Jan. 6th column go away at 7 to 45 mm toward Batna. In the evening they reach the barracks of the 4th REI in Biskra which hosts the convoy; Elements of 1st REP are present in the column
2 days after the desert his here and the first days are come under the rain!
Further testing is under way in the desert around Ouargla during an entire week. On January 19th the column is inspected theo Colonel Commandant Oasis territories
On January 20th the convoy go to south towards and Fort Flatters is reached on January 22th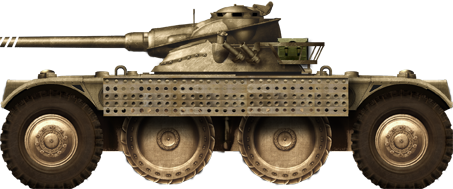 EBR Equipé pour le désert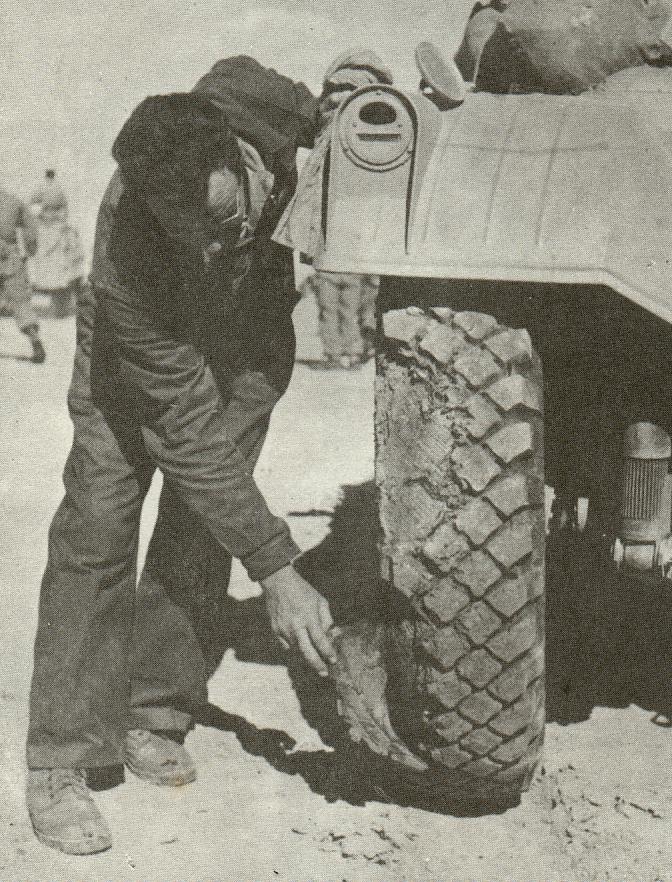 J 'ai crevé chef !!!
I Punctured Sir !!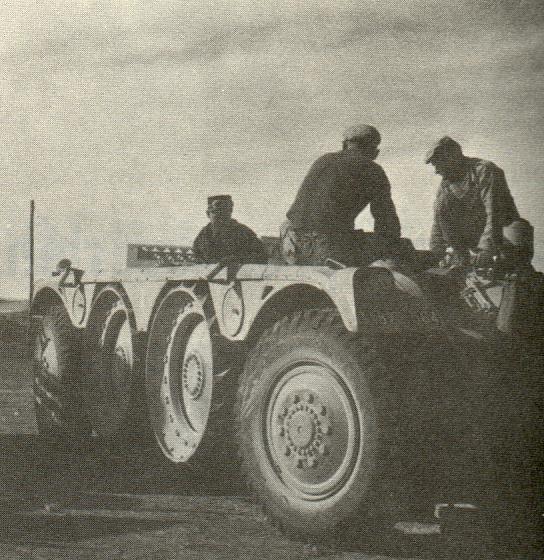 Les servitudes militaires
Militaries servitudes
Etape dans cette garnison qui doit permettrent aux hommes de se remettre en forme et de vérifier le matériel car la semaine qui arrive s'annonce très dure .
En effet les jours qui suivent seront très éprouvants pour les hommes et les véhicules. Un moteur d'EBR est même livré par air. Le 5 Février la colonne arrive à Tamanrasset
Comme vous pouvez vous rendre compte au fur à mesure de leur avance les engins vont emprunter différents types de terrain où rien ne le sera épargné. Des tests seront effectués sur les trains de roulements (Pneu de combat pneu désert et remplacement des roues agricoles sur certains engins par des roues de combat) la mécanique et la suspension sera elle aussi soumise à rude épreuve

Step in the garrison who should means to men to get back in shape and checking the equipment because the coming week will be very hard.
Indeed few days will be very stressful for both men and vehicles. An engine of EBR is even shipped by air.
As you can see as far in advance of their craft in different types of land nothing will be spared to the vehicles . Tests will be performed on trains bearings (Clincher combat desert tire and wheel change o, agricultural wheels substitute to combat wheels ) mechanics and the suspension will also be subjected to a severe test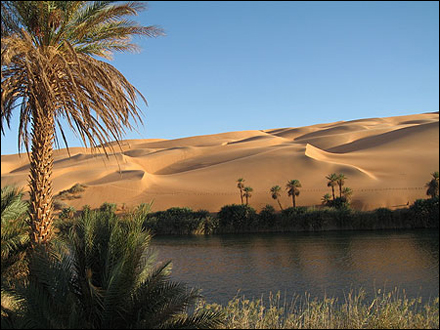 Les moments de détente
Relax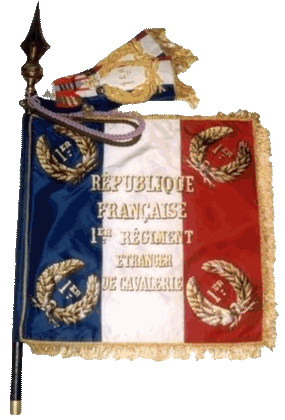 1e REC
Le 3 Février à 7h 45m le convoi part plein sud vers Tamanrasset qui est atteint le 5 février. La troupe va se recueillir sur la tombe du
Père de Foucault
Ensuite il amorce le chemin de retour vers Constantine via In Salah El Golba .Ouargla est atteint a nouveau le 12 février. Apres un repos de 3 jours le convoi s'ébranle vers Constantine via Ghardaïa Laghouat Bou Saada
On Feb.3th t the convoy at 7h 45m go to south toward Tamanrasset, which is reached on February 5. The troupe will pray at the tomb of
Pere de Foucault
Naw go back to Constantine via In Salah El Golba. Ouargla is reached again on February 12th After a rest period of 3 days to the convoy reach to Constantine via Ghardaia Laghouat Bou Saada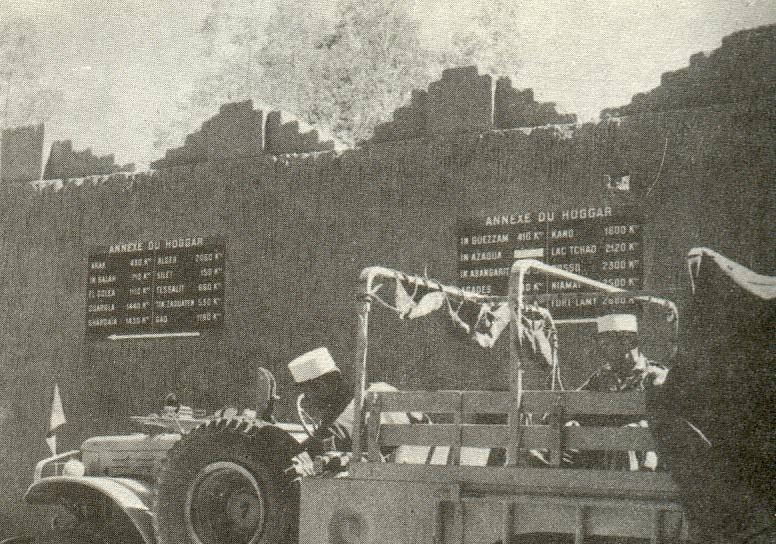 Je suis perdu Chef !!
I am Lost Sir !!!!
Mission accomplie Tous les EBR malgré les difficultés sont présents
Tout le monde étant rentré sain et sauf à bon port la validité du concept de l'EBR est validé

Mission accomplished All the EBR despite the difficulties are present
Everyone being returned sane and safe and it is a successful conclusion for the concept of the EBR who is validated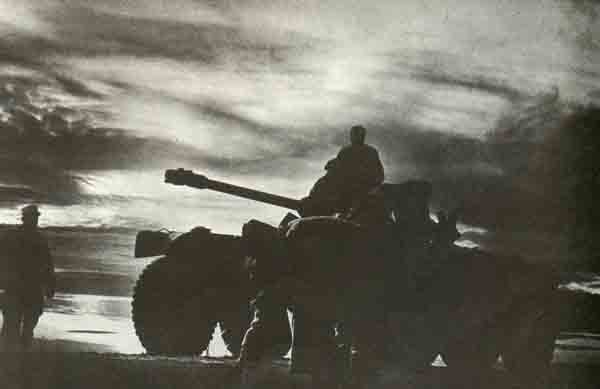 La bête dans le désert
The Beast in the desert
Une longue carrière commence pour cet engin qui va servir dans l Armée Française durant plus de 30 ans
A long career starts for this machine will serve in the French Army for over 30 years