Impression issue de Maquetland.com Le monde de la maquette | http://www.maquetland.com/article-413-france-bornes-de-la-liberte--english-translation-

France Bornes de la Liberté ( english translation )
Article fait par :Claude Balmefrezol

Mis en ligne le 27/01/2007 à 09:20:03

LES BORNES DE LA LIBERTE
MILESTONE OF THE LIBERTY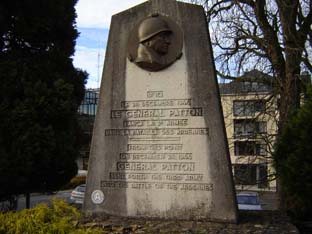 Arlon Belgique
(Belgium)

Déjà 60 ans que les alliés ont libéré l'Europe occidentale. Les vestiges cette guerre sont en passe de disparaître s'ils ne sont pas entretenus et si nous ne prenons pas garde. Les nouvelles générations n'auront plus que des bandes vidéo pour garder le souvenir de cette période.
C'est pour cela que je vais vous parler aujourd'hui des bornes de la voie de la liberté.
En effet les touristes qui circulent en Normandie et dans l'ouest et le nord de la France peuvent apercevoir sur certaines routes des bornes un peu spéciales . Ces bornes ont été placés (copiées sur le modèle des bornes de la voie sacrée de 1916) sur l'itinéraire des armées américaines qui ont parcouru l'Europe depuis les plages de Normandie jusqu'en Bastogne en Belgique.Elles sont l'oeuvre du Scuplteur Francois Cogné (1876 1952)
Cette voie de la liberté s'étire 1.200 km .Nous trouvons donc 1200 bornes spéciales le long du parcours ; Avranches ,Rennes,A ngers ,Le Mans,Chartres,Fontainebleau ,Epernay ,Reims ,Verdun Metz Luxembourg Arlon jusqu'au Mémorial de Bastogne en Belgique.
Cette voie de la liberté et a été officiellement créée le 14 juillet 1946 par le colonel Guy de la Vasselais ancien chef de la mission militaire française de liaison auprès du XXe corps de la IIIe armée américaine. Cette voie stratégique suit l'itineraire de la IIIe armée américaine du général Patton.

Already 60 years that the allies liberated Western Europe. The relis of this war are going to disappear if they are not maintained and if we do not care. The new generations have more than videotapes to keep the memory of that period.
That is why I talk today milestones of the Freedom. way
Indeed tourists travelling in Normandy in the Western and Northern France and Belgium can be seen on certain roads special milstones. The milstones have been placed (copy of milestone of the Sacred Road of 1916) on the itinerary of U.S. military who have traversed Europe from the beaches of Normandy to Bastogne in Belgique.Elles are the work of Scupltor Cogné Francois (1876 1952)
This freedom road is long about 1.200 kms and you found 1200 special mistones along this wayAvranches, Rennes, ngers, Le Mans, Chartres, Fontainebleau, Epernay, Reims, Luxembourg Verdun Metz Arlon until Memorial Bastogne in Belgium.
This Freedom Way was formally established on July 14th 1946 by Colonel Guy Vasselais the former chief of the French military mission in conjunction with the XXth Army corps of the 3th United States Army. This strategic direction follows the street of the 3th US Army of General Patton.
| | | |
| --- | --- | --- |
| | | |
| La 3° Armee de Patton | Patton(1885 1945) | La 3° Armee de Patton |

A l'origine ces bornes étaient hautes de 1m 20 et pesaient 435 kg Je dis bien à l'origine car depuis certaines ont été remplacées par un modèle similaire mais en plastique !!!.
Initially these milstones were high 1m 20 and weighed 435 kg I say initialy because since some have been replaced by a similar but in plastic!.
Borne N°1199 original (Arlon Belgique ) (Orignal)
Borne N°24 copie Angers (France)

(Copy)
C'est le modèle qui vous est présenté sur la photo, mais toutes ont le même décor que je vais vous décrire en commençant de du bas vers le haut Les étoiles et les rectangles représentent les différents tronçons de cette Voie . Ensuite nous trouvons le nom de la voie , le flambeau

That is the model that is presented to you on the photo, but all have the same scene I am about to describe starting from the bottom
The stars and rectangles represent the different sections of the Way. Then we find the name way and a torch
En bas les vagues sont censées représenter l'océan Atlantique Sur le Flambeau vous trouvez l'emblème de la IIIe armée américaine.Le flambeau de la libertéa été copié sur le modèle de statue de la liberté à New York .Sur la face blanche nous trouvont le kilométrage et le numéro de la borne un ainsi que le nom de de la route
Below the waves are assumed to represent the Atlantic Ocean .On the Torch you find the emblem of the 3°US Army .The torch of liberty has been copied on the model of Statue of Liberty in New York. On the white side we enjoy mileage and the number of the milstone and the name of the road
Les quatre tronçons de la voie de la liberté représentés par les rectangles rouges sont les suivants
St Mère l'Eglise Cherbourg.
Sainte mère l 'Eglise Avranches
Avranches Metz .
Metz Luxembourg Bastogneautre vue de la borne .Veuillez notez en bas les vagues censées représenter l'Océan Atlantique.
The four sections of the Freedom Way are represented by the red rectangles. They are
St Mere l'Eglise Cherbourg.
St Mere l'Eglise Avranches
Avranches Metz.
Metz Luxembourg Bastogne
other view of the milstone. Please note down the waves to represent the Atlantic Ocean.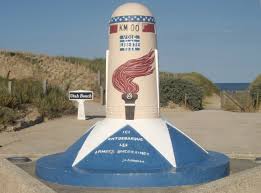 Début de la Voie de la Liberté
Beginning of the Liberty Way

La borne 0 se trouve devant l'hôtel de ville de Ste Mère l'Eglise alors que la borne 1200 se trouve devant le mémorial de Bastogne.
Touristes quand vous passez devant ces bornes,rappelez-vous du sacrifice de nos anciens qui ont permis la démocratie triomphe
The milstone 0 in front of the City Hall of St Mere l'Eglise while the base is 1200 at the memorial in Bastogne.
Tourists when you pass these milstones, remember the sacrifice of our elders who have helped democracy to triumph
Photoscope( Walk Around) ICI HERE