Le Pandur II 6X6
English Translation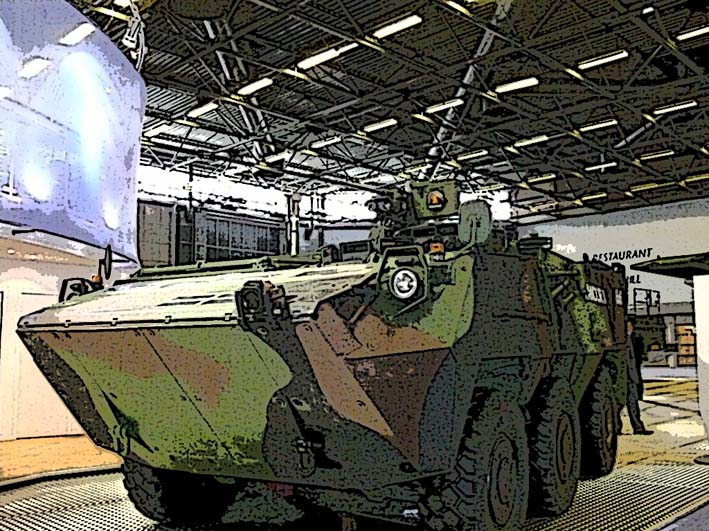 En partant de son expérience acquise lors de la conception, le développement et la production du Pandur I l, Steyr-Daimler-Puch Spezialfahrzeug GmbH (SSF) a développé la famille en mettant au point le Pandur 6x6 et toute une famille de véhicules blindés légers
Le début de cette aventure industrielle commence sur une initiative privée.
Environ 2500 STEYR Pandur sont en service dans le monde entier, dont plus de 700 au sein de l'OTAN Le Pandur est fabriqué par AV Technology International de Chesterfield, Michigan, USA. Il est aussi fabriqué sous licence en tant que 'Valuk' par Ravne Company en Slovénie
La version de base du Pandur II est un 6x6 blindé de transport de fantassin avec un pilote, un tireur, et le commandant et il peut transporter jusqu'à 12 membres d'équipage et les 8x8 transportent jusqu'à 14 membres d'équipage
Le Pandur II est disponible en deux configuration 6x6 et 8x8 . Ces deux véhicules, partage plus de 90 % d'éléments communs. Le Pandur II a un empattement plus long et modifié par rapport au Pandur I.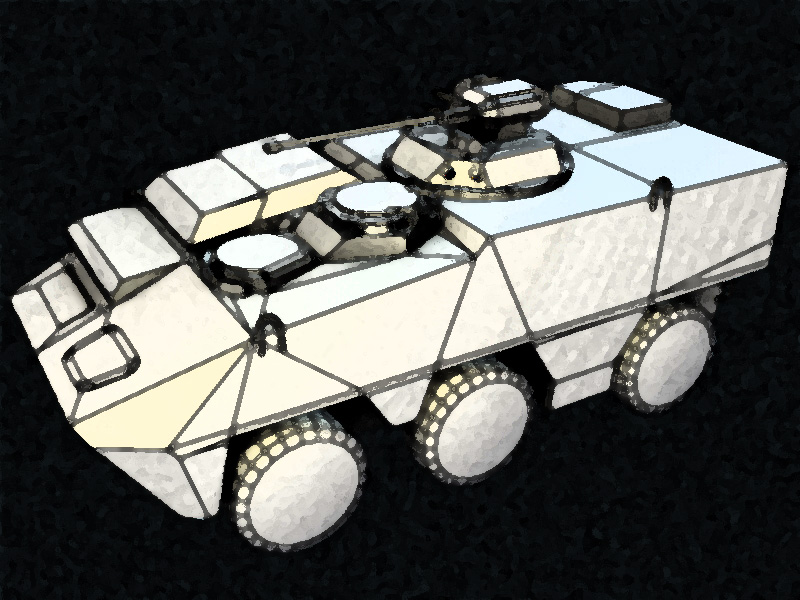 Sa silhouette basse minimise la signature et l'imagerie thermiques Les larges trappes permettent au l'équipage et au personnel le port de gilets pare balles et de l accès arrière du véhicule se fait soit par une double-porte, une seule porte ou une rampe
Description
Le bloc moteur est installé à l'avant droit du véhicule et le conducteur se trouve l'avant gauche . Le Bloc moteur peut être remplacé sur le terrain en 30 minutes.
Le Pandur II est alimenté par un moteur Cummins ISLE HPCR diesel développant 285 CV soit une augmentation de 25% de puissance par rapport à moteur Steyr de 260 CV du Pandur I). Le moteur est couplé à une BAV ZF 6HP 602C automatique 6 rapports Sur route la démultiplication donne au Pandur II un total de 12 vitesses.
La vitesse maximum est de 105 km / h. et la vitesse de croisière il peut parcourir 650 km
La signature phonique du moteur et les systèmes d'échappement est très faible grâce à des silencieux.
Le plancher du châssis du Pandur protège de la plupart des éléments moteurs et de direction de l'engin. Sa faible pression au sol et lui donne de bonnes performances sur le sable mou grâce au moyen d'un système central de gonflage des pneus (CTIS) qui rééquilibre la pression et permet de rouler avec des pneu à plat. il possède aussi un treuil qui lui permet de se dépanner tout seul. Il est aussi amphibie et rapide dans l eau grâce à un système double d'hydrojets qui sont toutefois protégés lors des déplacements en terrain accidenté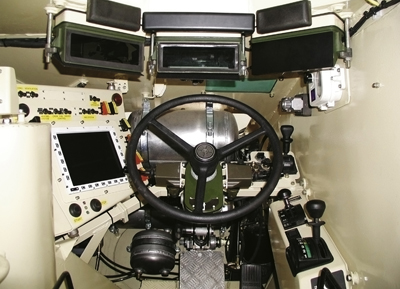 Il a une vitesse de 10 km / h dans l'eau.
Le Pandur II peut guéer jusqu'à une profondeur de 1,5 m
Protection
Les véhicules sont protégés contre les munitions de 12,7 mm à l'avant et contre 7.62 mm dans un arc de 30 °
Il possède une protection NBC (passive, de surpression ou de ventilation des masques) de détection d'incendie
pour le compartiment moteur et pour le poste de combat de l'équipage qui est protégé contre les mines( conception de la coque choix des composants ) Le véhicule protège l'équipage grâce à la disposition de la coque intérieure qui est « en suspension » De plus la protection peut être constamment remise à niveau pour faire face aux nouvelles menaces Enfin la conception du véhicule a été traité et optimisé pour abaisser la signature de l engin )
Armement
| | |
| --- | --- |
| | |
| Internet | Internet |

Le Pandur II 6x6 peuvent être armés avec des canon de calibre 90mm. Le 8x8 Pandur II peut être équipé d'un 105mm dans une tourelle biplace aplatie cette tourelle est construite par General Dynamics Land Systems. D'Autres armes de calibre 105 mm peuvent être monté en fonction des demandes
Tourelle biplace avec un suivi automatique, jour et nuit, avec canon stabilisé de 30 mm et MG 7,62 mm Mauser coaxiale identique à celle montée sur le IFV Uhlan, de l'armée autrichienne.
Transport
Il est transportable par air par des avions de transport tactique comme les C-130, C-160, An-12, An-70, A400M et pour le transport routier il a besoin d'un tracteur avec semi-remorque
Versions
Les Pandur II versions 6x6 et 8x8 peuvent déclinés dans un grand nombre de versions.
Toutes les variantes utilisent le même châssis dans deux modèles de base,
Modèle A avec un toit élargi
Modèle B "avec un toit plat .
La famille Pandur II en configurations 6x6 et 8x8 et comprendra
Version de commandement amphibie,
Version anti-char
Version ravitaillement
Version Observation artillerie
Version Ambulance
Version école.
Utilisateurs
L' Armée autrichienne, utilise 68 Pandur 6x6, sur une commande de 129 véhicules Pandur II, lors des missions à vocation internationale pour deux bataillons d'infanterie blindée.
L'armée autrichienne voudrait aussi passer une commande supplémentaire en version 6x6 Pandur II, en version ravitailleur, reconnaissance, détection NBC et en véhicule anti-char
En Février 2004, le gouvernement du Portugal a signé un contrat pour 260 véhicules Pandur II. 240 pour l'Armée de terre et 20 pour les Marines, en 15 versions.
Les véhicules sont fabriqués par Fabrequipa au Portugal (premier lot livré en Janvier 2008.) Pour le choix de la tourelle étaient en lice deux candidats Oto Melara HITFACT avec 3 homme et la CMI CT-TV biplace.
En Juin 2006, la République tchèque a passé commande pour 199 classés Pandur II, (plus 35 options) à livrer entre 2007 et 2012,
63 véhicules de combat d'infanterie. seront équipés du Rafael Remote Controlled Weapons Station (RCWS-30). Le RCWS-30 comprend un canon automatique de 30 mm MK44 de ATK et le lanceur double Rafael Spike-LR
Mais en décembre 2007 le gouvernement tchèque a annulé le contrat pour ce véhicule Cependant, en Janvier 2008, le gouvernement tchèque a déclaré que le contrat sera renégocié pour un plus petit nombre de véhicules. En Mars 2008, il a été annoncé que 107 véhicules seront achetés.
La Pologne a été également intéressée par cette d'une nouvelle famille de véhicules blindés.
Caractéristiques
Poids 12,000 kg en ordre de Combat 15000 kg
Charge utile 3000 kg
Equipage 12 (chauffeur, commandant de troupes et 10)
Longueur 6.573m
Largeur 2.6679m
Hauteur 2,06
Garde au sol 0.43m
Moteur Cummins HPCR ISLE diesel développant 285 CV
vitesse 100 km / h
rayon d action 600 km
vitesse eau 10km / h
Gradient de 70%
Devers 40%
Tranchée1.4m
Obstacle vertical 0.5m
Gué 1.5m


The Pandur II 6X6

Based on its experience in the design, development and production of the Pandur 6x6 family of light armored vehicles, Steyr-Daimler-Puch Spezialfahrzeug GmbH (SSF) has developed the enhanced generation of the Pandur armored wheeled vehicle as a private venture. About 2,500 STEYR Pandur wheeled armoured vehicles are in service world wide, more than 700 in NATO countries.The Pandur was manufactured by AV Technology International of Chesterfield, Michigan, USA. It is also manufactured under licence as the 'Valuk' by STO Ravne Company in Slovenia
The baseline version of the Pandur II is an infantry 6x6 armoured personnel carrier configured to carry a driver, gunner, and commander and he can carrie up to 12 crew to and the 8x8 carries up to 14 crew
The Pandur II is being offered in both 6x6 and 8x8 configuration with these two vehicles sharing over 90 per cent common components. The Pandur II has a longer wheel base and modified hull compared to the Pandur I.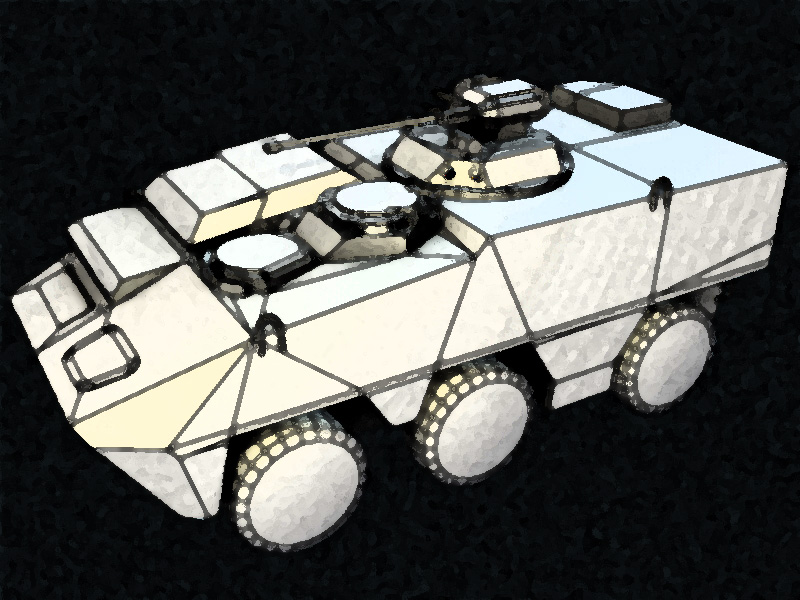 His Low silhouette minimized acoustic and thermal imaging signature Large crew hatches which enable the personnel wearing protection vests and the Vehicle rear entrance can be implemented as double-door, single-door or ramp solution
Low IR signature
Description
The power pack is installed at the front right of the vehicle and the driver's station at the front right and he could be removed and replaced in the field in 30 minutes.
The Pandur II is powered by a Cummins ISLe HPCR series diesel engine developing 285 HP hp (an increase of 25% power compared to the 285 HP Steyr 260 engine installed in the Pandur I). The engine is coupled to a ZF 6HP 602C fully automatic 6-gear transmission. Together with the 2 stage transfer gear (shiftable on the move) this gives the Pandur II a total of 12 gears.
The maximum road speed is reached at 105 km/h. and the cruising range is 650 km The noise signature has been reduced with engine and exhaust silencing systems.
The hull floor of the Pandur covers and thus protects most of the power train components and steering linkages. Low ground pressure and good performance on sand and soft terrain by means of a central tire inflation system (CTIS) ¬ adjustment on the move All tires equipped with run-flat elements . He has a self-recovery winch High amphibian velocity and maneuverability by double impeller drives (jet-pods, which protect the impeller in heavy terrain operation). The jet-pod arrangement enables the vehicle to pivot when swimming He has a speed of 10km/h in water.
The Pandur II can ford to a depth of 1.5m
Protection
The vehicles are armoured against 12.7 mm weapon systems in the frontal 30° arc and against 7.62 mm calibre
NBC protection (passive, overpressure or ventilated face masks) Fire detection and suppression system for the engine compartment Explosion detection and suppression system for the crew compartment Mine protection (special hull design and components, double floor, mine protection crew seats) The design of vehicle surfaces has been computer optimised to minimise the radar cross section of the vehicle. The vehicle has an intermediate floor and the seats along the sides of the cabin are suspended from wall and ceiling mounts rather than floor mounted Modular ballistic protection system capable of being upgraded for future ballistic protection systems (add-on armor)
Armament
| | |
| --- | --- |
| | |
| Internet | Internet |

The Pandur II 6x6 can be armed with weapons up to calibre 90mm. The Pandur II 8x8 can be fitted with a two-person 105mm low-profile turret system supplied by General Dynamics Land Systems. Other weapons up to 105mm calibre can be fitted to suit the operational requirements.Optional weapon fits include a two-man turret with automatic tracking, a day and night fire control system, stabilised 30mm Mauser cannon and 7.62mm co-axial general purpose machine gun as fitted on the Ulan IFV deployed by the Austrian Army.
Transportability
It is Air transportable by tactical transport aircraft (e.g. C-130, C-160, An-12, An-70, A400M and for road he need heavy military trailer and semi-trailer
Vehicle Variants
, the Pandur II 6x6 and 8x8 versions can be tailored to the requirements of a lot of different Variants.
All variants use the same chassis configured in one of two basic models, "A'' Model with an extended centre roof or "B" Model with a flat roof design.
Other versions in the Pandur II family will be in 6x6 and 8x8 configurations and will include a platoon command vehicle, company or battalion command vehicle, fully amphibious armoured vehicle, an anti-tank guided weapon carrier, forward observer vehicle, battlefield ambulance and a driver training vehicle.
Users
Austrian Army, operates 68 Pandur 6x6, has a requirement for up to 129 Pandur II vehicles, for international missions of two armoured infantry battalions. The Austrian Army has also an additional requirement for specialised mission variants of the Pandur II 6x6, for a transport and cargo carrier version, reconnaissance, NBC detection and an anti-tank guided weapon carrier.
In February 2004, the government of Portugal signed a contract for 260 Pandur II vehicles. 240 are for the Army and 20 for the Marines, in 15 variants.
The vehicles were manufactured by Fabrequipa in Portugal (first batch was delivered in January 2008.) The choice of turret has not been finalised but the two candidates are the Oto Melara three-man HITFACT and the CMI Defence two-man CT-TV.
In June 2006, the Czech Republic ordered 199 Pandur II,(plus 35 options) vehicles to be delivered between 2007 and 2012, including 63 infantry fighting vehicles. The IFV vehicles will be fitted with the Rafael Remote Controlled Weapon Station (RCWS-30). RCWS-30 includes a 30mm mk44 automatic cannon from ATK and twin launcher for the Rafael Spike-LR anti-armour missile system But in december 2007 Czech government cancelled the contract for this vehicles However, in January 2008, Czech government stated that the contract may be renegotiated, possibly for a smaller number of vehicles. In March 2008, it was announced that 107 vehicles would be procured.
Poland was also interessed to meet the requirement for a new family of armoured personnel carriers.
Technical data
Weight 12,000kg
Combat Weight 15,000kg
Payload 3,000kg
Crew 12 (driver, commander and 10 troops)
Length 6.573m
Width 2.6679m
Height 2.06m
Ground Clearance 0.43m
Engine Cummins ISLe HPCR series diesel engine developing 285 HP
Road Speed 100km/h
Range 600km
Water Speed of Amphibious Vehicle 10km/h
Gradient 70%
Side slope 40%
Trench1.4m
Vertical Step 0.5m
Fording 1.5m