Spähwagen Fennek Aufklärungs
English Translation
Merci à Thomas Hartwing pour ces photos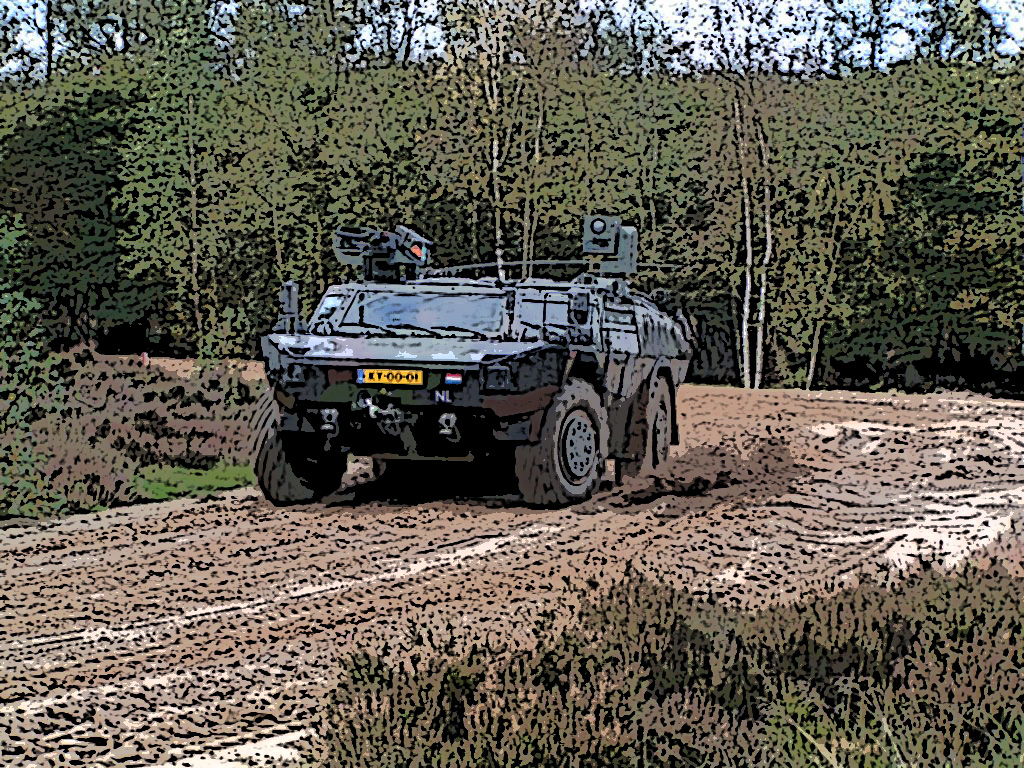 Le Fennek
Le Fennek est un véhicule léger de reconnaissance blindé 4X4 développé pour les Pays Bas et l Allemagne
Histoire
Le Fennek véhicule de reconnaissance armé est construit par Krauss-Maffei Wegmann (KMW) de Kassel, en Allemagne et SP Aerospace and Vehicle Systems BV of The Netherlands (the ARGE Fennek consortium) ) Mais après la faillite de la SP Aerospace, en août 2004, une nouvelle société, néerlandais Défense Vehicle Systems (DDVS), a été mis en place par KMW pour maintenir la ligne de fabrication aux Pays-Bas.
Le prototype de véhicule a terminé ses essais sur le terrain en avril 2000. En Décembre 2001, un contrat a été signé pour l'achat combiné de 612 véhicules Fennek
Royal Netherlands Army
202 de reconnaissance,
130 MRAT (antichars à moyenne portée)
78 versions à usage général de la
Bundeswehr
178 de reconnaissance
24 de génie de combat
quatre versions observateur d'artillerie
Le véhicule est en production et les premiers véhicules ont été livrés aux Pays-Bas, en Juillet 2003 et à l'Allemagne en Décembre 2003. Le 100ème véhicule de l'armée néerlandaise a été livré en Juin 2006. Les livraisons se poursuivront jusqu'en 2009. Les véhicules vont remplacer les véhicules M113 dans l'armée hollandaise et Luchs dans l'armée allemande
Description
Le Fennek a un équipage de trois hommes et il est propulsé par un moteur diesel Deutz 179kW qui développe 240 CV avec une autonomie de 860 km à al vitesse de 115 km / h.
La transmission automatique permet un choix entre 4vitesses La disposition de la transmission donne une très faible hauteur, au véhicule. Le véhicule est en mesure de négocier des pentes de 60% a et des devers de 35% Il a un rayon de braquage de 6,3 m et il peut franchir un gué ayant une profondeur de 1m . Un système central de gonflage des pneumatiques permet au conducteur d'ajuster la pression des pneus sur la route en fonction du terrain ..
Le Fennek est également équipé d'un treuil de récupération pour dépanner un autre véhicule ou se dépanner soi même Mais ce véhicule n'est pas amphibie.. La position centrale du conducteur offre à celui-ci un champ de vision de plus de 180 ° grâce au pare-brise et aux vitres latérales. La caméra arrière montée à l'arrière du véhicule et un écran intégré au tableau de bord du conducteur lui permet des manœuvres d'évitement rapides à effectuer. Le conducteur peut utiliser aussi le câble du treuil
Le matériel d'observation du Fennek pour le véhicule blindé de reconnaissance est installé sur un mât extensible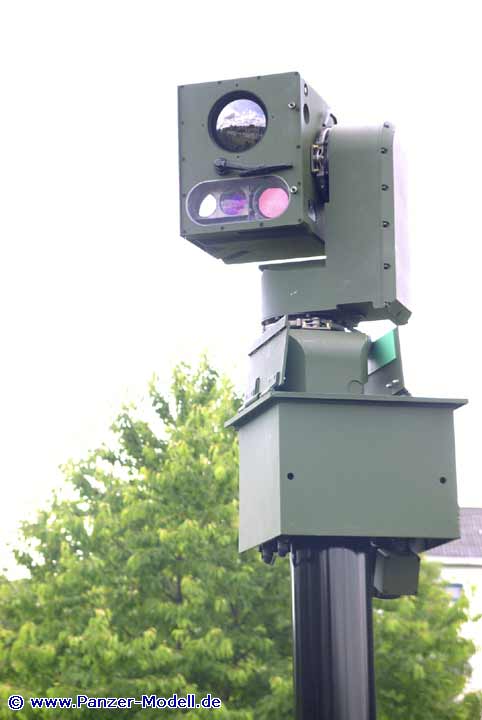 Le véhicule de reconnaissance avec système d'observation est construit par Rheinmetall Defence Electronics (anciennement STN Atlas Elektronik) BAA Il comprend qui comprend une télévision thermique, avec vison diurne caméra CCD et un télémètre laser et le tout monté sur un mat qui peut être élever jusqu'à une hauteur de 3.29 m au total soit 1.5 m au dessus du toit du Fennek Cette tête tourne en en azimut sur 360 ° Pour l'observation à partir d'une position camouflée le système peut être débarqué et monté sur un trépied à une distance allant jusqu'à 40 m du véhicule. La camera est dirigée à partir du véhicule par l'unité de contrôle Un système de navigation hybride composée d'une unité inertielle et d'un GPS permet de connaitre la position exacte du véhicule et le Nord. Les coordonnées de la cible sont calculés à l'aide du système de télémètre laser de l'azimut des divers équipements de mesure, le tout géré avec le GPS.
Ce véhicule de reconnaissance blindé est intégré dans la chaine de commandement et de contrôle du système. Il recueilli des renseignements affichée sur les cartes numériques.
Le Tactical Command and Control System (TCCS) permet aux véhicules de reconnaissance d'être intégrés dans les bases de données de reconnaissance, de commandement et de contrôle. Ceci est accompli grâce à la numérisation des cartes montrant la position exacte des véhicules, l'objectif et le champ de bataille actuel et son environnement .Les données sont mise à jour par le biais de la radio VHF et HF qui transmettent les données entre le véhicule et le poste de commandement. EADS Radio Communications Systems d'Ulm en Allemagne, fournit les équipements pour mettre en œuvre ce système.
le Fennek est capable de fonctionner de façon autonome pour un maximum de cinq jours . Il est alors déployé par paire
Le véhicule est protégé contre les projectiles de 7.62 mm mais le niveau de protection peut être choisi en fonction des besoins de la mission. Le compartiment de l'équipage est protégé contre les mines anti-personnel.
Le véhicule dispose également d'un système de protection NBC. Et son compartiment moteur est équipé d'un système d'extinction automatique d'incendie. La signature infrarouge est minimisé par des pots d'échappement. Il a également un système de navigation à inertie et le GPS
.
Armement
Les véhicules allemands sont armés d'un lance-grenades automatique de 40 mm
Les Néerlandais ont équipé leurs véhicules de reconnaissance d'une mitrailleuse de 12,7
Mais d'autres systèmes d armes peuvent être montées
Autres versions.
Le Fennek néerlandais ( MRAT )sont équipées du missile antichar Rafael Spike MR (Gill). L'affut et commandé électriquement. Le système de visée se compose d'un périscope, dérivée de la PERI l7 Z, qui est actuellement en service. En option, le périscope peut être mis à jour avec un intensificateur d'image ou d'autres modules plug-in.
En Septembre 2005, l'armée des Pays-Bas a placé une commande auprès de la firme turque Aselsan pour 18 systèmes de lanceurs Raytheon Stinger missile anti aérien monté sur les véhicules Fennek. Ces véhicules remplaceront à terme le système anti aérien Guépard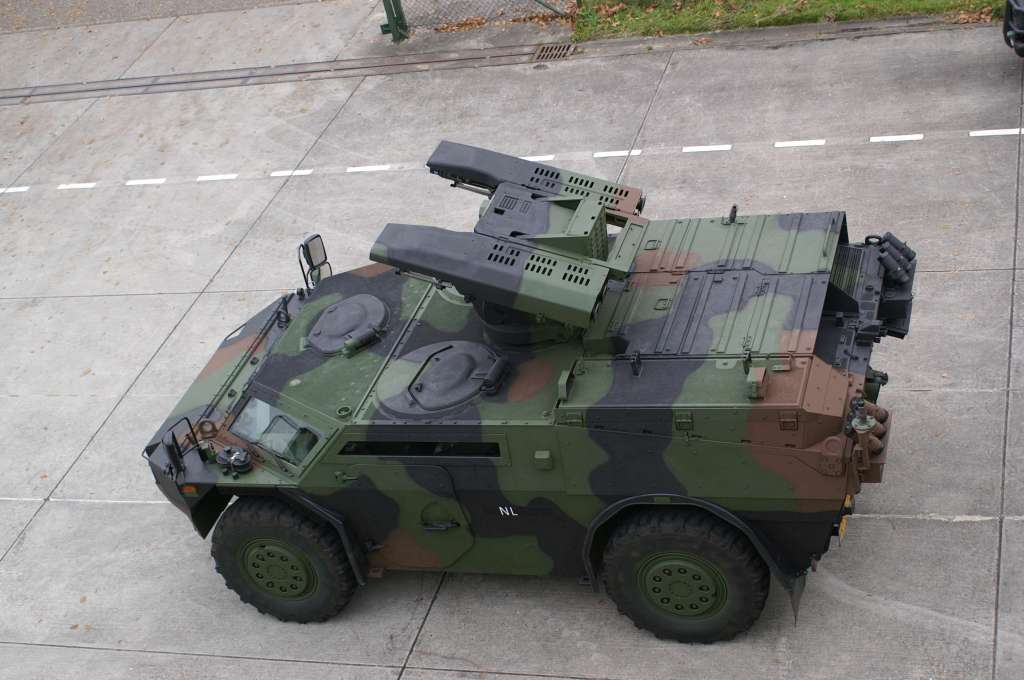 Internet

Les lanceurs seront basés sur le Aselsan Pedestal Mounted Air Defense System (PMADS) en production pour les forces armées turques. Le PMADS est contrôlé à distance avec un capteur , une caméra infrarouge, caméra de télévision et de télémètre laser.
Fennek SWP (Fennek SWP (Stinger Weapons Platform) a commencé à être livré en Mai 2007 pour une fin de livraison en 2008.
Fennec FuWES En Octobre 2006, la première livraison du Fennec FuWES ( commandement et de contrôle de tir ) à l'armée allemande.
Le FuWES fait la liaison avec les équipements montés sur d'autres plates-formes permettant des transmissions aux plus rapides et plus fiables
Les Fennek allemands seront modernises avec ce système.
Utilisation opérationnelle
En Octobre 2006, les Fennek véhicules de l'armée royale des Pays-Bas ont été déployés dans le sud de l'Afghanistan pour appuyer l'International Security Assistance Force (ISAF). En Novembre 2007, l'armée allemande commandé un lot supplémentaire de 10 Fennek pour les équipes d'appui feu (joint fire support teams JFST). Les véhicules doivent être livrés par Novembre 2009.
En Octobre 2008, le premier des 24 Fennek version génie de combat a été livrés à l'armée allemande.
Caractéristiques
Poids en ordre de Combat Environ 9.7t poids brut environ 10t
Longueur 5.71m
Largeur 2.49m
Hauteur du toit de 1.79m
Hauteur 2.18m
Moteur diesel Deutz 179kW 240 CV
Autonomie 850 kms sur route en TT Environ 400 km
Vitesse maximale sur route 115 km / h Vitesse maximale TT 23 km / h
Pente 60 °
Devers 35 °
Gué 1 m
Treuil, 5t
Communications
Radio VHF (GE) SEM 80/90 HF Radio (GE) HRM 7400
VHF Radio (NL) TRC 9500
Armement
Mat télescopique
Lance grenade automatiques de 40 mm, ou MG 7,62 ou 12.7mm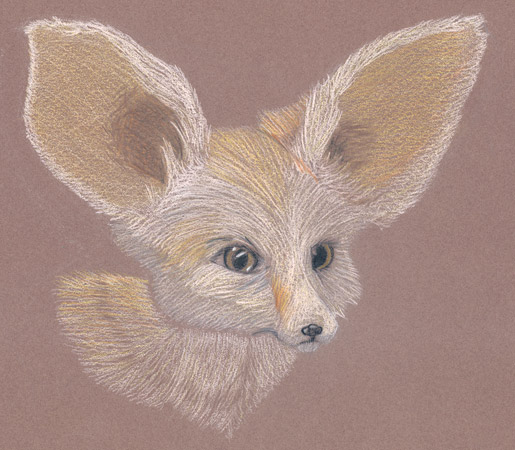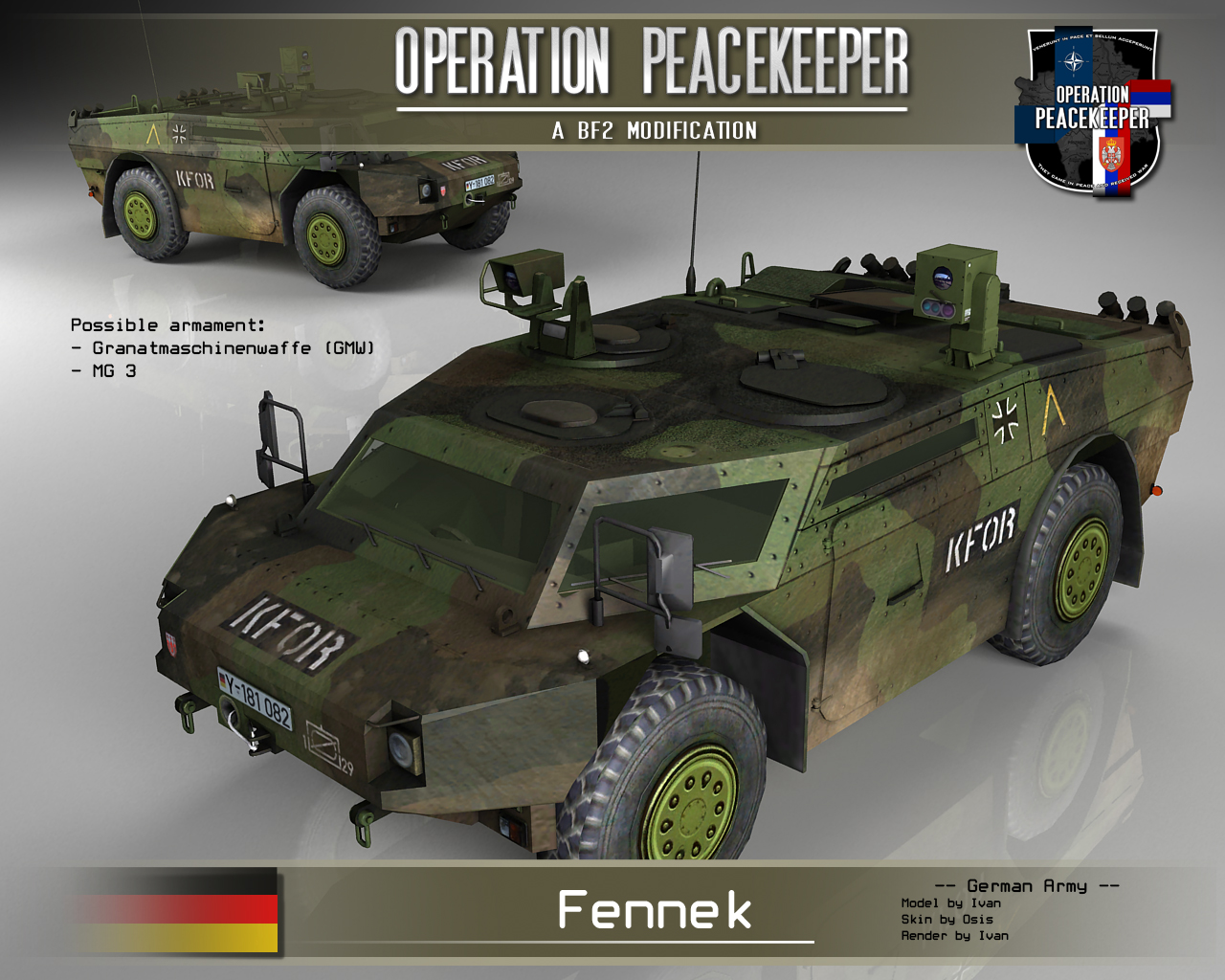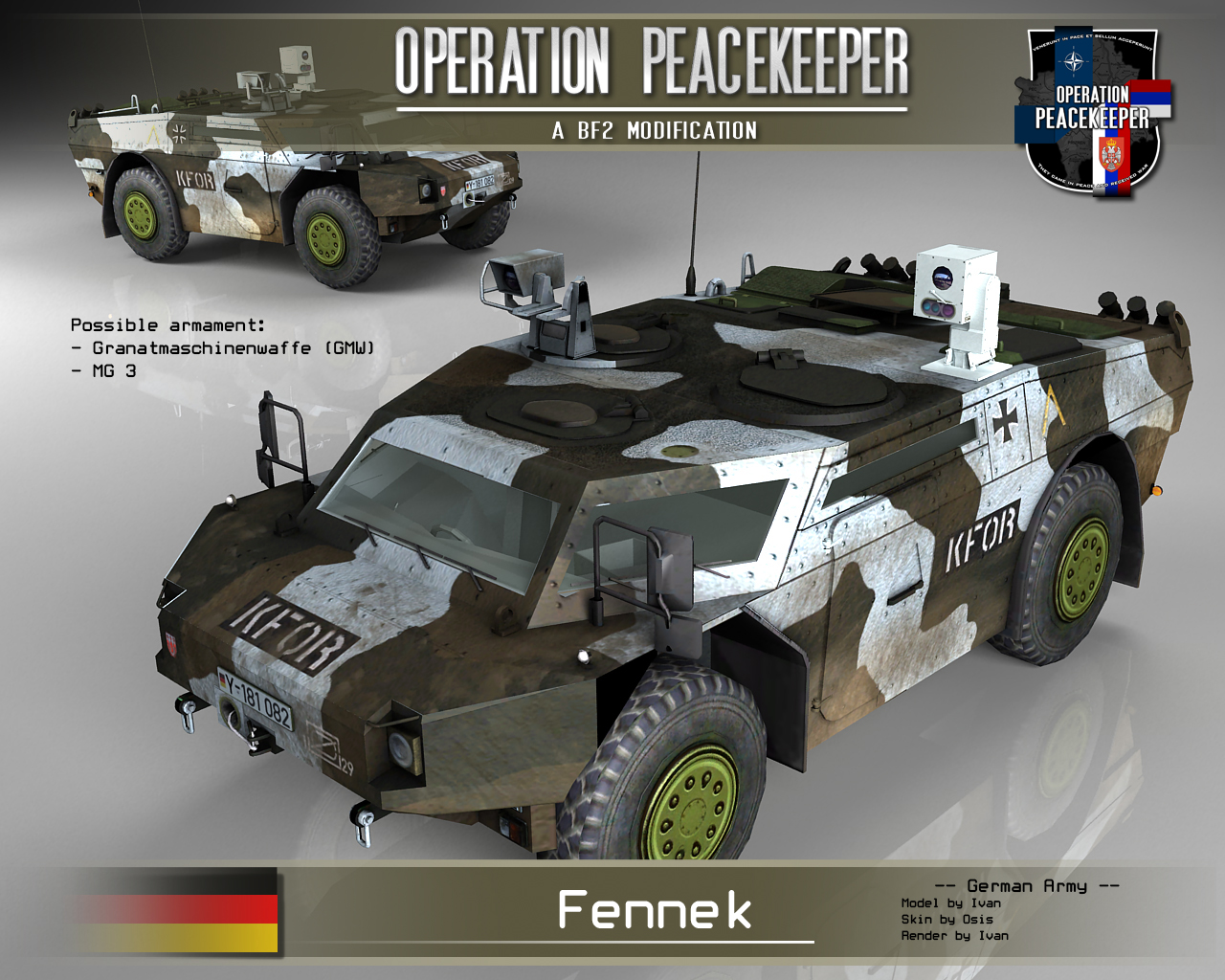 Internet
Voir Aussi See Also
Fennek Spähwagen Aufklärungs
Spähwagen Fennek - Artillerie
Spähwagen Fennek -SWP Stinger weapon platform Eurosatory 2008
Spähwagen Fennek 2 Eurosatory 2010

The Fennek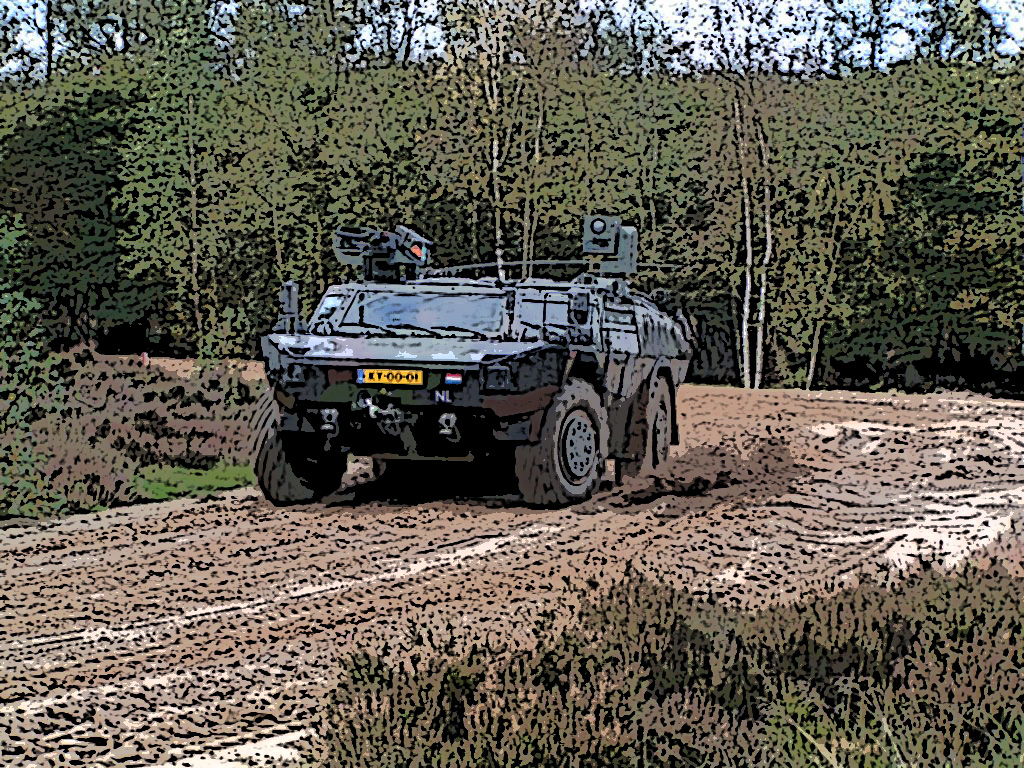 The Fennek is a light armoured 4WD reconnaissance vehicle developed for Dutch and German armies.
History
The Fennek Armed Reconnaissance Vehicle, produced by Krauss-Maffei Wegmann (KMW) of Kassel, Germany and SP Aerospace and Vehicle Systems BV of The Netherlands (the ARGE Fennek consortium) But after the bankrupt of SP Aerospace in August 2004 a new company, Dutch Defence Vehicle Systems (DDVS), has been set up by KMW to maintain the workshare in the Netherlands.
The prototype vehicle completed field trials in April 2000. In December 2001, a contract was signed for the combined procurement of 612 Fennek vehicles
Royal Netherlands Army:
202 reconnaissance,
130 MRAT (medium-range antitank)
78 general purpose versions
Bun joint fire support teams deswehr
178 reconnaissance,
24 combat engineer
4 artillery observer versions for the German Army.
The vehicle is in production and the first vehicles were delivered to the Netherlands in July 2003 and to Germany in December 2003. The 100th vehicle for the Dutch Army was delivered in June 2006. Deliveries will continue to 2008. The vehicles will replace M113 vehicles in the Dutch Army and Luchs ARVs in the German Army
Description
The Fennek has a crew of three Vehicle is powered by a 179kW Deutz diesel engine developing 240 HP with a range of 860km and maximum at the speed of 115km/h. The automatic transmission and transfer unit provides selectable 4WD and limited slip differential. The H-layout of the driveline allows a very low height, with the power being transmitted to the wheels via angular and wheel gears.The vehicle is able to negotiate 60% forward and 35% side slopes. He has a turning radius 6.3m and the fording depth is 1m. A central tyre inflation system enables the driver to adjust tire pressure on the move to suit terrain conditions.. Fennek is also fitted with a recovery winch to recover his own or another vehicle.Vehicle is not amphibious.. The forward position of the driver's seat gives the driver a field of view greater than 180° through the windscreen and side windows. The rearview camera mounted at the back of the vehicle and a monitor integrated in the driver's instrument panel allow rapid evasive manoeuvres to be carried out. The driver can use the cable winch
Observation equipment of the Fennek armored reconnaissance vehicle is installed on an extendable mast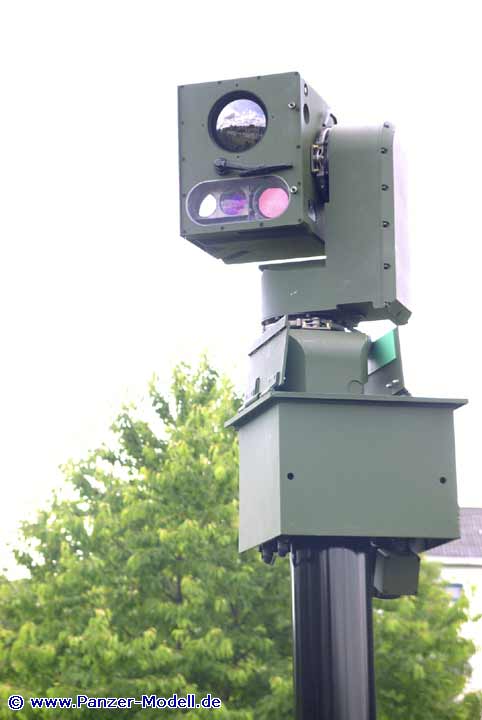 The reconnaissance vehicle's observation system is the Rheinmetall Defence Electronics (formerly STN Atlas Elektronik) BAA which comprises a thermal imager, a CCD day vision camera and a laser rangefinder and is installed in a sensor head mounted on an extendable mast.The sensor head can be controlled in azimuth and elevation and raised to a height of 3.29m above ground i.e. 1.5m above the vehicle roof. For observation from a concealed position, the sensor head can be tripod-mounted at an exposed location for remote operation up to 40m from the vehicle. The sensor head is operated by means of the control unit in the vehicle or via the removed control unit from the concealed position. A hybrid navigation system consisting of an inertial unit and global positioning system (GPS) permits accurate determination of the vehicle position and the north direction. Determination of target coordinates is achieved using the system's laser rangefinder and azimuth and elevation measuring equipment, together with the navigation system.
This armored reconnaissance vehicle is integrated into the digital tactical command and control system. It's collected intelligence is displayed on the digital maps.
The tactical command and control system (TCCS) enables the reconnaissance vehicles to be integrated into the reconnaissance data information, command and control system. This is accomplished by means of digitized maps showing the position of the host vehicle, the target and the current battlefield environment.This data is updated through HF and VHF radio data transmissions between the vehicle and the command post. EADS Radio Communications Systems of Ulm in Germany supplies the HRM 7000 short-wave radio system.
Fennek is able to operate independently for up to five days deployed in units of two vehicles

The vehicle has add-on all-round protection against 7.62mm AP rounds. Add-on armour protection can be selected to suit mission requirements. The crew compartment is protected against anti-personnel mines.
Vehicle also has an NBC protection system. Engine compartment is fitted with an automatic fire extinguishing system. The infrared signature is minimised through special exhaust ducting. He has also an Inertial Navigation System and the GPS support.
Armament
German vehicles are armed with a 40mm automatic grenade launcher
The Dutch reconnaissance vehicles are armed with a 12.7mm machine gun
But Both weapons could be mounted in remotely controlled stations
Others versions.
The Dutch MRAT versions are fitted with the Rafael Spike MR (Gill) anti-tank missile. The gun mount is electrically controlled. The sighting system consists of a periscope derived from the PERI Z l7, which is currently in service. As an option the periscope can be upgraded with an image intensifier or other plug-in modules.
In September 2005, the Royal Netherlands Army placed an order with Aselsan of Turkey for 18 launcher systems for the Raytheon Stinger surface-to-air missile system, to be mounted on Fennek vehicles. The vehicles will replace the Gepard self-propelled air defence guns.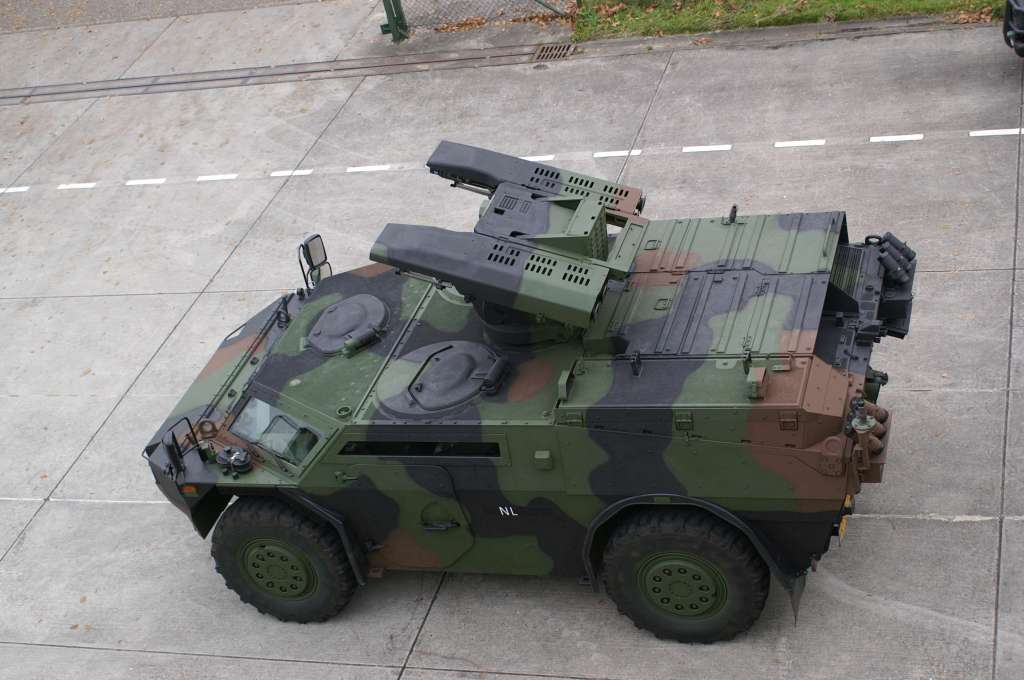 Internet

The launchers will be based on the Aselsan Pedestal Mounted Air Defence System (PMADS) in production for the Turkish armed forces. PMADS is a remotely controlled mount with a sensor package including infrared camera, TV camera and laser rangefinder.
Fennek SWP (Stinger weapon platform) was delivered in May 2007.Final deliveries are expected in 2008.
In October 2006, the first production Fennec with a new FuWES command and fire control system was delivered to the German Army. FuWES links the observation sensors to the vehicle and to other platforms enabling faster and more reliable transmission. Fennec vehicles already delivered to Germany will be retrofitted with the system.
Operational Uses
In October 2006, Fennek vehicles of the Royal Netherlands Army were deployed to southern Afghanistan in support of the International Security Assistance Force (ISAF).In November 2007, the German Army ordered an additional ten Fennek vehicles, for the army's joint fire support teams (JFST). The vehicles are to be delivered by November 2009.
In October 2008, the first of 24 combat engineer Fennek variants was delivered to the German Army's 'Pioneer' combat engineers.
Technical Data
Combat Weight Approximately 9.7t
Gross Weight Approximately 10t
Length 5.71m
Width 2.49m
Height to Roof 1.79m
Overall Height 2.18m
Engine 179kW Deutz diesel engine developing 240 HP
Range 850 kms Range Cross-Country Approximately 400km
Speed Maximum Road Speed 115km/h Maximum Reverse Speed 23km/h
Maximum Forward Slope 60°
Maximum Side Slope 35°
Fording 1 m
winch, 5t
Communications
VHF Radio (GE) SEM 80/90 HF Radio (GE) HRM 7400
VHF Radio (NL) TRC 9500
Armament
Weapon Station
Gun mount with periscopic sight for 40mm automatic cannon, or 7.62 or .50-calibre machine gun
Basic Load Automatic Cannon 32 rounds
Basic Load 7.62 Machine Gun 250 rounds