In fact in 1960 Enterprise was the longest carrier in the Navy with 335.64 m length also the tallest 76m and fastest 30 knots/hour) The carrier was initially approved under President Truman in 1950, but was cut from the budget in 1953. The skyrocketing costs of nuclear ships (in all, the Nautilus program cost $65 million) caused both the Department of Defense and Congress to question their cost-effectiveness . But Korean conflict gave at the admiral Rickover, the opportunity to defend his request for a nuclear carrier.And in 1954, funds for the nuclear carrier were reinstated
The first idée of an nuclear-powered aircraft carrier was issued in1952 . AEC and the Navy decided that Westinghouse would build the reactor and that the Newport News Shipbuilding and Drydock Company would develop the shipboard features. Westinghouse already had a good technical base for the project from its work on the reactor prototype in Idaho.
The first of the eight reactors installed achieved initial criticality on December 2nd 1960, shortly after the carrier was launched. After three years of operation during which she steamed more than 207,000 miles, Enterprise was refueled from November 1964 to July 1965. Her second set of cores provided about 300,000 miles steaming. Refueled again in 1970 the third set of cores lasted for eight years until replaced in 1979-82 overhaul. There are two reactors for each of the ship's four shafts. The eight reactors feed 32 heat exchangers. She completed a fourth refueling in the mid-1990s and a fith refueling in
Built as a Forrestal class design modified USS Enterprise was the world's second nuclear-powered warship after the CGN 9 cruiser Long Beach
This new dispensation in propulsive machinery would give her a maximum speed of 35 knots and an estimated endurance of five years The nuclear propulsion provide largest aviation fuel capacity and the disparition of the funnel permit the installation, on the sides of the island structure, of a fixed radar antennae of advanced design.
She was built with a distinctive square island supporting phased-array radars and a complex EW system. In the first version the
phased array
radar system designed to provide improved tracking of multiple airborne targets relative to conventional rotating antenna radars give a distinctive square looking to the island until their replacement circa 1980
USS Enterprise was in he was the only ship of her class. Now Enterprise is currently the
oldest carriers in the fleet, she is scheduled for

decommissioning

in 2014-2015.
Her intended replacement is the
USS Gerald R. Ford (CVN-78)
In 1960 this armement was
of two twin

Terrier missiles Launchers

and after he receive three Phalanx

mounts and two NATo Sea sparrow

missile launchers.
In the 2000s her armament was refitted again, gaining two
RIM-116 Rolling Airframe Missile
launchers while dispensing with the forward-most Phalanx mount.
His homeport was Norfolk (Virginia )
History
1st act 1958 1980
In 1958 USS Enterprisel was laid at Newport News Shipbuilding
and Drydock Company and on septembre 24th 1960 she was Launched
with godmother Mrs WB Franke
, wife of the former Secretary of the Navy
and on November 25th 1961 she was commisioned with as first commander Captain Vincent P. DePoix. On January 12th 1962 the ship then made its maiden voyage conducting a three-month shakedown cruise and the first air operations were conducted with Vougth F8 Crusader After in february 20th 1962 she was used in collabaration whit the NASA for Project Mercury
After commissioning, Enterprise began a series of tests and training exercises designed to determine the full capabilities of the CVN.
In August, Enterprise joined the Sixth Fleet in the Mediterranean. Soon after in October she return to Norfolk to be was dispatched for the international crisis of Cuba.
During one such U2 flight over Cuba pictures obtained from the spy planes revealed what appeared to be missiles silos under construction The Cuba Island was at 140 kms from the coast of Florida also on October 22th 1962 JFK announced that U.S. reconnaissance flights had revealed the building of missiles silos in the Island .The President also ordered a naval and air quarantine of Cuba Island and and demanded to USSR the dismantling of the missile sites In the same time USA began to prepare for military action against Cuba, moving several Army units to Florida and supporting these units with a strong naval force.
The Second Fleet was mobilized, for this operation and the USS Entreprise Essex and Randolph CV with this escort commenced the blockade on October 24th 1962
On October 25th 1962 the first Soviet ship was stopped
The crise ended on October 28th 1962 with the USSR decidesd to remove the missiles and dismantle the missile bases in Cuba in exchange for the US withdrawing missiles from Turkey
.
So after during 5 years she his in Mediterranean with the Sixth Fleet During the latter deployment, on May 13th 1964 , she form with the USS LONG BEACH and USS BAINBRIDGE the Task Force One fot the operation Operation Sea Orbit, a 30,565-mile voyage around the world, accomplished without a single refueling or replenishmentn
In October, Enterprise returned to Newport News Shipbuilding and Dry Dock Company for its first refueling and overhaul.
In November 1965 she was to the Seventh Fleet in Pacific and began for her Asian deployments. She was the first nuclear ship to enter combat when her aircraft struck targets in Vietnam,.
On December 3rd 1965 She set a record with 165 strike sorties in a single day
On January 23rd 1968 durind the Capture of the USS Pueblo by the Koerans USS Enterprise was send in the East Chine Sea
On January 14th 1969 happen a dramatic event on the ship
A Rocket warhead attached to an F4 Phantom was overheated by exhaust from an aircraft starting unit and detonated, setting off fires and additional explosions across the carrier.
27 lives were lost, and an additional 314 people were injured and.15 aircraft will be destroyed
In March 1969 repairs ship were completed at Pearl Harbour
On April 1969 after a shot down by North Koeran of an EC 121 Contellation the USS Enterprise with the Ticonderoga Ranger and Hornet form the Task Force 71 to protect such flights.
On 1969/1970 she return to Newport News Shipbuilding for an overhaul and her second refitting.On January 1971 to 1974 she return in the Fear East at Yankee station to provide air support for U.S. and South Vietnamese units.
On December 1971 she was sent to the Bay of Bengal to aid West Pakistan in war against India. A confrontatztion with Indian Navy was avoid . In fact Indian navy sent the IN Vikrant to counter the Enterprise task force ans soviet submarines
were also present.Confrontation was averted when the U.S. task force moved towards South East Asia, away from the Indian Ocean
But after the end of air sorties into North Vietnam above the 20th parallel and brought (operation Linebacker I) on Octoer 23rd 1972 negociations between belligirants started in Paris In front of the fealure of the negotiation Operation Linebacker II was launch on December 18th 1972 since December 29th 1972 when the North Vietnamese returned to the peace table.On january 23rd 1979 The cease fire in Vietnam was was announced. And he became effective on January 27th all combat sorties into North and South Vietnam.were cancelled but not under Laos an Cambodge . These combat support sorties were flown in support of the Laotian government which had requested this assistance. Laos had no relationship with the cease-fire in Vietnam.
She assisted the evacuation of Saigon at the end of the Vietnam conflict.
After the cease-fire in Vietnam, Enterprise return in the USA to Puget Sound Naval Shipyard,(Washington) to test the Navy's newest fighter aircraft F14 Tomcat
Two of four jet blast deflectors (JBD) were enlarged to accommodate this new aircraft
These fighter flight from march 18th 1974 until their retirement from Enterprise in 2001
On April 19th 1975
Enterprise with other CV were deployed to waters off Vietnam for possible evacuation contingencies after the invasion of South Vietnam by North Vietnam
On April 29th during operation Frequent Wind ordered by Gerald Ford she support the the evacuation of American citizens from the capital of South Vietnam under heavy attack from the invading forces of North Vietnam.. With fighter cover provided by carrier aircraft, the helicopters landed on Saigon rooftops and at Tan Son Nhat to evacuate the Americans. The airport became the main helicopter landing zone: it was defended by Marines from the 9th
On February 27th 1977 Crisis with Uganda, and support to the Israelian Raid against Entebbe airport.
On January 1979 she return to Puget SounD Naval Shipyard for 30-month of overhaul. During this overhaul, the ship's superstructure was modified, removing the SCANFAR radars and the unique inverted cone-shaped top section. These were all removed during retrofit, and the island was completely altered to resemble the island of Kitty Hawk class carrier Amphibious Brigade
| | |
| --- | --- |
| | |
| Pre 1980 | Post 1980 |
Betwem 10 years the USS was in Mediterranean of Persian theather Operation
Operation Praying Mantis in 1988 against against two Iranian oil platfroms that had been identified as support bases for Iranian attacks on merchant shipping. And in December 1989
we found the Entreprise near Philippines (operation Classic Resolve) to support President Corazon Aquino figting against rebel coup attempt
In October 1990 Enterprise moved to Newport News Shipbuilding for refueling and the Navy's largest complex overhaul refit ever attempted. During this overhaul, the Navy extended Enterprise's length from 336 m to 342 m as well as other refits to extend her service life.
She don't participe to the First Gulf War
In 1996 participation at operation Joint Endeavour upon Bosnie and operations against Irak
During the 1998-1999 deployment, Enterprise steamed more than 50,000 miles (80,000 km) and spent 151 days underway.
The aircraft of Carrier Air Wing (CVW) were launched nearly 9,000 times.
On September 11th 2001 after the terrorist attacks at New York and Washington Enterprise go to the Persian Gulf where on October 7th 2001 begin air attacks against al Qaeda terrorist training camps in Afghanistan The actions were designed to disrupt the use of Afghanistan as a base for terrorist operations and to attack the military capability of the Taliban regime.
Over three weeks, aircraft from Enterprise flew nearly 700 missions and dropped hundreds of thousands of pounds of ordnance over Afghanistan.
On january 2002, Enterprise entered the Norfolk naval shypyard for a scheduled one-year Extended Docking Selected Restrited Availabilaty (EDSRA
In Spring 2004 she provided air support for OIF (Operationh Iraki Freedom ).
Between 2004 and 2006 she departed for a six-month deployment, however the ship was out for a total of six and a half months.
During this deployment, the ship visited 8 ports (Croatia, Greece, Hong Kong, Pusan (South Korea), Singapore, Malaysia, Dubai (UAE), Portugal) supported both Operation Iraqi and Enduring Freedom at the same time.
Returned to Norfolk November 18th 2006
In december 2007 she returne home after a 6 month deployment in the Persian Gulf
On April 12th 2008 Enterprise entered the Northrop Grumman Newport Shipyard for a scheduled 18 month (EDSRA).
She was scheduled to be decommissioned in 2014-2015 .Originally designed for 20 years, Enterprise, upon retirement, will have served over 52 years, longer than any other Navy steel-hulled warship.
In September 2003, Northrop Grumman was awarded a $108 million contract to begin design of the CVN-21(Gerald Ford class nuclear powered aircraft carrier. Construction should begin in 2007 and commissioning is expected to be in 2014. She will replace the Enterprise (CVN-65) which will at that time be fifty-three years old. The continued use of this ship and the other nuclear powered warships beyond original design life provides a distinct economic advantage while providing a force multiplier for the national defense
The Carrier Wings
After the ship we can see the aircrafts used by the CV but first an little history of the CW
Originally the air wing was called an air group and had a name of the carrier where he was assigned
For instance, for the air group on CV-6 USS Enterprise would have simply been called Entreprise Air Group but in 1942, air groups lost the carrier name and began to be numbered.
The number given to each air group came from the hull number of the carrier to which it was assigned. CAG-6 for the Enterprise Air Group on CV-6 USS Enterprise, CAG-3 for the Air Group" on CV-3 USS Saratoga
It is from this original term for the air wing that the term CAG comes from for the commanding officer (Commander Air Group) of an air wing of today.
until late 1948 this numbering scheme remained in use when all CAGs (the air groups, not the commanding officers) were renamed as CVGs and as they started to move from carrier to carrier, they lost the relationship to the carrier hull number.
The late 40th also saw the end of the piston engined aircraftas the F4U Corsair and the arrival of the first jet aircraft like FH-1 Phantom,
The first USNs jet fighter was VF-17A (redesignated VF-171 squadron in mid-1948
There are currently ten CVWs (five on the east coast and five on the west )
One of the west coast airwings is permanently forward deployed to Japan and one reserve CVW (CVWR-20 renamed Tactical Support Wing in April 2007).
A modern CVW, has 2,500 personnel and 60-65 aircrafts dispatched in seven to nine front line squadrons (depending on their aircraft type )
An CW has also his tankers and his own assigned helicopter squadron .
Composition of a CW
VFA N° 1 10x F/A-18E Super Hornet Strike fighter, air wing tanker
VA 1 N° 12x F/A-18F Super Hornet Strike fighter, air wing tanker
VFA N°2 1 0x F/A-18C Hornet Strike fighter
VAQ N°1 4x EA-6B Prowler Tactical electronic warfare
VAW N° 1 4x E-2C Hawkeye Airborne early warning
HS N°1 4x SH-60F Seahawk 2x HH-60H Seahawk ASW / SAR / CSAR
VRC N°1 2x C-2A Greyhound Logistics support Which may be supplanted with:
HSL Det N°1 2x SH-60B Seahawk ASW/ASuW
For example normaly the CVN65 has the CW1
But you can see below the other CW deploy during a mission on the deck of the CVN65

CVN65 April 25th 2 001 to November.10th 2001 (Med, Persian Gulf, Northern Arabian Sea)
CW8
SquadronAircraft
VF-41 Black Aces F-14A
VF-14 TophattersF-14A
VFA-15ValionsFA-18C(N) VFA or VMFA Strike Fighter Squadron Marine Strike Fighter Squadron
VFA-87Golden WarriorsFA-18C(N)
VAQ-141ShadowhawksEA-6B VAQ Tactical Electronic Warfare Squadron
VAW-124Bear AcesE-2C VAW Carrier Airborne Early Warning Squadron
HS-3Tridents SH-60F/HH-60H HS Helicopter Anti-Submarine Squadron and HSL
Helicopter Anti-Submarine Squadron Light
VS-24ScoutsS-3B VS Sea Control Squadron
VRC-40 DET.5RawhidesC-2A VRC Det Fleet Logistics Support Squadron

CVN-65 Enterprise
CVW 3 (before 2001)
AC VFA-37 Bulls 12 xF-18C Oceana
AC VFA-105 Gunslingers 12x F-18C Oceana
AC VMFA-312 Checkerboards 12x F-18C MCAS Beaufort
AC VF-32 Swordsmen 14xF-14B Oceana
AC VAQ-130 Zappers 4xEA-6B Whidbey Island
AC VS-22 Vidars 8xS-3B Jacksonville
AC VAW-126 Seahawks 4x E-2C Norfolk
AC HS-7 Shamrocks 6xSH-60F and 2x,HH-60H Jacksonville
AC VRC-40 Codfish Airlines 2xC-2A Norfolk AC

Aircraft on board
A 4Skyhawk

Douglas A-4 Skyhawk attack aircraft designed to operate from CV.The first prototype first flew on june 22th 1954 it wasin service with Navy and USMC squadrons in late 1956.
The Skyhawk remained in production until 1979, with a total of 2,960 aircraft built, including 555 two-seat trainers In service I,n both countries (Israel Argentina Koweit )
F4 Phantom II

The McDonnell Douglas F-4 Phantom II was a twin-engine, all-weather, fighter-bomber. The aircraft could perform three tactical air roles
air superiority, interdiction and close air support, the Phantom II originally was developed for U.S. Navy fleet defense flown ofr the first time in May 1958 and entered service in 1961
The Phantom II continued to form a major part of U.S. military air power throughout the 1970s and 1980s, being gradually replaced by F14 Tomcat and F/A 18 Hornet in the U.S. Navy and in the USMC
Now retired
F8 Crusader

The F-8 Crusader ( F8U) was a single-engine aircraft built by Chance Vougth
The first F-8 was ready for flight in February 1955,
The RF-8 Crusader was a Recce version who played a crucial role in the Cuban Crisis
They operate until 1987.
F14 Tomcat

Gruman, F 141 is a aircraft supersonic, twin-engine, two-seat, variable geometrie wings. The aircraft could perform three tactical air roles maritime air superiority fighter, fleet defense interceptor and tactical reconnaissance
He serve from 1974 to 2006
F/A18 Hornet

The Mac Donnel Douglas F/A-18 Hornet is a all-weather carrier-capable Strike Fighter, designed to attack both ground and aerial targets.
Choose in the 70th by US Navy and USMC for missions of fighter escort, fleet air defense, suppression of enemy air defenses (SEAD Interdiction, Close air support and reconnaissance. It is in service now remplacing the F 14 Tomcat
A3 Skywarrior


The A3 Douglas Skywarrior was a strategic Bomber and a jet aircraft for CV . He was the heaviest aircraft ever flown from an CV he receive the unofficial nickname "The Whale".It was employ as electronic warfare platform and high capacity tanker
In service 1952 from 1991.
A 5 Vigilante

A 5 North American Vigilante is a supersonic bomber based on CV
He replace the A3 Skywarrior for nuclear strike
But it is in version reconnaissance like RA 5C, who make is carrer between 1961 and 1979
A 6 Intruder


Grumman Aerospace A-6 Intruder is an twin jet-engine air craft attack In service between 1963 and 1997
EA6 B Prowler


Still in service (august 2008 ) is a specialized electronic warfare version
He take the mission by the now retired F 14 equipped with Lantrin, which has subsequently passed on the role to the F.A18E/F super Hornet
S3 Viking


Lockheed S-3 Viking is a aircraft used by the US Navy to identify, track, and destroy enemy submarines. In the late 1990s, the S-3B's mission focus shifted to surface warfare and aerial refueling. After the retirement of the A6 Intruder an A7 Corsair II he was the only airborne refueling platform organic to the Carrier Air Wing(s) until the fielding of the F.A18E/F super Hornet
In service to day (august 2008 )
Greyhound

C-2 Grumman Greyhound is a twin-engine cargo aircraft, derivate from the E2 C Hawkeye designed to provide critical logistics support to CV . Its primary mission is carrier onboard Delivrey (COD )
still in service (August 2008 )
E2CHawkeye

E-2C Northrop Grumman Hawkeye is the U.S. Navy's all-weather, carrier-based tactical airborne warning and control system platform. It provides all-weather airborne early warning and command and control functions for the carrier battle group. Additional missions include surface surveillance coordination, strike and interceptor control, search and rescue guidance and communications relay.
still in service (August 2008 )
SH 2 Sea king

SH-3 Sikorsky Sea King is an twin-engined anti-submarine warfare (ASW) helicopter. It served with the US Navy
In service (August 2008 )
SH 2 Seasprite
SH-2 Kamam Seasprite is a ship-based helicopter for anti sub anti surface threat missions he was armed with anti ship missileThe Seasprite's primary missions include anti-submarine and anti-surface warfare, anti-ship missile defense, and anti-ship surveillance and targeting. Secondary missions may include medical evacuation, search and rescue, personal and cargo transfer, as well as small boat interdiction, amphibious assault air support, gun fire spotting, mine detection and battle damage assessment.
In service from 1952 to 2001
SH 60/MH60 SeaHawk

The SH-60/MH-60 Sikorsky is a twin turbo sharshaft engine, multi-mission helicopter
The U.S. Navy uses the H-60 airframe under the model designations SH-60B, SH-60F, HH-60H, MH-60R, and MH-60S.
His mission anti submarine war undersea warfare (USW), anti surface warfare (ASUW), naval special warfare (NSW) (SAR), combat search and rescue (CSAR), vertical replenishment (VERTREP) and (MEDEVAC).
All Navy H-60s carry either the Lucas Western or Breeze Eastern rescue hoist for SAR/CSAR missions.
In service since 1979

Spécifications
Displacement 89600 tons 93500 full load
Length 342 m
Beam 40.5 m
draft 11.90 m
Deck 20.000 m²
4 lifts
4 steam powered cacatapults C 13 mod 1 de 90 mètres
Ship company 4800 men ( Air win: 2480 )
Motorisation
8 nuclear réactors A 2 W Westinghouse 280000 HP 206000 kW
32 boilers Foster-Wheeler
4 groups TE Westinghouse
4 propellers
Speed 33 knots
Radars (2008)
ANSPS 48 3 D with and le SPS-67 Radar
ANSPS 49 2D Air rechearch radar
TAS Mk 23 adar for designation of objectif le
Radar Landing
2 SPN-46 1x SPN-43 and 1x SPN-44
Radar conrol Fire
4 x Mk 95
Radars navigation
Furuno 900, SPS-64
ECW (2008)
Interceptor SLQ-20 B
Brouilleur-détecteur SLQ-32
Bruiteur remorqué Nixie
Armement
2 x NATO sea sparrow
2x20mm phalanx CIWS
2 RAM launchers Mk 31 (42 missiles)
4 mitrailleuses de 12.7 mm
1 Anti torpedo lure SLX-1
4 lure systems SRBOC Mk 36
Carrier Wings
46 F/A 18 Hornet
4 EA-6 B Prowler
4 E-2 C Hawkeye
8 ASM S-3 B Viking
2 C-2 A
THE FUTURE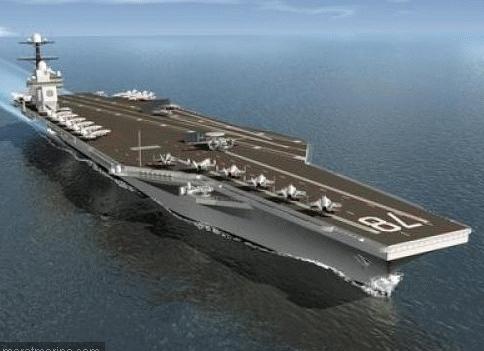 CVN 78 GERALD FORD

Thanks to Stef 54 Forrest Gump PMA and Kobra from les colleurs de plastique