Les Mirage 5 BA, BR et BD belges - 1970-1994
Par Jean-Marie Brams
The Belgians Mirage 5 BA, BR and BD - 1970-1994
By Jean-Marie Brams
Merci à M Guy THIRIFAY pour des precisions concernant cet article Thanks to Guy Thirifay for his help
English Version

Mirage 5 de la FAé 2° Escadrille Florennes
Mirage 5 of the FAé 2nd Squadron Florennes
Les F-84F et RF-84F se faisant vieux et leur nombre diminuant suite aux accidents, une commande de 103 Mirage Dassault fut signée par le Gouvernement. Ces avions, livrés à partir de 1970, se répartissaient initialement entre
:The F-84F and 84F RF-being old and their number decreasing following accident, an order of 103 Dassault Mirage was signed by the Government. These aircraft, delivered from 1970, originally was divided between:
F84 FAé 2° Escadrille 2° Wing Florennes 1961
F84 FAé 2nd Squadron 2nd Wing Florennes 1961


Attention Le F-84F Identifié sur la revue comme étant de la 1ère escadrille est, en fait, de la 2ème escadrille (liseré ROUGE à l'entrée d'air, celui de la première était NOIR) (Guy THIRIFAY)



RF84 FAé 42°Escadrill e Bierset/Liège 1971
RF84 FAé 42nd Squadron Bierset / Liege 1971
- 63 BA (chasseurs-bombardiers) (BA-01 à BA-63) destinés aux 1Sqn (Chardon) et 2Sqn (Comète rouge) .
- 27 BR équipés de caméras VINTEN (reconnaissance tactique) (BR-01 à BR-27) destinés au 42Sqn (Méphisto).
- 16 BD (double commande) (BD-01 à 16) destinés à la conversion des pilotes au 8Sqn (Cocotte bleue).
-- BA 63 (fighter-bombers) (BA-01 at BA-63) for 1st Sqn (thistle) and 2nd Sqn (Red Comet ).
-- 27 BR equipped with VINTEN cameras (tactical reconnaissance) (BR-01 BR-27) for the 42nd Sqn (Mephisto).
-- 16 BD (dual) (BD-01-16) for the conversion of pilots 8th Sqn ( blue hen ).
| | | | |
| --- | --- | --- | --- |
| | | | |
| 1° Squadron | 2° Squadron | 3° Squadron | 42° Squadron |
Tous les avions, sauf 3, furent assemblés à la SABCA et à la SONACA à Gosselies et les réacteurs par la FN à Herstal.
Venant de France, le BD-01, premier Mirage 5 belge, se posa à Florennes le 29 juin 1970. Les escadrilles Mirage étaient la 1ère, la 2ème, la 8ème et la 42ème (Guy THIRIFAY)
All aircraft except 3, were assembled by SABCA in SONACA in Gosselies and reactors by the FN Herstal to.
Coming from France, the BD-01, the first Belgian Mirage 5, arose at Florennes June 29, 1970
| | |
| --- | --- |
| | |
| BA03 Camo Vietnam | BA03 Camo Vietnam |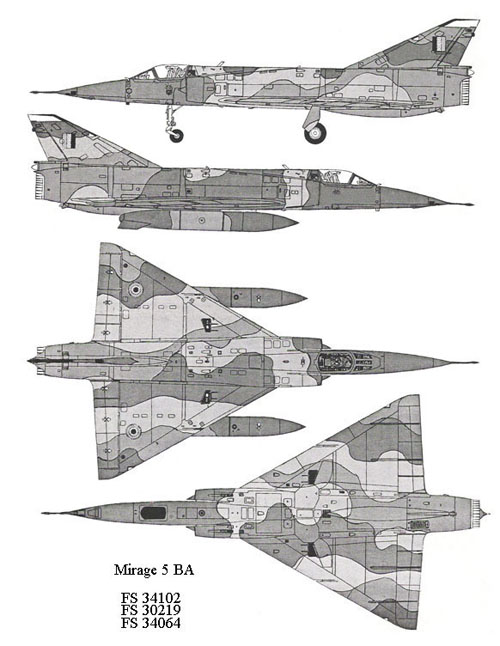 Shcema Camouflage
Camo Pattern
Le 2 Sqn/2 Wing sera le premier à recevoir des Mirage. Suite aux restructurations dues à l'arrivée des Mirage, les 1° et 8°Sqn seront mutés au 3Wing à Bierset fin 1970 où ils recevront leurs premiers Mirage 5 BA et BD. En septembre 1970, le 42Sqn, muté à Florennes, reçoit les premiers Mirage 5 BR.
Aucun mirage 5 n'était équipé d'un radar mais tous portaient à l'arrière une crosse d'arrêt. Les BA avaient reçu un nez fort effilé portant à sa pointe une perche de pitot. Les BR étaient à quelques équipements près semblables aux Mirage IIIR. C'était également le cas pour les BD avec les Mirage IIIBE.

The 2nd Sqn of the 2nd Wing will be the first to receive Mirage. Following the restructuring due to the arrival of the Mirage, 1st and 8th Sqn will be transferred to 3rd Wing in Bierset late 1970 where they will receive their first Mirage 5 BA and BD. In September 1970, the 42nd Sqn, moved to Florennes, receives the first Mirage 5 BR.
None Mirage 5 was equipped with radar, but they all wore on the back of a stick stop. The BA had received a strong tapered nose bearing at its peak a pitot probe The BR were a few similar equipements like at the Mirage III R . This was also the case for BD with IIIBE Mirage.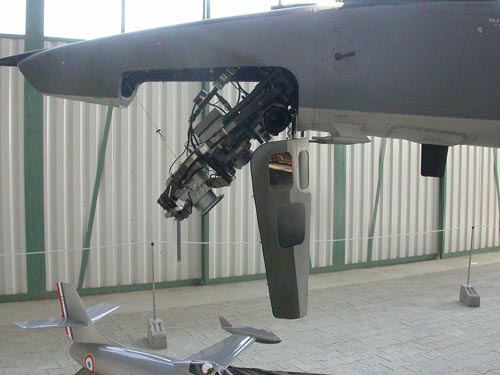 Systeme reco monté sur Mirage III RS (Montelimar cliché Claude Balmefrezol
Recce
System
mounted on Mirage III RS (Montelimar cliché Claude Balmefrezol)

Les Mirage 5 BA et BR virent leur efficacité opérationnelle augmentée lorsqu'ils reçurent le système de contre-mesure électronique (ECM) Rapport II qui augmenta leur capacité de défense lors de leurs missions de chasse, de bombardement et de reconnaissance à très basse altitude à vitesse subsonique. Les BA, excellent dans leur rôle, furent dénommés « Mud Movers » ou fouilleurs de boue.
En 1988, le 2Wing s'équipant de F-16, les Mirage des 2 et 42Sqn s'en allèrent rejoindre Bierset. Le personnel du 42Sqn suivit ses appareils alors que celui du 2Sqn restera à Florennes et sera reconverti sur F-16.The Mirage 5 BR and BA saw increased he roperational efficiency when they received the system of electronic counter-measure (ECM) Rapport II, which increased their defensive abilities at their hunting missions, bombing and reconnaissance at very low altitude in subsonic speed. The BA, excellent in their roles, were called "Movers Mud".
In 1988, the 2nd Wing receive his F-16, . The Mirage of the 2nd and 42nd Sqn joint Bierset. The staff of 42nd Sqn followed its aircraft while the 2nd Sqn remain at Florennes and will be converted to F-16.
| | |
| --- | --- |
| Images Interieur Mirage | Mirage's Interior |
| | |
| Mirage Console Droite Mirage Right consol | Mirage Console Gauche Mirage Left Consol |
Mirage Tableau Bord
Instrument Panel
A la fin des années 1980, les Mirage furent équipés d'un nouveau siège éjectable Martin Baker Mk 10 (type zéro-zéro) en remplacement des Martin Baker 4.
En août 1989, l'Etat Major de la Force Aérienne décide la modernisation MIRSIP (MIRage System Improvement Program) d'un certain nombre de Mirage BA et BD par l'adjonction de surfaces canard à l'avant, de la modernisation du calculateur de navigation, d'un câblage pour l'emport d'une nacelle de reconnaissance et d'un système de ravitaillement unique sous pression pour tous les réservoirs (interne et externes). Ces avions modernisés devaient voler jusqu'en 2.005, voire jusqu'en 2010 selon certaines sources. Lors de la 1ère crise du Golfe, 18 Mirage du 3Wing furent déployés à Diyarbakir (Turquie) du 3 janvier au 12 mars 1991 pour participer à l'opération « Ace Guard ». Les Mirage effectuèrent 606 missions opérationnelles et 816 heures de vol. Peu après le retour en Belgique de ses appareils, le 8Sqn est dissout.
A l'origine, tous les Mirage 5 portaient un camouflage de type Vietnam (dessus beige, vert clair et vert olive et dessous gris très clair). En 1981, le dessous des appareils encore opérationnels fut pourvu du camouflage type Vietnam (appelé camouflage intégral) qui, en virage, rendait moins visible le Mirage très souvent utilisés pour des missions à basse altitude.
Les 1Sqn/3Wing et 2Sqn/2Wing conserveront leurs Mirage jusqu'à la fin des années 1980. Le 8Sqn/3Wing de Bierset sera dissout en septembre 1991. Le 42Sqn, dernière unité à voler sur Mirage en Belgique, après 23 ans d'utilisation de ses BR, sera dissout à son tour le 19 décembre 1993 suite à des restrictions budgétaires.
Les 15 BA et 5 BD modernisés, à l'exception de vols d'essai, ne servirent jamais en Belgique toujours suite aux restrictions budgétaires intervenues en 1992 et 1993. Ils seront stockés à Koksijde jusqu'en 1994. A cette époque les 20 Mirage MIRSIP ainsi que 4 BR et 1 BD non modernisés seront vendus au Chili par l'intermédiaire de la SABCA (Société Anonyme Belge de Construction Aéronautique). Ces BR et BD serviront de réserve de pièces de rechange.
Voici un tableau reprenant de 25 Avions ex FAé vendus au Chili et remis en service actuellement sous le nom de Elkan . Ces avions ont été retirés du service le 26 décembre 2006

At the end of 1980, Mirage were equipped with a new Ejection Martin Baker Mk 10 seat (zero-zero) as a replacement for Martin Baker 4.
In August 1989, the the Air Force Staff decide of the modernization MIRSIP (MIRage System Improvement Program) of a number of Mirage BA and BD by adding duck surfaces at the front, the modernisation of Navigation calculator, a wiring for the carriage of a pod of recognition and a unique system of supply under pressure for all tanks (internal and external). These modernized aircraft were able to fly until 2005 or even 2010 according to some sources. At the Time of the 1st Gulf War , the 18 Mirage of the 3rd Wing were deployed in Diyarbakir (Turkey) from January 3rd to March 12th 1991 to participate in the Operation Ace Guard. The Mirage made 606 operational missions and 816 flying hours. Shortly after the return to Belgium of its aircraft, 8th Sqn is dissolved.
Initially all Mirage 5 wore camo type Vietnam (above beige, light green and olive green and grey clear below). In 1981, the underside of the aircraft was filled yet operational camouflage type Vietnam (called full camouflage), which, in turn, made it less visible Mirage often used for missions at low altitudes.
The 1st Sqn/3rd Wing and 2nd Sqn/2nd Wing retain their Mirage until the late 1980's. The 8th Sqn/3rd Wing in Bierset was dissolved in September 1991. The 42nd Sqn, last unit to fly Mirage in Belgium, after 23 years of use of its QB, will be dissolved, in turn, on December 19th 1993 as a result of budget cuts.
The 15 BA and 5 BD modernized, with the exception of test flights, not ever served in Belgium always following the budget cuts that occurred in 1992 and 1993. They will be stored at Koksijde until 1994. At that time the 20 Mirage MIRSIP and 4 BR 1 BD and not upgraded will be sold to Chile through the SABCA (Société Anonyme Belge de Construction Aerospace). These BD and BR serve as a reserve of spare parts.
Here is a table showing of 25 aircraft ex FAé sold in Chile and returned to service currently under the name of Elkan. These aircraft were withdrawn from service on December 26th 2006
Chili

Belgique ex serial
Belgian ex Serail
Dassault N°
Type
701
BA01
01
MIRSIP ex BA
702

BA 04

04
MIRSIP ex BA
703
BA 11
11
MIRSIP ex BA
704
BA 23
23
MIRSIP ex BA
705
BA 27
27
MIRSIP ex BA
706
BA 39
39
MIRSIP ex BA
707
BA 46
46
MIRSIP ex BA
708
BA 48
48
MIRSIP ex BA
709
BA 50
50
MIRSIP ex BA
710
BA 52
52
MIRSIP ex BA
711
BA 56
56
MIRSIP ex BA
712
BA 57
57
MIRSIP ex BA
713
BA 59
59
MIRSIP ex BA
714
BA 60
60
MIRSIP ex BA
715
BA 62
62
MIRSIP ex BA
716
BD 01
201
MIRSIP ex-BD
717
BD 03
203
MIRSIP ex-BD
718
BD 04
204
MIRSIP ex-BD
719
BD 14
214
MIRSIP ex-BD
720
BD15
215
MIRSIP ex-BD
721
BR 13
313
BR
722
BR25
325
BR
723
BR 26
326
BR
724
BR 27
327
BR
725
BD 12
212
BD
| | |
| --- | --- |
| | |
| Mirage MIRSIP ex BD 04 (Koksijde? ) | Mirage M 5MA FACh 706 2004 (Copyright) |
Les autres Mirage 5 BA, BR et BD préservés à Weelde ont finalement été achetés par la SAGEM pour reconditionnement et modernisation en vue de la vente à l'exportation (Pakistan, Chili, …). Le dernier de ces Mirage 5 a quitté la Belgique en juillet 1999.
Other BA Mirage 5, BR and BD preserved at Weelde were eventually purchased by the SAGEM for repackaging and modernisation for the export sale (Pakistan, Chile,…). The last such Mirage 5 left Belgium in July 1999.
| | |
| --- | --- |
| | |
| Mirage BA 03 Temploux (Copyright) | Mirage BR 04 Florennes Musée Spitfire |
| | |
| --- | --- |
| | |
| BA 03 en cours de démontage en 2006 Saffraanberg (2006) ( copyright)BA0 being dismantled in 2006 Saffraanberg (copyrigth ) | BR 27 |

Quelques Mirage 5 sont conservés en Belgique (4) dont le BA-15 au MRA (Musée Royal de l'Armée à Bruxelles (complet) et le BR-04 au Musée Spitfire à Florennes (complet). Ces avions sont les seuls préservés sous toiture et sous surveillance. Un autre Mirage 5 BA, le BA-22 (bon état) se trouve à l'air libre mais sous surveillance non loin de la tour de contrôle de Florennes AB. Nous trouvons à l'air libre le BR-10 à l'Historical Center à Beauvechain (probablement complet). Les autres Mirage 5, le BA-03 à Temploux (incomplet et déjà victime de vols de pièces) et le BA-30 à Spa - La Sauvenière (incomplet et pas beau suite aux vols de pièces), se trouvent à l'air libre et sans surveillance. Des éléments de Mirage sont conservés dans les réserves du MRA à Vissenaken. Aucune trace de BD préservé en Belgique n'a été trouvée.
Les Mirage 5 BA, BR et BD et les F-104G et TF-104G des autres escadrilles de chasse furent remplacés par des F-16 A et B à partir de 1979.
Some Mirage 5 are stored in Belgium (4) whose BA-15 at MRA (the Royal Army Museum in Brussels (complete) and BR-04 at the Museum at Florennes Spitfire (full). These aircraft are the only preserved beneath roof and under surveillance. Another Mirage 5 BA, BA-22 (good condition) can be found in the open air under surveillance but not far from the control tower at Florennes AB.We find in the open air on BR - 10 at the Historical Center at Beauvechain (probably complete). Other Mirage 5, the BA-03 at Temploux (incomplete and already a victim of theft of pieces) and the BA-30 at Spa - Sauvenière (incomplete and not beautiful suite the theft of pieces ), are in the open and unattended. Mirage elements are stored in the reserve to MRA Vissenaken. No evidence of BD preserved in Belgium has been found.
The Mirage 5 BA, BR and BD and F-104G and 104G-TF other fighter squadrons were replaced by F-16 A and B from 1979.

F16A Belge 1° squadron 2° Wing Aout 1994
Les pilotes qui ont volé sur Mirage 5 appréciaient cet avion qui était petit, rapide, maniable et peu visible lors de missions à basse altitude où il faisait merveille. Le mirage était particulièrement performant entre Mach 0,9 et Mach 1,2 et entre10.000 et 12.000 pieds. Ses quelques défauts étaient compensés par la qualité des pilotes et une excellente connaissance de l'avion. Le Mirage 5 perdait de sa maniabilité et manifestait un manque de puissance moteur causé par la traînée générée par la configuration delta lors de missions à base altitude. Le seul moyen de répondre au mieux à ce problème était de pousser la puissance du réacteur.
Pour certaines missions peu fréquentes, les Mirage 5 BR du 42Sqn, lorsqu'ils étaient basés à Florennes, emportaient 2 réservoirs de 1.900 l et 1 de 1.700 l . Dans cette configuration, les avions dépassaient assez largement les limites d'utilisation définies par le constructeur. Les pilotes lançaient la PC tout en maintenant les freins serrés. Lorsque l'avion se lançait sur la piste, le pilote devait rapidement lever le nez de l'appareil pour parvenir à décoller avant le bout de piste. Ce genre d'exercice hors normes n'était possible qu'à Florennes qui possède la plus longue piste militaire de Belgique.
The pilots who flew the Mirage 5 appreciated this plane It was small, fast, easy to handle and not very visible at low altitude missions in which he wonders. The Mirage was particularly effective between Mach 0.9 and Mach 1.2 and entre10.000 and 12,000 feet. Its few shortcomings were offset by the quality of drivers and an excellent knowledge of the aircraft. 5
The Mirage is losing its maneuverability and showed a lack of engine power caused by the trail generated by the delta configuration in low altitude missions . The only way to respond best to this problem was to push the engine power.
For some infrequents missions, the Mirage 5 BR of the 42nd Sqn, when they were based at Florennes, outweighed 2 tanks and 1,900 liters and 1 of 1,700.liters In this configuration, the aircraft exceeded fairly wide usage limits specified by the manufacturer. Pilots launched the PC while maintaining the brakes. When the aircraft was launched on the runway, the pilot had to quickly lift the nose of the aircraft to reach take off before the end of the runway. Such eextraordinaries e xercises was possible only Florennes, which has the longest runway military in Belgium.
Caractéristiques :Specifications
Constructeur : Dassault.
Longueur Length:: 15.55m
Envergure Wingspan: 8 .22m
Hauteur: Height4,49 m.
Moteur : Snecma Atar 9C de 6.200 kg de poussée
Vitesse maximum : Maximum speed: 2.466 Km/h.
Distance franchissable :Range 1.200 Km.
Réservoirs extérieurs External Tanks: 1 ou 2 x 1.7000 l ou 2 x 1.900 l (configuration habituelle).
Armement :Weaponery
2 canons DEFA de 30 mm.
Bombes freinées ou non.
Pods de 7 roquettes.
Bombes d'exercice.
PS
Aucune information n'est disponible sur la dénomination de Mirage 5 et non de Mirage III. La seule explication plausible serait la nécessité de différencier les appareils belges des Mirage V qui sont différents. Actuellement, dans les écrits traitant des Mirage belges, les appellations 5 et V sont utilisées avec la confusion qui peut en résulter. Si vous consultez « Pilotes de Mirage » dans la série « Patrick Baudry présente … – Editions Atlas, 1991 », vous trouverez un photo du prototype de Mirage V portant la désignation Mirage M5 sous la verrière et dans le texte référence est faite au Mirage 5 (et ce n'est pas le Mirage belge).
Mon article n'a pas la prétention d'être complet et exempt d'erreurs.
La photo du BR-27 montre l'appareil équipé des 3 réservoirs extérieurs.
Aucune caractéristique améliorée des Mirage 5 MIRSIP n'ont été trouvée. Vous trouverez sur Internet de sites donnant des caractéristiques différentes.

No information is available on the denomination of Mirage 5 and Mirage III. The only plausible explanation is the need to differentiate Belgian Mirage V who are different. Currently, in the literature dealing upon Belgian Mirage appellations 5 and V are used with the confusion that can result. If you see "Mirage" Drivers in the series "Patrick Baudry present - Editions Atlas, 1991," you will find a photo of the prototype Mirage V bearing the designation Mirage M5 under the canopy and in the text reference is made to Mirage 5 (and this is not the Belgian Mirage).
My article does not pretend to be complete and without error.
The picture of BR-27 shows the aircraft, equipped with external tanks 3.
None feature improved Mirage 5 MIRSIP have been found. You will find on Internet sites providing different characteristics.
Remerciements :
Ils vont à :
Vincent Pécriaux et ses amis du site WWW.ailes-militaires-belges.be pour l'autorisation de reproduire ces photos (Copyright).
Laurent Heyligen et ses amis du site « belmilac.westpaint.com » pour l'autorisations de reproduction de leur photo de l'article .
Antonio Beghello et Raùl Zamora du site WWW.ec.geocities.com (Chili) pour leurs photos (Copyright).
ThierryLe Masson et son site www.101airbase.com pour l'autorisation de reporduction du profil du F16 A FA-133(copyright )
Les autres photos (aucun Copyright) sont de l'auteur (Article et photoscopes).Acknowledgments:
They go to:
Vincent and his friends Pécriaux site WWW.ailes-military-belges.be for permission to reproduce these pics (Copyright).
Heyligen Laurent and his friends from 'belmilac.westpaint.com "for permission to reproduce their pic of the article.
Antonio Zamora Beghello and Raùl site WWW.ec.geocities.com (Chile) for their pics (Copyright).
ThierryLe Masson and its site www.101airbase.com for authorizing reproduction profile F16 A FA-133 (copyright)
Other photographs (none Copyright) of the author (Article and cameras).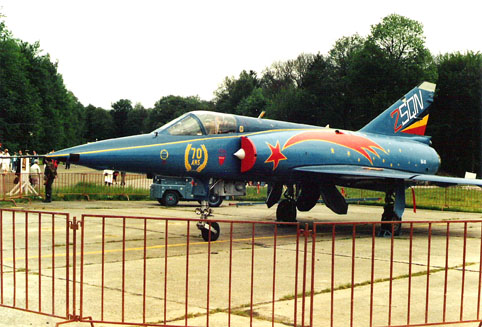 Mirage BA 43 1987 70 ans du 2Sq/2 Wing
Mirage BA 43 1987 70 years of 2nd Sq / 2nd Wing
Nota bene : Le Mirage 5 BA BA-03 de Temploux ne possède plus son réacteur, son siège éjectable, son viseur, ses canons, la partie avant du carénage de la crosse d'arrêt (quille) et un carénage d'une articulation de flaperons. Le même BA-03 a été repeint mais le fondu des couleurs n'a pas été réalisé. Quelques photos du photoscope ont été retouchées pour plus de réalisme.
Nota bene:
The Mirage 5 BA BA-03 of Temploux has no longer its reactor, the ejector seat, his viewfinder, its canons, the front part of the shroud of arresting hook (keel), and a shroud of an articulation of flaperons.
The same BA-03 has been repainted but the melted color has not been achieved. Some pictures of this walkaurond were retouched for more realism