Le Yamato 大和
english Translation
Les sources des autres documents et illustrations sont mentionnées quand elles sont connues. Si une de ces pièces est protégée et que sa présence dans ces pages pose problème, elle sera retirée sur simple demande

Histoire ICI
History HERE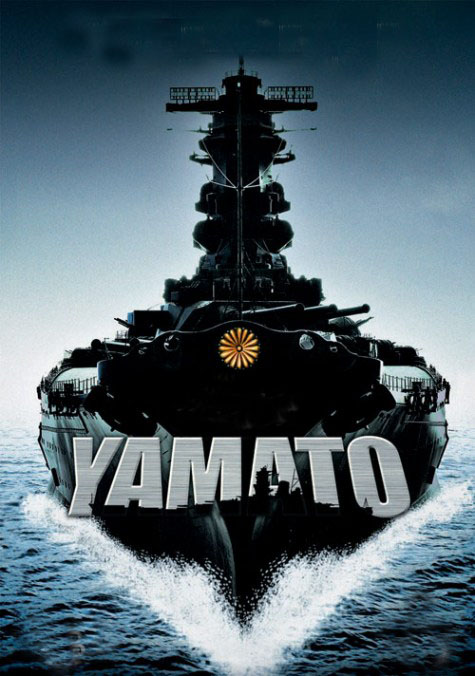 Internet

Les superstructures The Superstructures


Avant 1943
Before 1943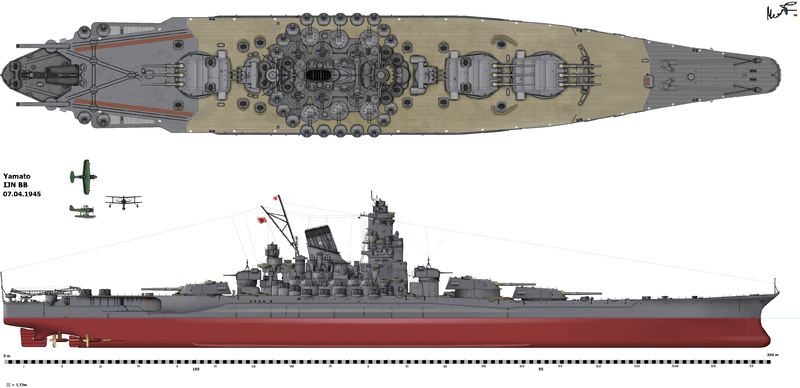 Etat 1945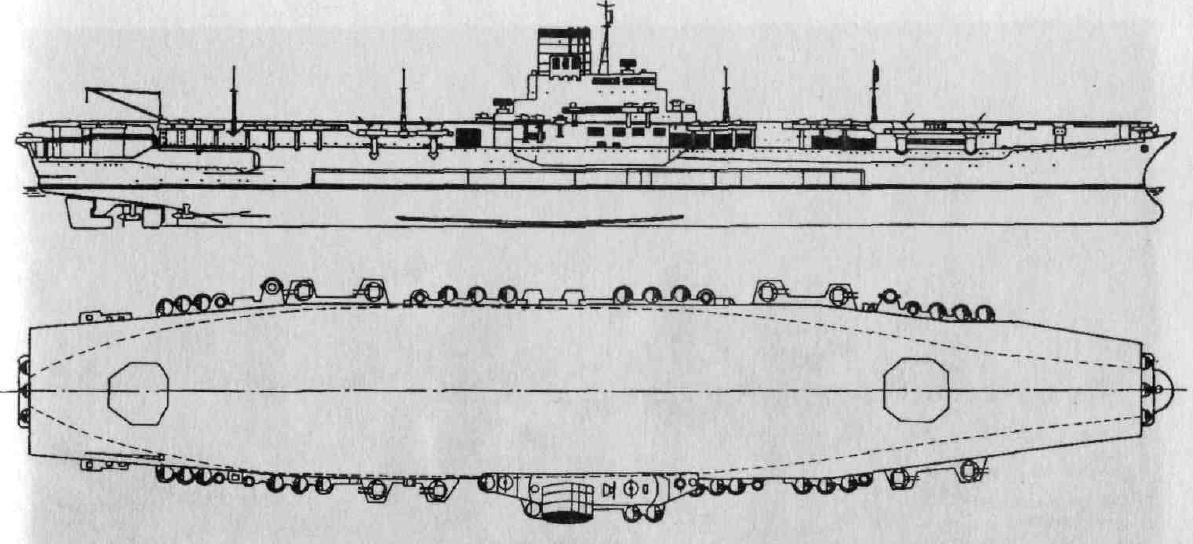 Yamato projet de Porte Avion
| | |
| --- | --- |
| | |
| Chateau face Avant | Chateau face Arriere |
| | |
| Chateau coté babord | Chateau coté tribord |
| | |
| Chateau hauts radard | Chateau hauts radard |
| | |
| Télémetre | Radar |
| | |
| | |
| | |
| Armement Tribord | Armement Tribord |
| | |
| chemineéeTribord | Armement Tribord |
| | |
| Chateau | radard |
L armement Artillery
Artillerie Principale Main armament

canon 46 cm/45 (18.1")

Les canons de 460 mm/45 (18.1 ") utilisés par les cuirassés de la classe Yamato étaient les plus puissants jamais installé sur un navire de guerre. Ils n'étaient concurrencés que par les canons américains de 16inch / 50 Mark 7
Histoire
27 canons ont été produits. le premier sera terminé en Mars 1938 et testé à au polygone de tir de Kamegakubi.
9 seront installés sur les IJN Yamato et Musashi Après la guerre, 2 canons d'essai trouvés à Kamegakubi seront démolis en Novembre 1945 (ordres de désarmement général de l'armée américaine)
7 seront trouvés à divers stades d'achèvement sur la plage dans une crique au nord de Kamegakubi. 5 seront détruits tandis que les deux derniers seront envoyés au Proving Grounds Dahlgren, en Virginie, USA, pour les tests. Ils ont été ferraillés dans les années 1950. 2 canons partiellement complets destinés au Shinano ont également été saisis et détruits plus tard.
Description
Ces canons ont été officiellement désignés par les Japonais comme "40 cm/45 Type 94" (15,9 pouces) dans un effort pour cacher leur taille réelle, qui était un secret gardé jusqu'à après la fin de la 2e Guerre Mondiale.
Ces canons avaient une construction particulièrement complexe, reflétant la difficulté de fabrication d'un canon d'un aussi gros calibre.
Le tube A, désigné comme 2A, était un tube 3A rétréci sur un peu plus de la moitié de la longueur du tube
Les deux parties étaient ensuite réunies Ces tubes étaient équipés de joints dit Belleville, pour abaisser les contraintes subies par l'acier
L'intérieur du tube, appelé 1A, était ensuite travaillé par pression hydraulique et le rainurage était effectué ensuite
Le joint de culasse était alors vissée sur le tube 3A.
Un grand inconvénient de ce type de construction a été que l'arme ne pouvait re chambrée que par réalésage complet du tube A
Cela en faisait une opération couteuse et il a était convenu qu'il était plus pratique de remplacer simplement un canon usée par un nouveau
Toutefois aucun cuirassé n'a eu recours à cette opération pendant la guerre..
Combat
L'IJN Yamato a utilisé ses canons une seule fois pendant la bataille de Samar en Octobre 1944 contre les Portes avions US et surement touché le PA d'escorte USS Gambier Bay (CVE-73).
IJN Musashi a utilisé ses armes à feu en un une seule occasion
Il a tiré des sankaidan (obus incendiaires) pendant la Bataille de la mer de Sibuyan en Octobre 1944. Un de ces engins aurait explosé dans le canon, entrainant la mise hors service de cette arme
Caractéristiques Technical Data
Designation Officielle- 40 cm/45 (15.9") Type 94 (Model 1934)
Calibre reél- 46 cm/45 (18.1") Type 94 (Model 1934)
Poid canon avec culasse Gun Weight with breech 164654 Kgs
Longueur canon Gun Length 21.130 m
Cadence de tir Rate Of Fire 1.5 - 2 rounds per minute
46 cm/45 (18.1") cannon

The 46 cm/45 (18.1") cannons used on the Yamato class were the most powerful guns ever installed on a battleship. They were only matched by the USA 16Inch /50 Mark 7
History
27 guns were produced, with the first one being completed in March 1938 and tested at the Kamegakubi proving grounds.
9 where installed on IJN Yamato and Musashi After the war 2 test guns at Kamegakubi were demolished in November 1945 (general disarmament orders of the U.S. Army)
7 were found in various stages of completion on the beach in a cove north of Kamegakubi. 5 were destroyed while the last two were taken to Dahlgren Proving Grounds in Virginia, USA, for testing. They were scrap in the 1950s. 2 partially completed turntables intended for Shinano were also captured and later destroyed.
Description
These guns were officially designated by the Japanese as "40 cm/45 Type 94" (15.9 inch) in an effort to hide their actual size, which was a closely-guarded secret until after the end of W W2.
These guns had an unusually complex construction, reflecting the difficulty in manufacturing such a large caliber.
The A tube, designated as 2A, had the 3A tube shrunk on for somewhat over half the length from the breech end.
This assembly was then wire-wound and had a layer of two tubes shrunk on for the entire length, followed by a two-part jacket at the breech end.
The various tube locating shoulders were fitted with Belleville spring washers, presumably to lessen stress concentration and potential "steel choke" problems. This feature was similar to many Vickers designs which used cannelured rings.
The inner A tube, known as 1A, was radially expanded into place by applying hydraulic pressure in three separate operations.
The inner A tube was rifled after it was in place. There were also a short breech ring and a breech bush screwed into the 3A tube. The breech is believed to have been a Japanese version of the Asbury type with a Welin breech block.
A great disadvantage of this type of construction was that the gun could only be relined by completely boring out the inner A tube.
This was so expensive a process that it was considered to be more practical to simply replace a worn out gun with a new one,
None battleship was ever regunned during the war.
.
Utilisation
IJN Yamato use its guns on only one occasion during the Battle off Samar in October 1944 against the U.S. Taffy 1 and Taffy 3 escort carrier groups and hit USS Carrier escort Gambier Bay (CVE-73).
IJN Musashi use its guns on only one occasion
He use sankaidan (incendiary shrapnel) anti-aircraft shells during the Battle of the Sibuyan Sea in October 1944. One of these reportedly exploded in the barrel, disabling the gun.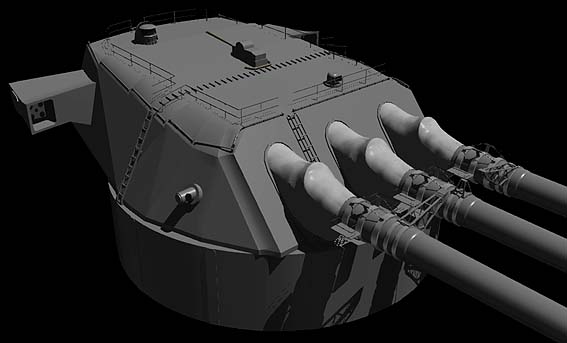 Armement Secondaire Secondary Armament
15.5 cm/60 (6.1") 3rd Year Type
Ce canon a été développé pour les croiseurs de classe Mogami mais lorsque, à la fin des années trente lors de la modernisation des ces croiseurs les tourelles ont été remplacés par des canons de 200 mm 8 inch N ° 2 canon
Les tourelles ont ensuite été utilisés sur les cuirassés de la classe Yamato et les croiseurs légers de la classe Oyodo.
Une tourelle triple était montée à Kure et une autre à Sasebo pour la lutte antiaérienne et des canons en monture unique servant à la défense côtière dans la région de Tokyo.
Un total d'environ 80 canons ont été fabriqués à Kure
Leur faible cadence de tir et leur élévation limitée les rendaient impropres pour un tir anti aériens mais ils étaient un excellent système d'arme contre les navires .
La construction de type monobloc utilise un mécanisme de culasse Welin qui pourrait être utilisé soit hydrauliquement ou manuellement.
Caractéristiques Technical data
Date Of Design 1930 (breech design dated from 1914)
Service 1935
Poids canon Gun Weight 12.5 tons
Longueur canon Gun Length 9.6 m
Cadence de tir Rate Of Fire 5 - 6 rounds per minute
15.5 cm/60 (6.1") 3rd Year Type

This guns were developed for the Mogami class cruisers When in the lates 30 s when they were reconstructed this guns were removed and replaced with 20cm 8 inch N° 2 guns
Turrets were then used on the Yamato class battleships and Oyodo class light cruisers.
A triple turret was mounted at Kure and another at Sasebo for AA purposes and two guns on single mountings were used for coast defense in the Tokyo area.
A total of approximately 80 guns were manufactured at Kure
Their slow rate of fire and limited elevation made them unsuitable for the AA role, but they were an excellent anti-ship weapon.
Construction was of the monobloc type with autofretting and used a Welin breech-block mechanism which could be operated either hydraulically or by hand. .


Armement Anti aérien Anti aircraft artillery

12.7 cm/40 (5") Type 89

Le canon Type 89 est une arme AA utilisées en affut jumelés sur les navires de la marine japonaise de la Seconde Guerre mondiale Le Type 89 a remplacé beaucoup de canons de 12cm / 45 4,7 inch sur des vieux croiseurs
Le canon Type 89 était une bonne arme AA avec une cadence de tir importante et une bonne élévation
Son inconvénient principal était la V° (vitesse) relativement faible des obus avec une portée et un plafond faibles.
Ces armes étaient de construction simple en tourelle double.
La production totale des canons de Type 89 canons s'est élevée à 1.306 canons, avec 836 fabriqués entre 1941 et 1945.
Parmi ceux-ci, 362 ont été installés à terre, dont 96 dans la région de Yokosuka et 54 à Kure.
12.7 cm/40 (5") Type 89
The Type 89 was an AA weapon used in twin mountings on most IJN Ship of World War II ships The Type 89 was also used to replace many of 12cm /45 4.7 inch on older cruisers.
Type 89 was a good AA weapon with a fast rate of fire and excellent elevation and training speeds
Its primary shortcoming was a relatively low muzzle velocity and thus a short range and low AA ceiling.
These weapons were of simple construction with monobloc barrels and breech rings and used horizontal sliding breech-blocks.
Total production of Type 89 guns amounted to 1,306 guns, with 836 being manufactured between 1941 and 1945.
Of these, 362 were mounted ashore, including 96 in the Yokosuka area and 54 in Kure area.
Caractéristiques Technical Data
12.7 cm/40 (5") Type 89 (Model 1929)
Date In Service 1932
Poids canon Gun Weight 3.05 tons
Longueur canon Gun Length 5.284 m
Cadence de tir Rate Of Fire type 89: 8 - 14 rounds per minute


25 mm
25 mm/60 (1") Type 96 Model 1


En 1935, le canon Vickers 4cm / 62 HI 2 pdr a été remplacé car il ne possèdait plus une cadence de tir et la portée efficace adéquates et de plus il manquait de fiabilité et était difficile a fabriquer
Un modèle basé sur les mitrailleuses Hotchkiss françaises a été choisi comme remplacement.
Les unités françaises de 20 mm ont été construites, comme Type 94 et Type 95, et ont été testées à l'arsenal de Yokosuka en 1935 et a adopté en août 1936.
Les Japonais y ont apporté des nombreuses modifications comme des pièces en acier inoxydable pour utilisation sur les sous-marins, le remplacement de certaines pièces usinées par la fonte et l'utilisation de cache flammes Rheinmetall
33000 canon de 25 mm de type 96 étant produits et il a été largement utilisé dans la marine japonaise
Les chargeurs du Type 96 ne comprenaient que 15 coups d'où des interruptions fréquentes du tir pour recharger . Mais en 1945, les munitions tirées étaient trop légers et avaient une portée trop courte leur empechant d'engager efficacement les avions modernes américains

25 mm/60 (1") Type 96 Model 1

In 1935 the Vickers 4cm /62 HI 2 pdr gun was replace because he has a slow rate of fire, short effective range, unreliable nature and difficulty of manufacture.
Design based upon French Hotchkiss machine gun was selected as the replacement.
French built units, designated as 25 mm Type 94 and Type 95, were tested at the Yokosuka Navy Yard in 1935 and adopted for service use on August 1936. Japanese modifications included many stainless steel parts for use on submarines, the replacement of some machined parts by castings and the use of Rheinmetall-type flash suppressors.
33,000 The 25 mm Type 96 being produced was widely used throughout the Japanese Navy with about.
The magazines for the Type 96 held only 15 rounds, so frequent stoppages for change outs were required. But on 1945, these guns fired projectiles too light and too short ranged to effectively engage the heavier and faster US aircraft then in service.

Caractéristiques Technical data
Designation 25 mm/60 (1") Type 96 (Model 1936)
Date In Service 1936
Poids canon sans chargeur Gun Weight not including magazine115 kg
Longueur Totale Canon Gun Length 2.3 m
Longueur canon Barrel Length 1.5 m
Cadence de tir théorique Rate Of Fire Cyclic: 220 - 260 rounds per minute
Cadence de tir pratique Rate of Fire Effective: 110 - 120 rounds per minute

13 mm/76 (0.52") Type 93


Conçu à l'origine par Hotchkiss, elle a été importée par les japonais en differents montage (simple double triple quadruples à des fins d'évaluation au début des années 1930 et adoptée officiellement en Février 1933.
La production de la version japonaise commence en 1935. Ces armes étaient pour la Japanase sont comme les 25 mm », car il est fondamentalement la même, mais apparemment pas tout à fait au point pour le même degré».
La production a atteint 1200 canons par mois de retard en 1944. Le magazine a tenu 30 rounds et a été similaire en conception à celle pour le canon de 25 mm AA.
Mais si cette MG a été insuffisante contre les avions modernes, elle était encore fabriqué en grand nombre jusqu'à la reddition.

13 mm/76 (0.52") Type 93


Originally designed by the French firm of Hotchkiss she was imported a number of twin and quadruple mountings for evaluation purposes in the early 1930s and officially adopted the weapon on February 1933.
Production of the Japanese version started in 1935. These guns were for the Japanase are like the 25 mm, "since it is basically the same, but apparently not perfected to quite the same degree."
Production reached 1,200 guns per month late in 1944. The magazine held 30 rounds and was similar in design to that for the 25 mm AA gun.
But if this MG was inadequate against modern aircraft, she was still produced in large numbers right up to the surrender.
Caractéristiques Technical Data
Designation 13 mm/76 (0.52") Type 93 (Model 1933)
Date Service 1939
Poids canon Gun Weight 42 kg
Longueur Canon total Length 1.41m
Longueur Canon Length 1 m
Cadence de tir théorique Rate Of Fire 425 - 475 rounds per minute cyclic
Cadence de tir pratique 250 rounds per minute practical


Aviation Aircraft
Mitsubishi F 1 M 2

Catapultes Catapults

Film à Voir